In this article, we will check out the Best Anime Couples, But not only in romance genre anime, from all anime genres. These anime couples are the favorites of their anime fans. Sometimes some viewers want to see the moments of the couple they want without focusing on the main story.
So we will help you with that and List the Best Anime Couples till now.
Most Popular Anime Couples
The Couples on the list are not only chosen from the faces of the two characters that match but also how they can love each other, their nature is the same, different, even opposite, but they can love each other, which is an inspiration to the audience. So, here is the list of those most popular anime couples.
28. Aki Tomoya X Megumi Kato (Saekano)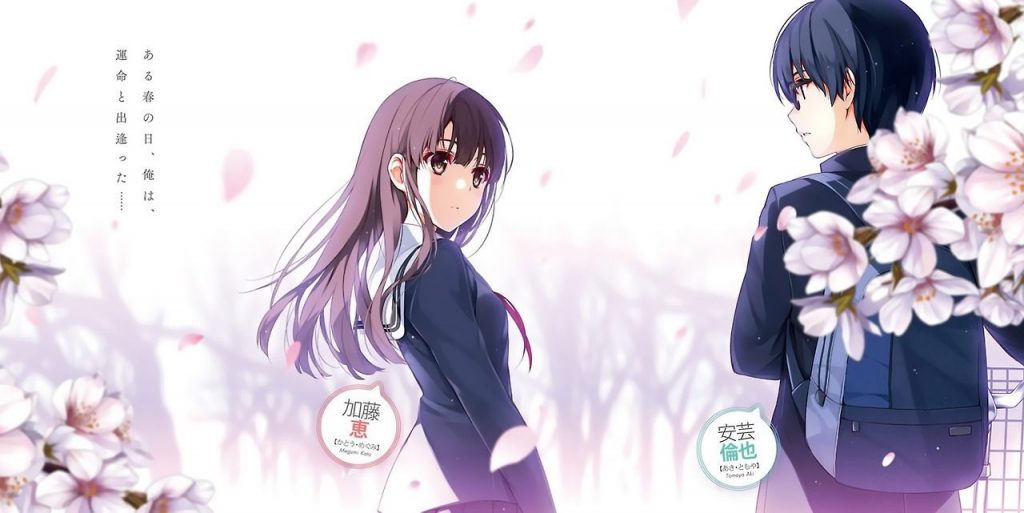 The exciting thing about this pair is, Megumi, who usually has the characteristics of a losing team because she has short hair (she says short hair always loses) but in fact, Megumi's presence is able to refute this myth. The Best Anime Couple in the last row fell on the second pair of characters from the Saekano Anime. Although in the story, they just met, the two couples have fans that can be said to be many.
When Aki sees Megumi for the first time, he immediately thinks that Megumi is the most beautiful girl he has ever seen before, and because of him, Tomoya makes Megumi the inspiration for the Heroine of the Dating Game he made. 
27. Touka Kirishima X Ken Kaneki (Tokyo Ghoul)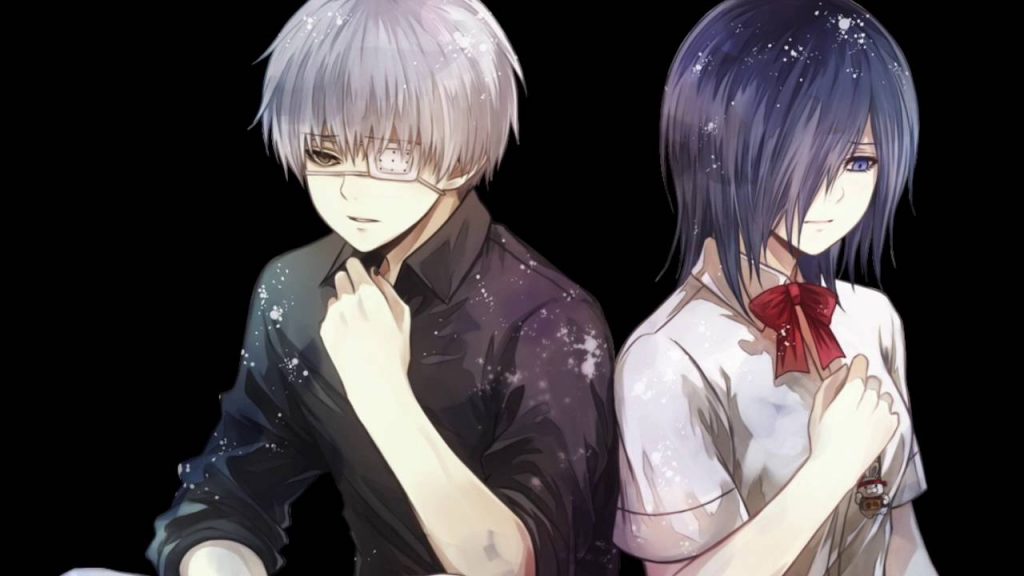 Although Tokyo Ghoul is not a romance anime, the interlude of their love story is enough to attract the attention of Tokyo Ghoul fans as additional entertainment. Touka, is a ghoul, and Kaneki is a one-eyed half-ghoul. Behind the spooky and exciting story of Tokyo Ghoul, there is a pair of two characters that form naturally or are destined through the story. 
26. Hikigaya Hachiman X Yukinoshita Yukino (Oregairu)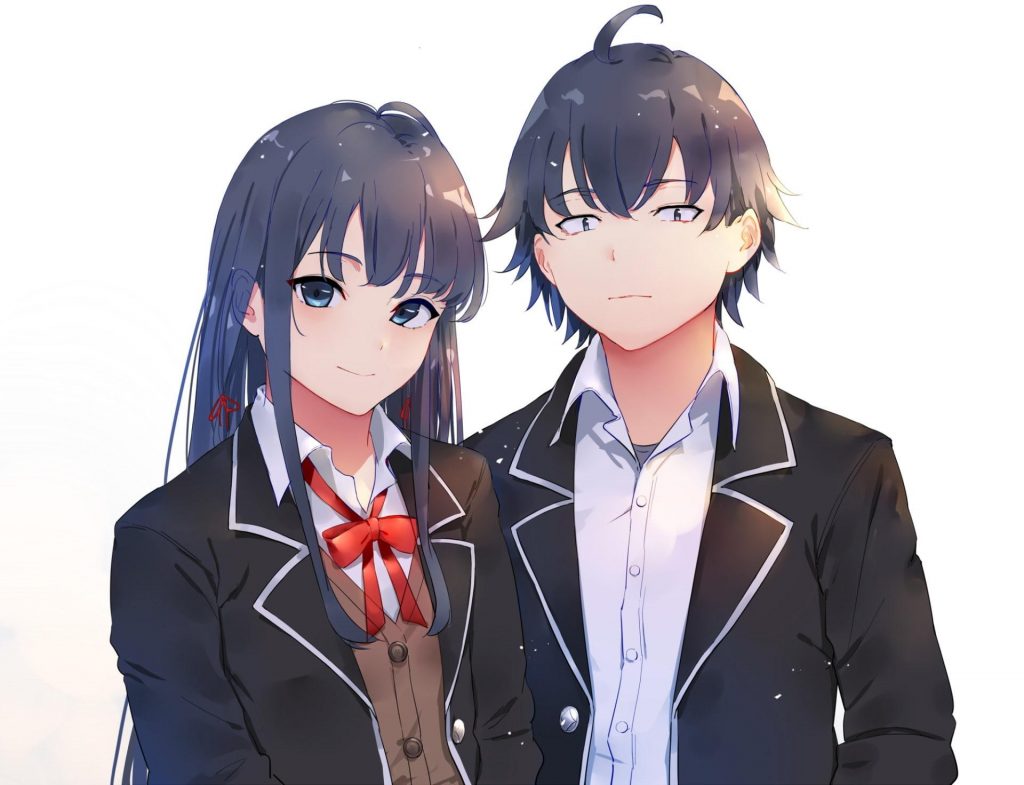 Hachiman is indifferent to teenage relationships, and Yukino has a cold nature towards other students at school, but both have talents in various things. The two meet in a Volunteers Service Club to solve social problems where they have to help students experiencing difficulties. The two main characters of Oregairu have their respective advantages. Hachiman and Yukino are both troubled about the social world, which makes these two very compatible. 
Their relationship didn't go well. First, they didn't get along, and they mocked each other. But because of these taunts, their relationship is even closer, and as the story progresses, they often spend time together, showing each other a good attitude and care for each other.
25. Otonashi Yuzuru X Kanade Tachibana (Angel Beats)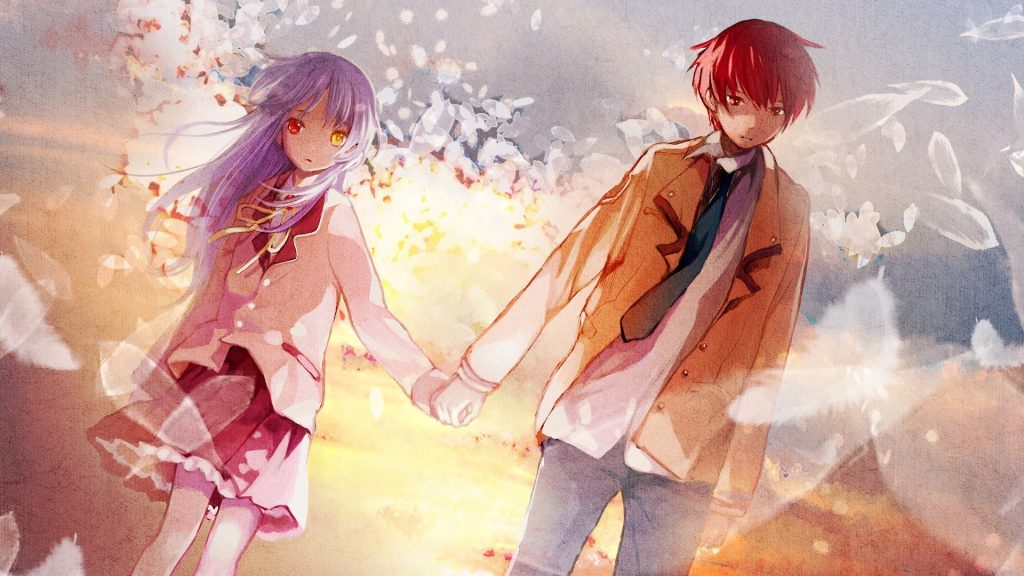 Of all the SSS members, only Otonashi often talked to Kanade and persuaded her to join in on the fun. The story of the two of them can be said to have a sad ending when Otonashi begins to express his feelings for Kanade. Still, it makes him disappear because Kanade's wish has come true, and he thanks Otonashi for helping him. They are the Best Anime Couple that only lasts a short time but feels terrible.
24. Minato Namikaze X Uzumaki Kushina (Naruto)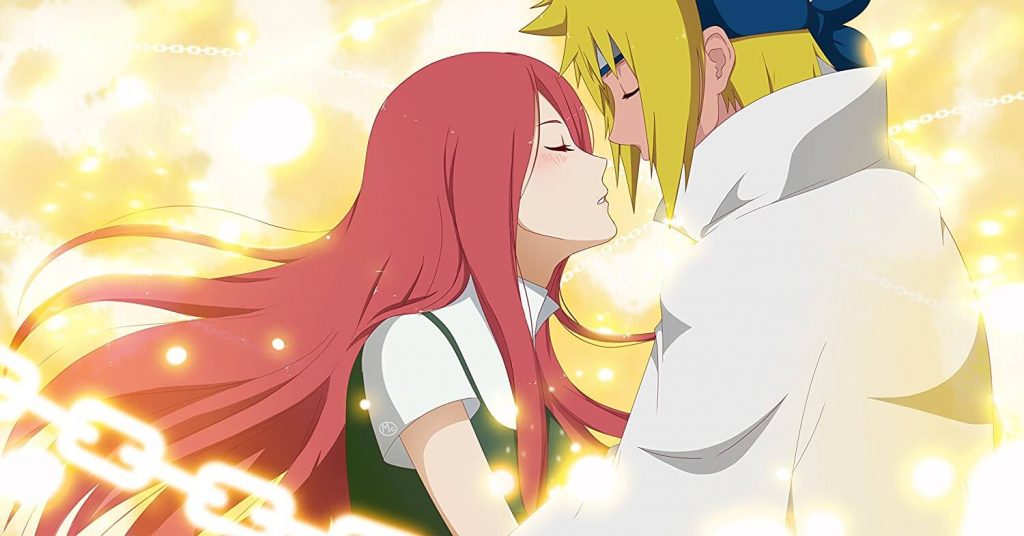 Some touching moments happened to these two people and made Naruto fans cry. Their love story begins with Kushina, an outsider who becomes a resident of Konoha, attending Konoha Academy as a new student, where she meets Minato. 
Even though, in the end, they gave a significant burden to naruto by confining the Kyuubi into Naruto's body which made Naruto's life always alone in his childhood, the child, namely Naruto, did not blame them for the fate he experienced.
The Best Anime Couple that makes you understand as big as parental love. As happened to these two married couples, Minato and Kushina were the parents of Uzumaki Naruto, who sacrificed themselves to protect their beloved son. 
23. Subaru Natsuki X Emilia (Re: Zero)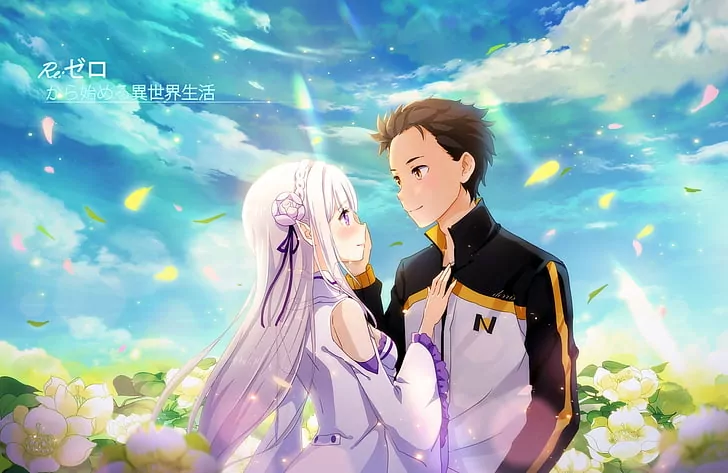 In their first meeting, Subaru was rescued by him from the criminals; Subaru immediately fell in love with the half-elf at first sight and decided to devote himself and become a protector who would help Emilia in all her troubles. 
Subaru and Emilia's relationship is very important to the story because Subaru learns a few things and develops better into a character who can get rid of his reckless nature, can be relied on, and is useful. 
22. Uchiha Sasuke X Haruno Sakura (Naruto)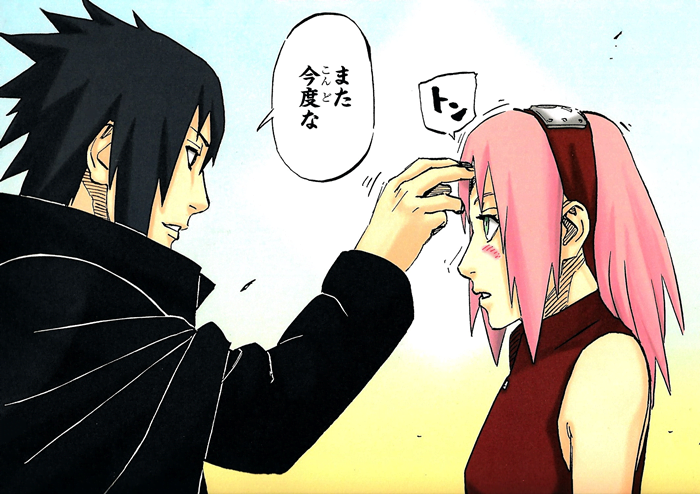 A love story that can be considered less fun but can be realized and ends happily. Haruno Sakura's loyalty in loving Sasuke Uchiha from childhood is extraordinary, and it seems that a girl like this is rarely found in the real world. 
Even though Sasuke was indifferent many times and even continued to hurt his heart, Sakura kept getting up and never gave up on pursuing her idol.
21. Yuu Otosaka X Nao Tomori (Charlotte)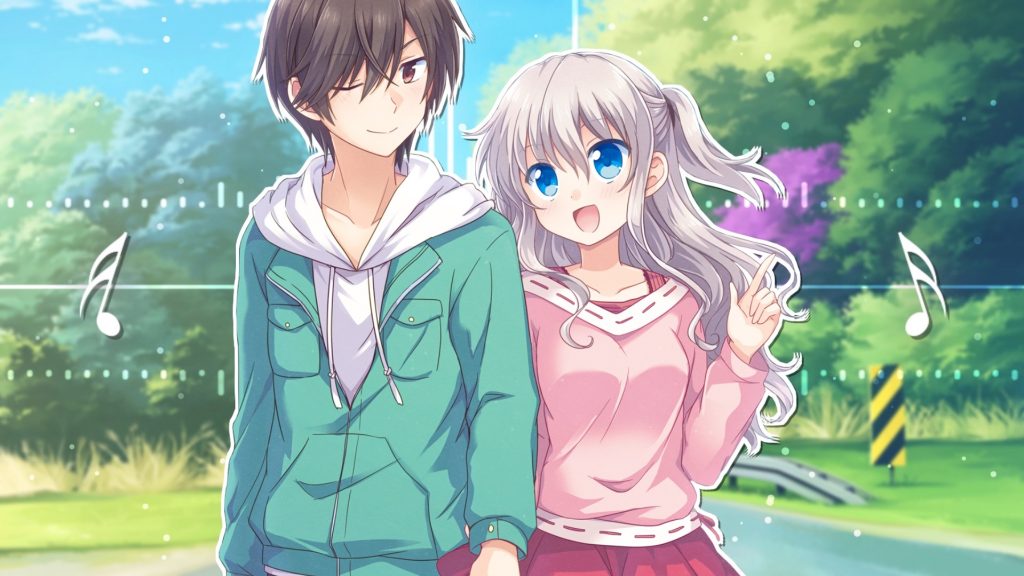 When together, many say that this couple looks sweet and cute. Handsome guys and Kawai girls are usually very suitable for couples.
Just like in Anime Charlotte, many viewers like it when the two main characters, namely Yuu and Nao, are paired up and provide more romantic alone scenes, including when they want to see a concert but they look like they are on a date with Nao who is dressed very beautifully and elegantly. 
20. Vegeta X Bulma (Dragon Ball Z)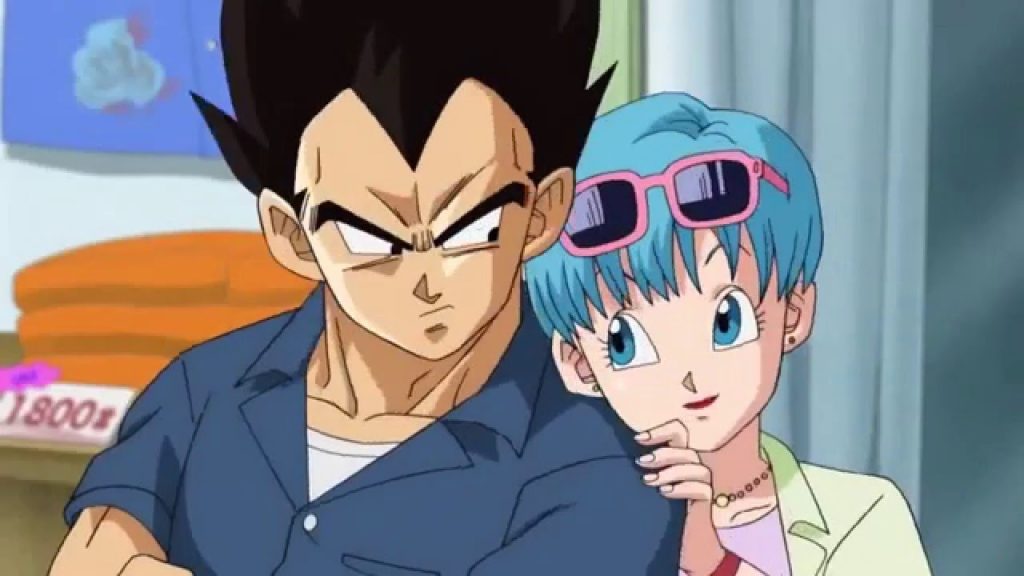 Dragon Ball Z is one of the most popular Shounen Animes of its time, which is still remembered and remembered today. However, Dragon Ball fans not only enjoyed the story and epic battles, but it turned out that they also liked one of the couples in the series. 
Although throughout the story, Bulma and Vegeta's relationship does not look harmonious, especially Vegeta, who is always indifferent, can understand each other. In the Dragon Ball Super series, Vegeta begins to care for Bulma. 
The fans of these two famous anime couples liked the most when Vegeta was furious because Beerus, the invincible god of destruction, slapped Bulma, and instantly Vegeta could beat Beerus, even if only briefly. This proves that Vegeta loves his wife.
19. Arima Kousei X Kaori Miyazono (Shigatsu wa Kimi no Uso)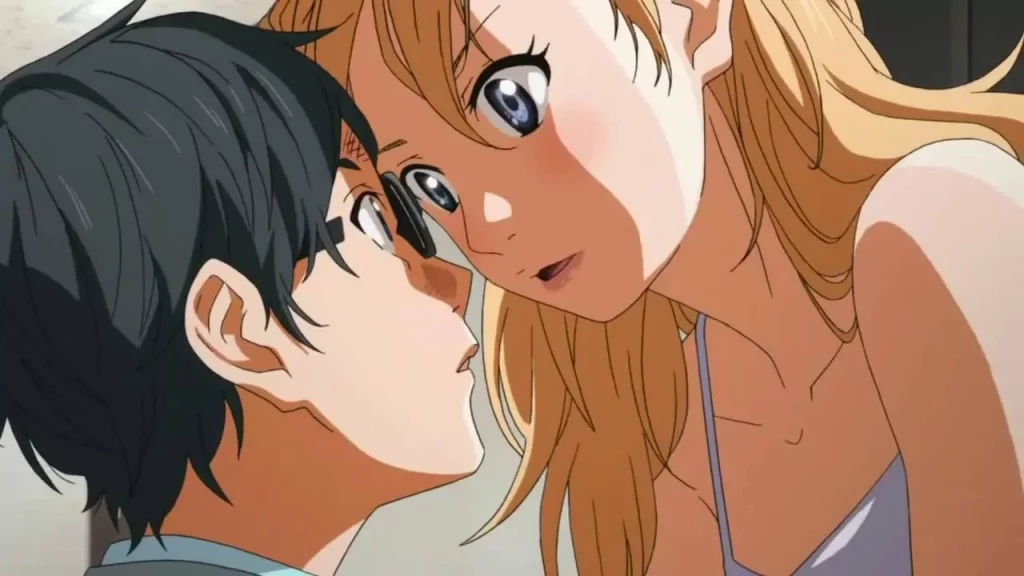 This anime, which can be said to have a sad ending, flooded the audience with tears because the story was so full of dramatic scenes that it was hard to forget. Apart from being romantic and harmonious Best Anime Couple, Arima and Kaori are also very suitable as duet couples in musical performances. It's a pity that Kaori's death in the Shigatsu wa Kimi no Uso series gives fans a painful memory. 
Throughout the story, their relationship is just friends, they have not shown that they love each other, but they are close and motivate each other, especially Arima, who again decides to play music thanks to Kaori's presence in his life. 
18. Son Hak X Yona (Akatsuki no Yona)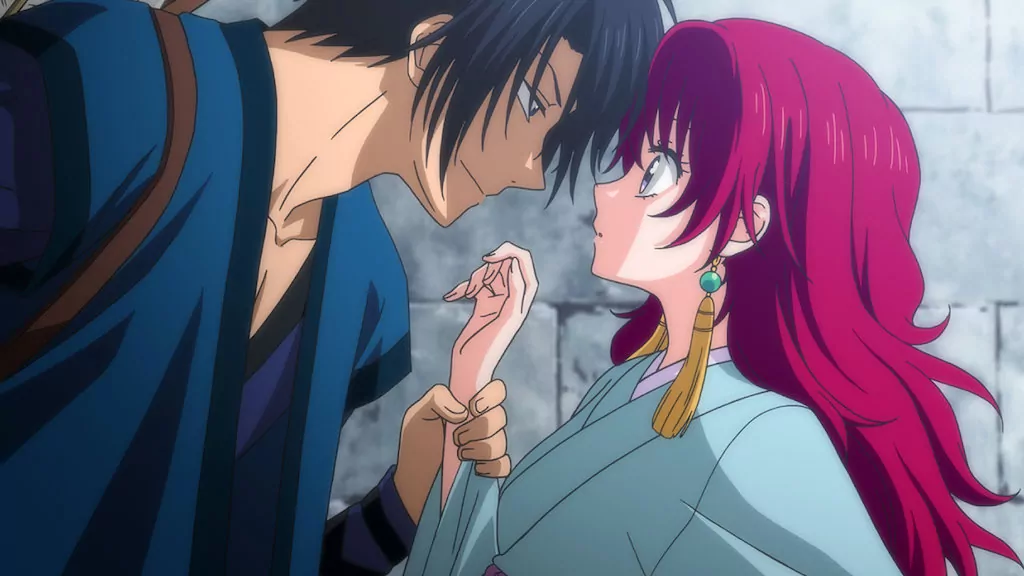 They often fight, joke and joke but they consider each other special. Hak actually liked Yona even before the series started, but unfortunately, Yona was not sensitive to that and considered Hak's code to be an annoying joke. 
In addition, Hak is always worried about Yona and continues to protect her in any situation. Still, it also makes Yona feel worried about Hak because he continues to protect her. 
But over time, Hak, who often teases Yona, makes him blush and begins to develop feelings for Hak. How? Does this perfect match make you wish your childhood friend was your soul mate?
17. Subaru Natsuki X Rem (Re:Zero)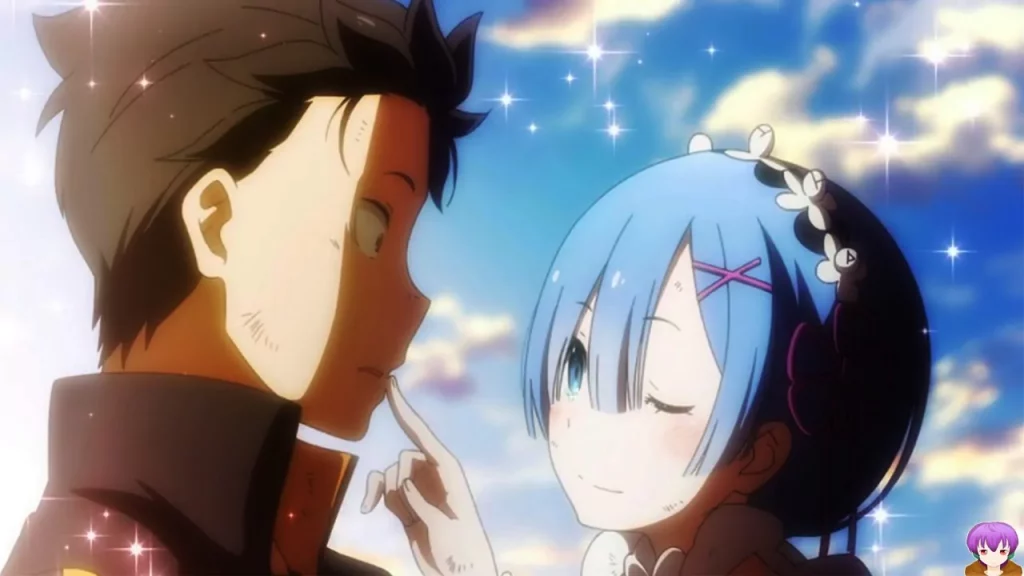 Even though Rem was included in the losing team, the fans still didn't want to give up Rem and remained one of the waifu of a million people. Their love story begins with Rem being saved by Subaru, and after the rescue, Rem falls in love with Subaru. 
Lost in the story, won in the hearts of the audience. The Rem Team must accept harsh reality because of the defeat in the love competition with his rival, namely his own master, Emilia. 
16. Akio Furukawa X Sanae Furukawa (Clannad)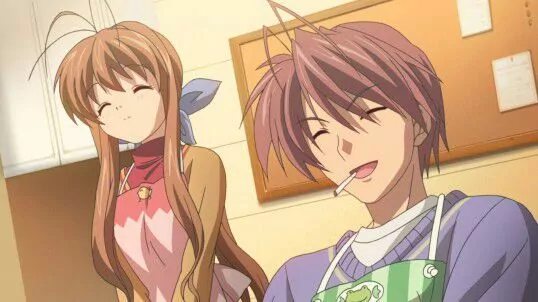 Even though they already have children, their behavior is the same as a new couple. Sanae, who is childish, often cries like a baby, especially when her bread is criticized or insulted, and is very stubborn. 
Even though they side main characters, their love story deserves to be on the top anime couples list. They are husband and wife and parents of Nagisa Furukawa and the manager of a bakery, "Furukawa Pan". 
15. Inuyasha X Kagome (Inuyasha)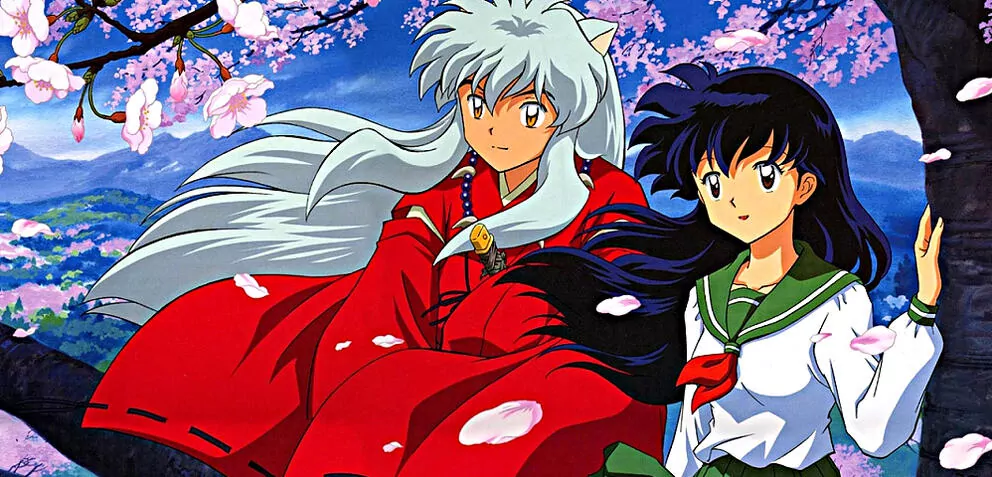 Inuyasha is a half-demon dog who used to develop feelings for a girl named Kikyo, but when he wanted to get the Shikon no Tama Ball to gain power, he was immediately sealed by Kikyo and slept for years. The Best Romantic anime couple, which can be called love between different ages and races, is an anime couple that is very liked by many Inuyasha anime fans knowing that this series is famous as the Best Action Romance Anime. 
After that, when Kagome and Inuyasha opened the seal and were freed, he met Kagome, who was similar to Kikyo because Kagome was a reincarnated girl from Kikyo. 
Initially, the relationship between the two does not get along. Still, when Inuyasha's love for Kagome begins to grow, it gives rise to a cute love story with sweet romantic moments and makes many viewers jealous as the most romantic Anime Couple.
14. Tomoya Okazaki X Nagisa Furukawa (Clannad)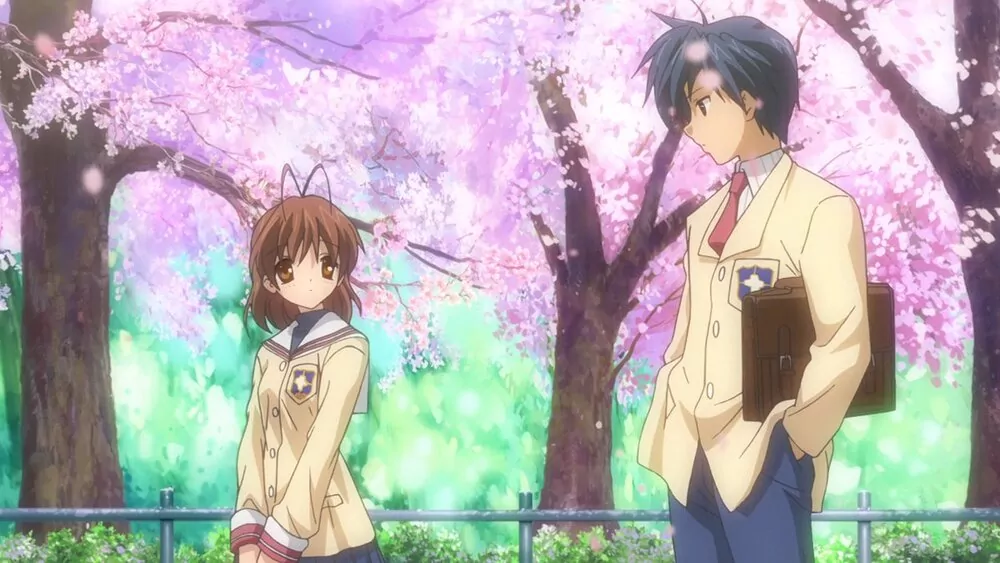 At first, Tomoya is desperate, has no intention of living life anymore, and wants to be a bad boy. But since he met Nagisa, who turned out to be a more severe ordeal where he had a disease since he was a child but remains optimistic and persistent in living life, making Tomoya think again about living his life. 
Nagisa's presence in Tomoya's life makes Tomoya learn a lot about the meaning of life. This Anime Couple teaches us as viewers that life must continue to be lived to the fullest because life is not always at the top but sometimes down below. 
Even though they can be considered imperfect couples because each has flaws, their relationship can motivate the audience.
13. Mikasa Ackerman X Eren Jaeger (Shingeki no Kyojin)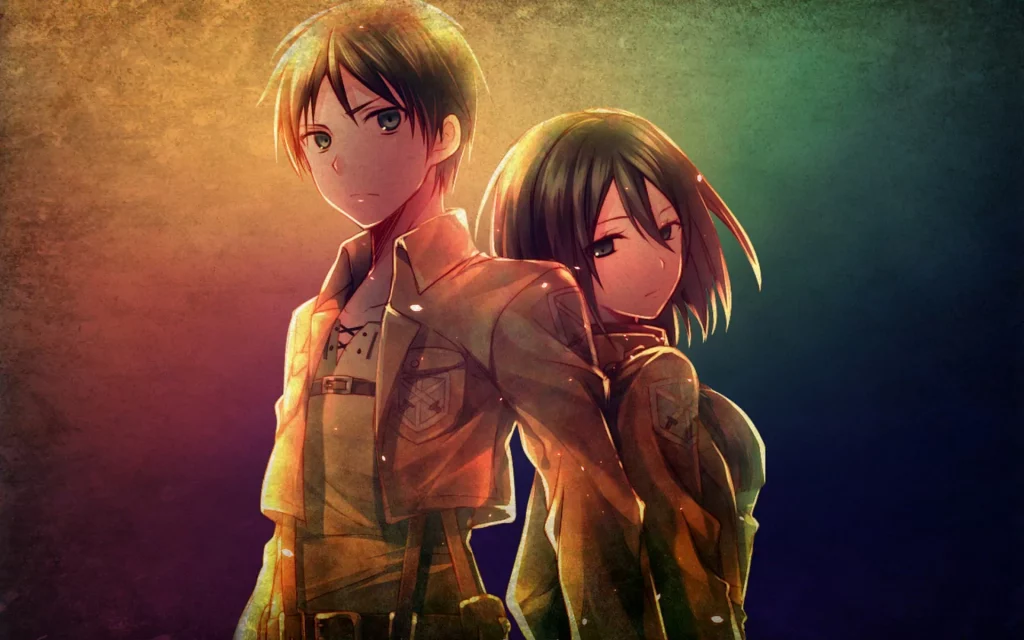 You might already know this couple as they are popular anime Couples among Japan fans, proving that Eren and Mikasa deserve to be on this list.
Although Shingeki no Kyojin is not a romance genre, many expect this anime to have a romantic relationship as an additional entertainer. This is to show fans of the Mikasa and Eren couple, who are known to have been together since childhood in the story. 
12. Koyomi Araragi X Hitagi Senjougahara (Monogatari Series)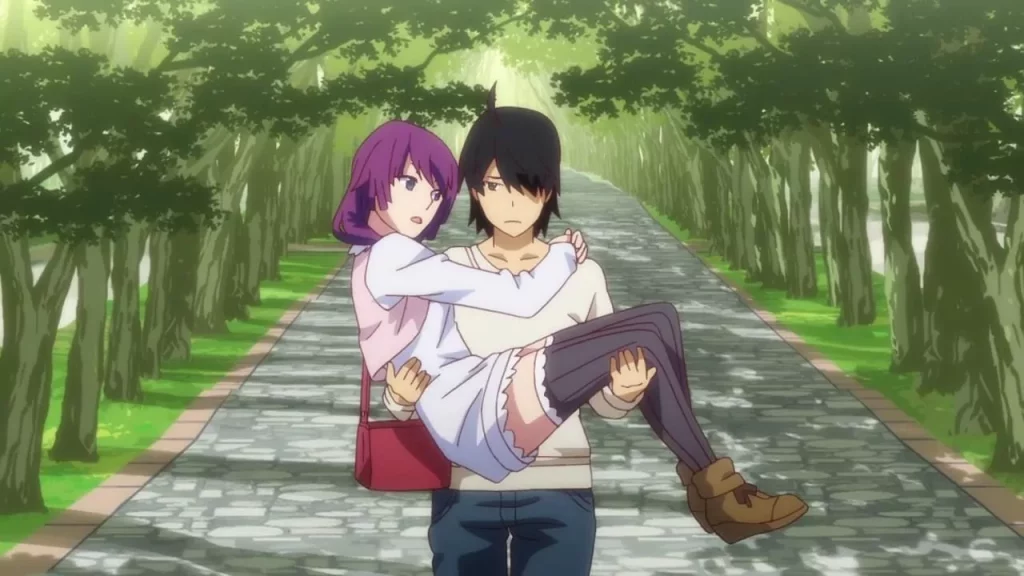 After Koyomi helped Hitagi solve his problems, They became closer. Their closeness made the audience expect the two couples to continue even though sometimes the audience also enjoyed Koyomi's time with other women.
11. Touma Kamijou X Mikoto Misaka (To aru Majutsu no Index)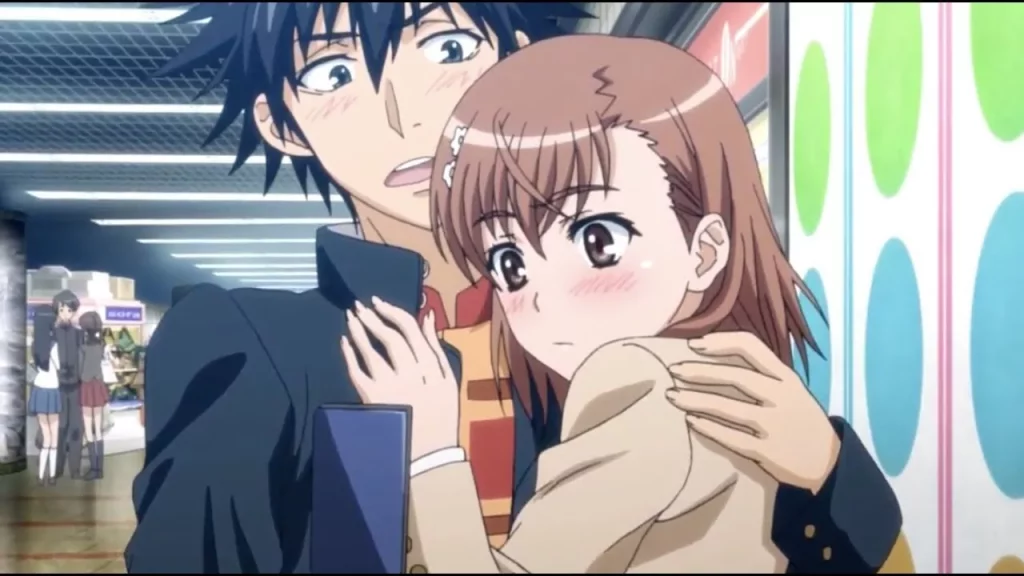 There are also sweet moments between the two, for example, when Touma tries to calm the crying Misaka and the others.
10. Takasu Ryuuji X Aisaka Taiga (Toradora)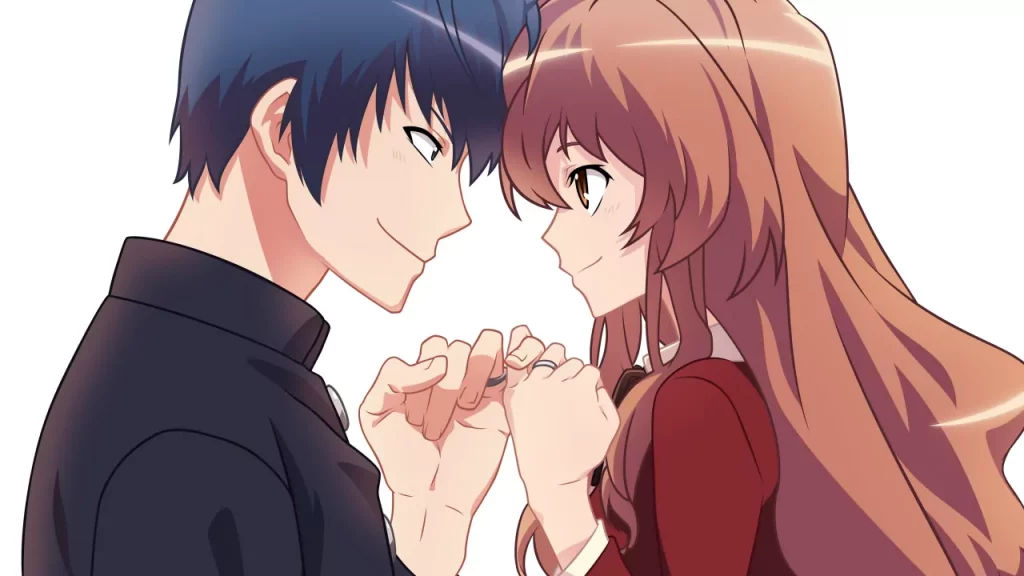 Two schoolgirls are considered the scariest students in school. Ryuuji Takasu, who is known as a man who looks like a scary thug but is very kind and loves cleanliness, along with Aisaka Taiga, who has a cute and short appearance but is considered terrible because of his fierce, cynical, and irritable nature to get the nickname "Palmtop Tiger."
The meeting of the two main characters, Toradora, occurred when they started to collide with each other at school, after which a relationship was gradually formed due to the letter stating that Taiga liked Ryuuji's best friend, Yusaku. 
9. Raku Ichijou X Kirisaki Chitoge (Nisekoi)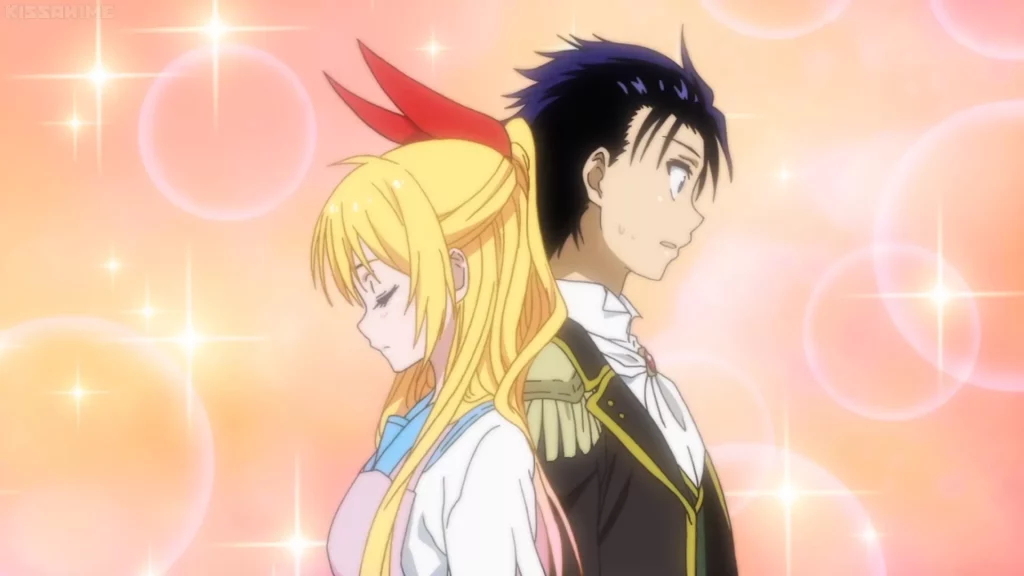 Even though they only had a fake relationship or pretended to be dating at the beginning of the story, their closeness made them not realize that they liked each other. Their nature is also not too different; they often fight, mock each other, and are hostile. 
One of the Anime with the Biggest Waifu War of its time, which now has not ended even though the winner has been determined. This happened to the Onodera Team, who did not accept the role of a childhood friend whose waifu could lose to a new person, resulting in ridicule between "Gorilla" and "Kang Kue". 
But as time goes on, their hatred becomes love, and when they enter a romantic moment, they start to shy away, which makes the audience laugh at their cute and sweet behavior.
8. Takeo Gouda X Yamato Rinko (Ore Monogatari)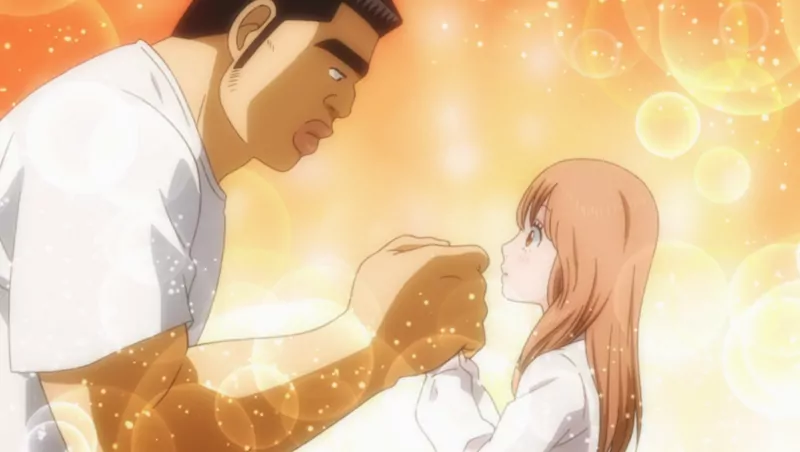 With the Image only you might have guessed these two cute anime couples: Takeo Gōda and Rinko Yamato.
7. Ran Mouri X Shinichi Kudo (Detective Conan)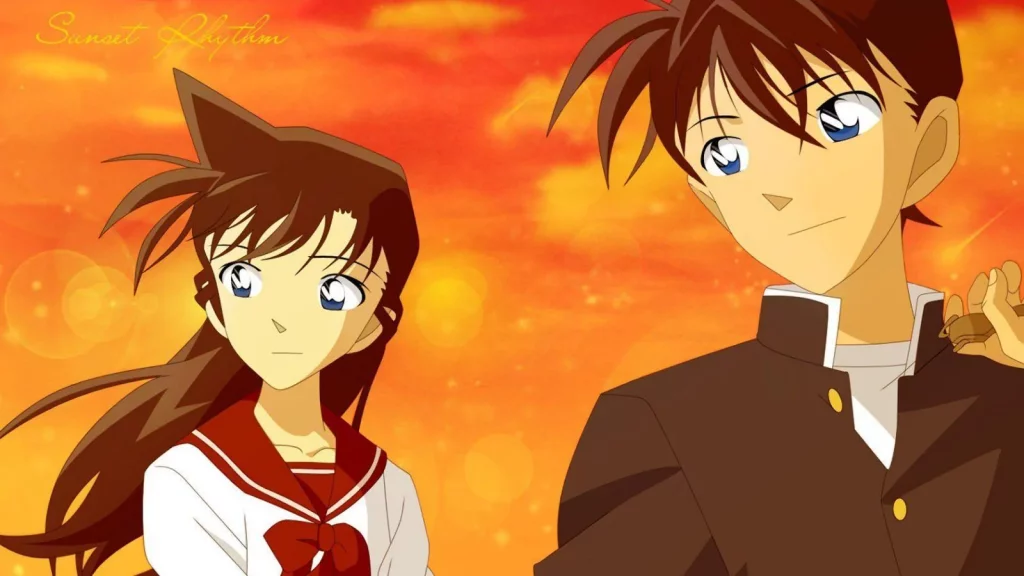 Ran and Shinichi are childhood friends who are always together, but unfortunately, they haven't expressed their love for each other because of shame, even though they have liked each other for a long time. Although these two couples rarely show romantic scenes, many Detective Conan fans expect sweet moments to happen to this couple. 
When Shinichi rarely shows himself, Ran feels irritated, but that doesn't reduce his love for Shinchi. He is very loyal even though Shinichi often disappears; on the other hand, Shinichi always watches over Ran, now a small child named Conan, by always protecting Ran from various dangers.
6. Natsu Dragneel X Lucy Heartfillia (Fairy Tail)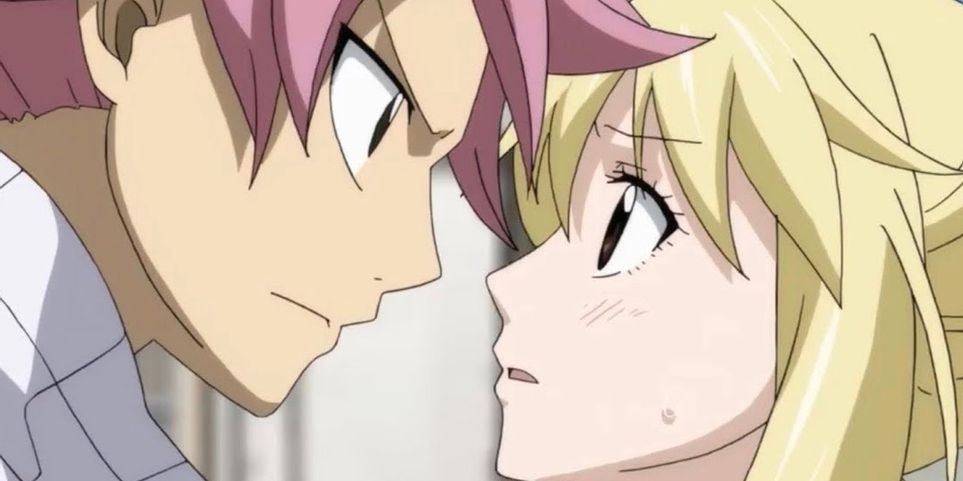 In addition to being liked because it presents a lot of exciting battles, Fairy Tail also has several pairs that are highly expected and liked by its fans. One of them is Natsu and Lucy's relationship; although throughout the series, they don't seem to love each other, they support each other as close friends and family members of the Fairy Tail Guild.
Sometimes when Lucy struggles to tears, Natsu is always there for her and makes Lucy calm down again. Instead of often showing romantic scenes, they joked more often when Lucy always straightened Natsu's stupid scenes.
5. Saito Hiraga X Louise de la Vallière (Zero no Tsukaima)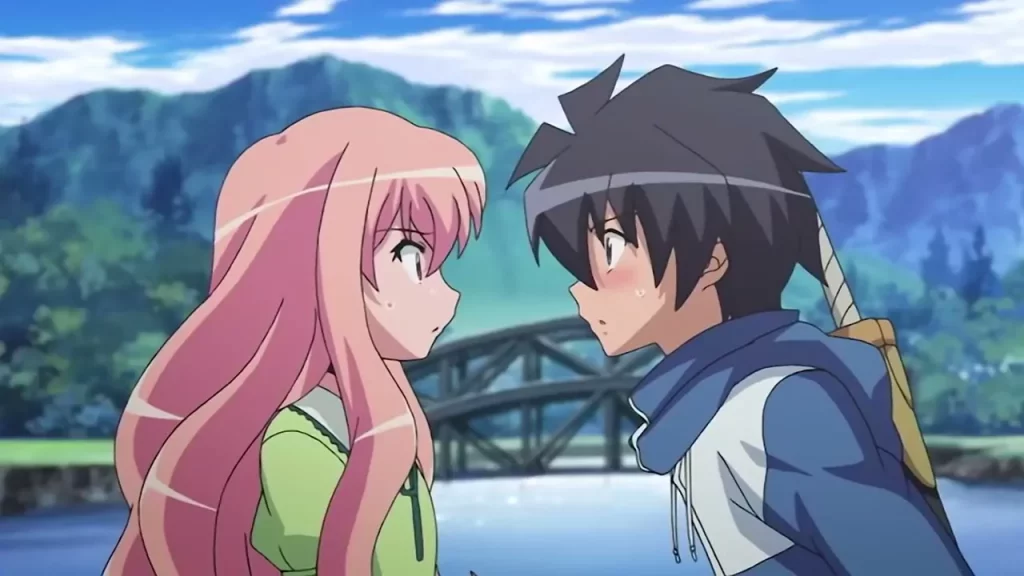 Louise is a Tritisan Academy student known as a failed magician because she often causes explosions when casting magic. He was met by Saito when Louse performed the summoning ritual. Couples who always act funny but sometimes do cute acts that make them the Couple. 
At first, Louise hated Saito because her familiars weren't monsters, and throughout the story, she always treated Saito like a maid. Although Louise always treated him harshly, she greatly cared for and liked Saito. 
She didn't let Saito approach other women, and when many girls surrounded Saito, Louise felt jealous and immediately whipped him. On the other hand, Saito is the same way. Although sometimes he is perverted to many big-breasted women, Saito's heart is only for Loise. 
When Loise is with other men, he also feels annoyed and tries to protect Loise from anything that proves he loves her very much.
4. Naruto Uzumaki X Hinata Hyuga (Naruto)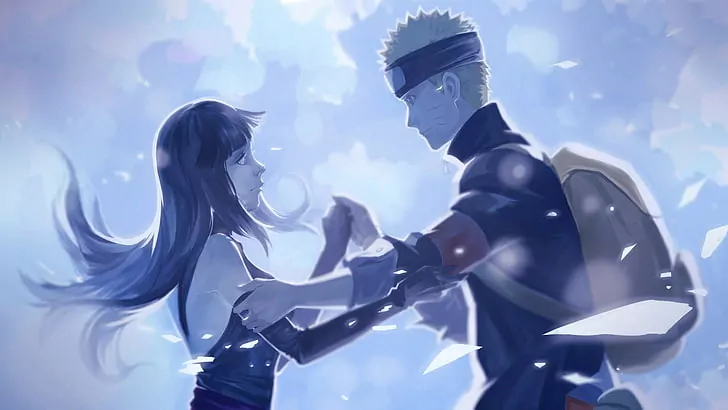 Who doesn't know them? Even though this couple had received a lot of rejection from fans, especially fans of the Naruto X Sakura couple, in the end, like it or not, they had to accept that Naruto was paired with Hinata, who had liked Naruto since childhood. 
After screening The Last: Naruto The Movie, these two couples became among the Best Anime Couples. This pair made many viewers feel envious, especially the boys. 
What makes many viewers jealous of their love story is Hinata's loyalty, which deserves thumbs up for continuing to like Naruto without reducing these feelings, even though Naruto himself is always insensitive and often approaches Sakura because he likes him. 
When Hinata begins to sacrifice her feelings to save her sister, Hanabi, Naruto finally realizes Hinata's feelings all this time, finally answers Hinata so that their relationship finally reaches the level of marriage and is blessed with two children named Uzumaki Boruto and Uzumaki Himawari.
3. Misaki Ayuzawa X Usui Takumi (Kaichou Wa Maid Sama)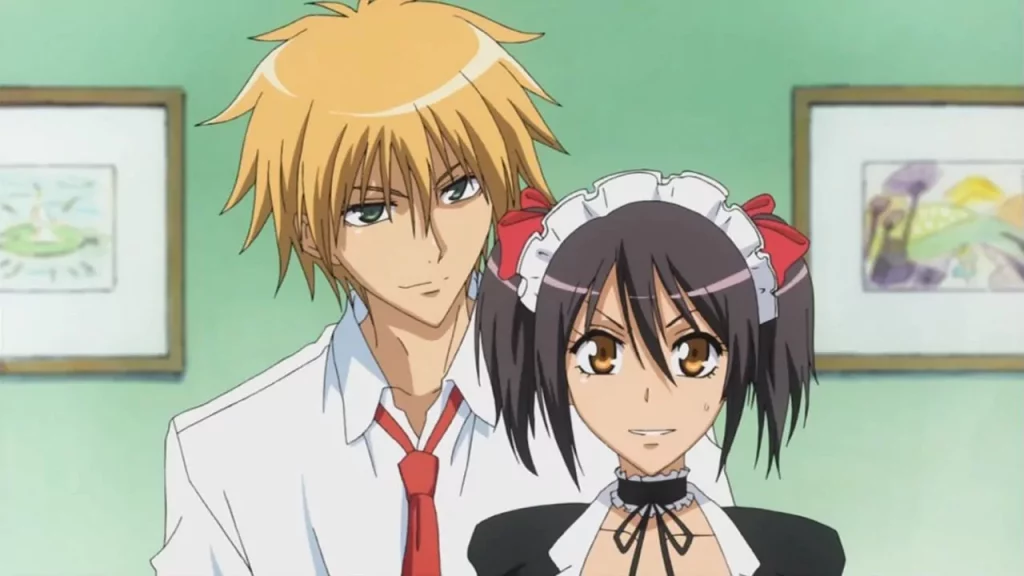 One of the Popular anime couples on this one made many viewers smile when watching the anime because they both have a harmonious nature. Misaki is a woman who is fierce to men but very gentle and kind to women.
The reason is that Misaki wrongly views men as useless and unreliable figures. In addition, in living life, Misaki is known as a hard-working woman to pays off her family's debts. When Usui finds out Misaki's secret, little by little, he begins to develop feelings for Misaki. 
2. Zen X Shirayuki (Akagami no Shirayuki-hime)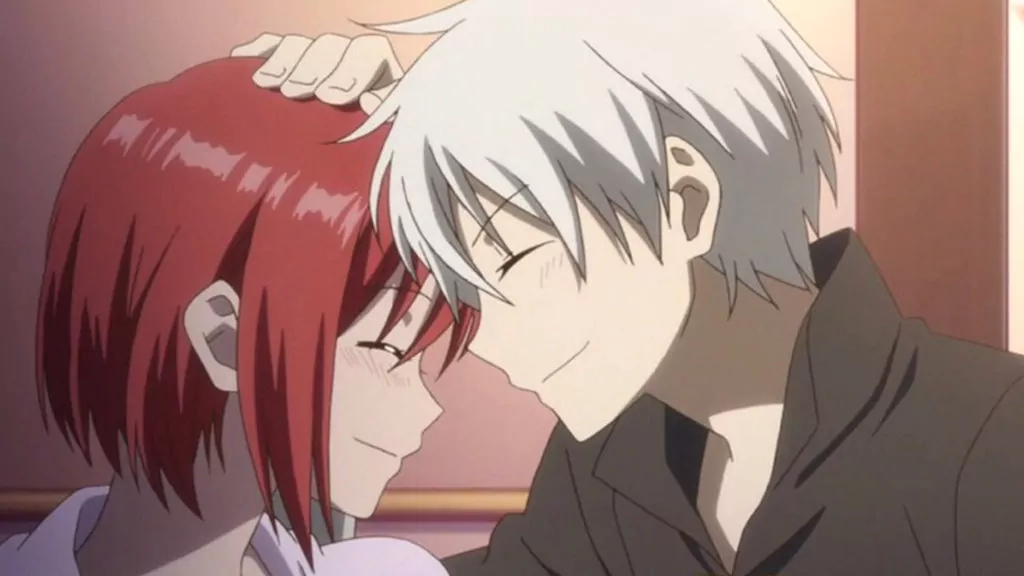 Zen is a prince responsible for his duties as the prince of Clarines and treats his friends and servants with courtesy and respect, and is not arrogant. Zen is not the type of person who gets angry quickly and often shows a friendly attitude; sometimes, he can also be severe. Akagami Shirayuki-hime is a Fantasy Romance Anime with a very sweet shoujo story to watch. Most people watch this anime because they are interested in these two characters.
Their meeting began with Shirayuki, who was helped by Zen when he tried to escape from the Raji Kingdom because of an arranged marriage. From there, their relationship started as good friends, and eventually, they fell in love.
1. Kirigaya Kazuto X Yuuki Asuna (Sword Art Online)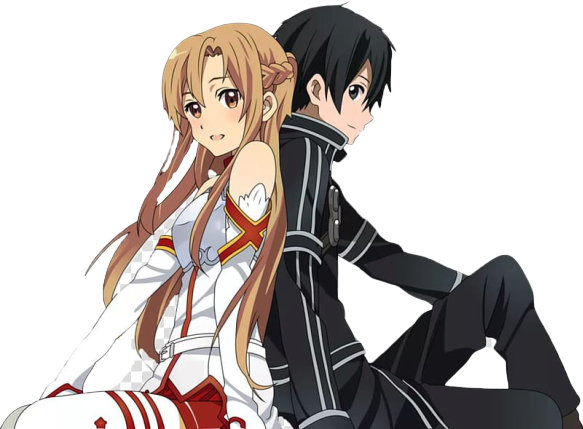 When most people suffer and feel sadness when trapped in the game, these two couples get the happiest experience they don't find in the real world, namely happiness through a marriage carried out in the game. Ultimately, these two Couples fell as the two most favorite characters among anime fans abroad and within the country.
The love between Kirigaya Kazuto, often called Kirito, and Asuna makes many people jealous because they are loyal. They met the same fate: being trapped in the death game Sword Art Online.
What is interesting about this timeless couple is Kirito, who remains loyal to Asuna even though many women around him like him.