There's no question that Sakura Haruno is one of the most intriguing characters and least favorite in the Naruto anime. She starts as a klutzy and overenthusiastic Genin, but by the series' end, she has evolved into a powerful and determined Jounin. Throughout her journey, Sakura has said some truly memorable things.
Here are just a few Sakura Haruno Quotes.
Best Sakura Haruno Quotes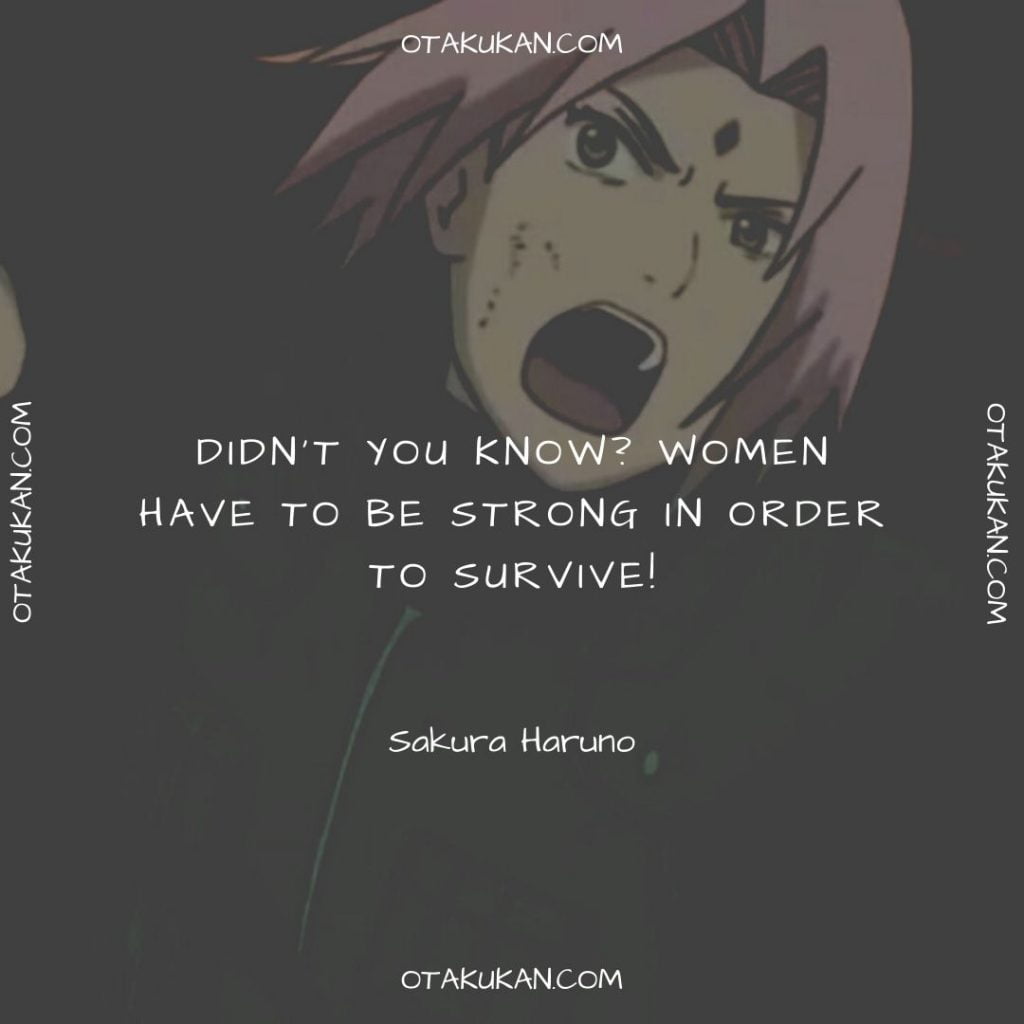 1. Didn't you know? Women have to be strong in order to survive!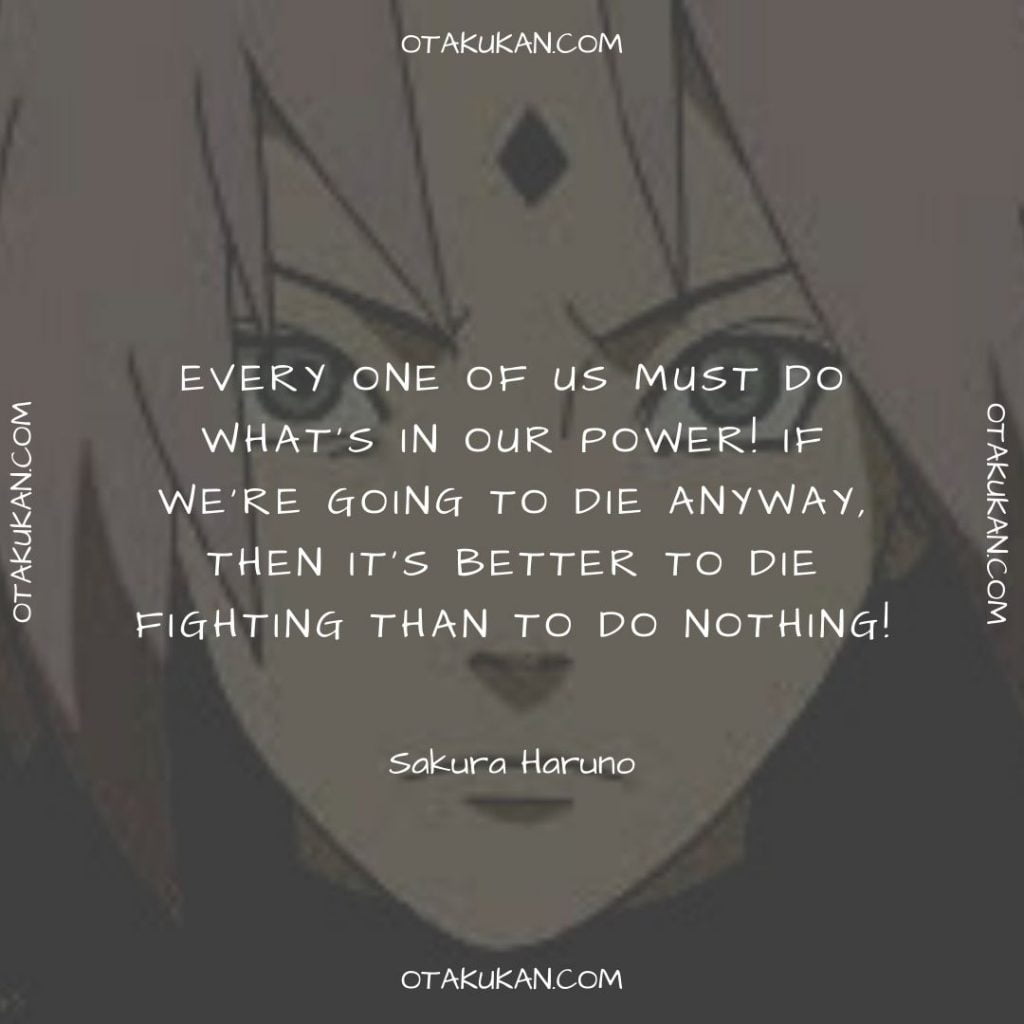 2. Every one of us must do what's in our power! If we're going to die anyway, then it's better to die fighting than to do nothing!   -Sakura Haruno Quotes
3. I'm not going to just allow someone to die so easily on my watch! That ridiculous dream of yours… just look now. I won't let you die… you're not dying on me, you hear me! No matter the cost, there's no way that I will let you die!! Just look now… that dream is right in front of your eyes!!!"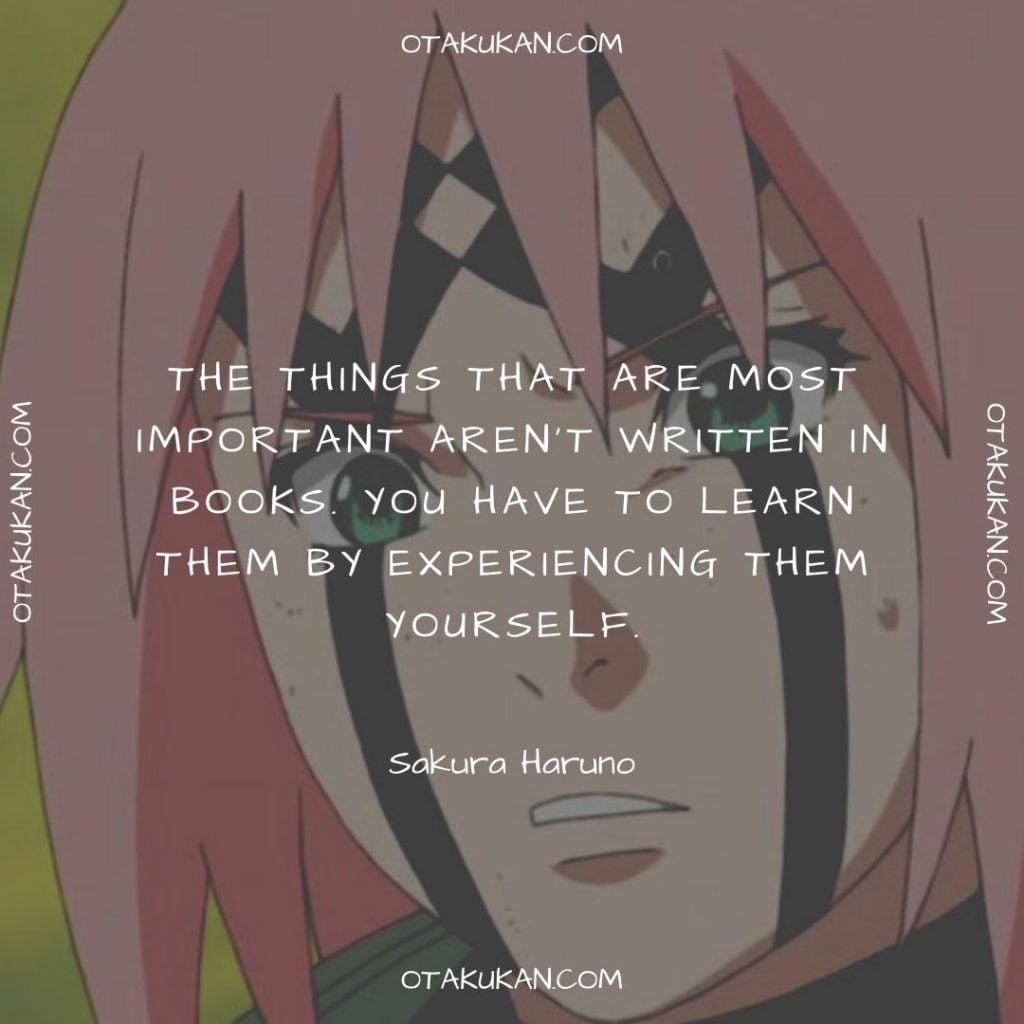 4. The things that are most important aren't written in books. You have to learn them by experiencing them yourself.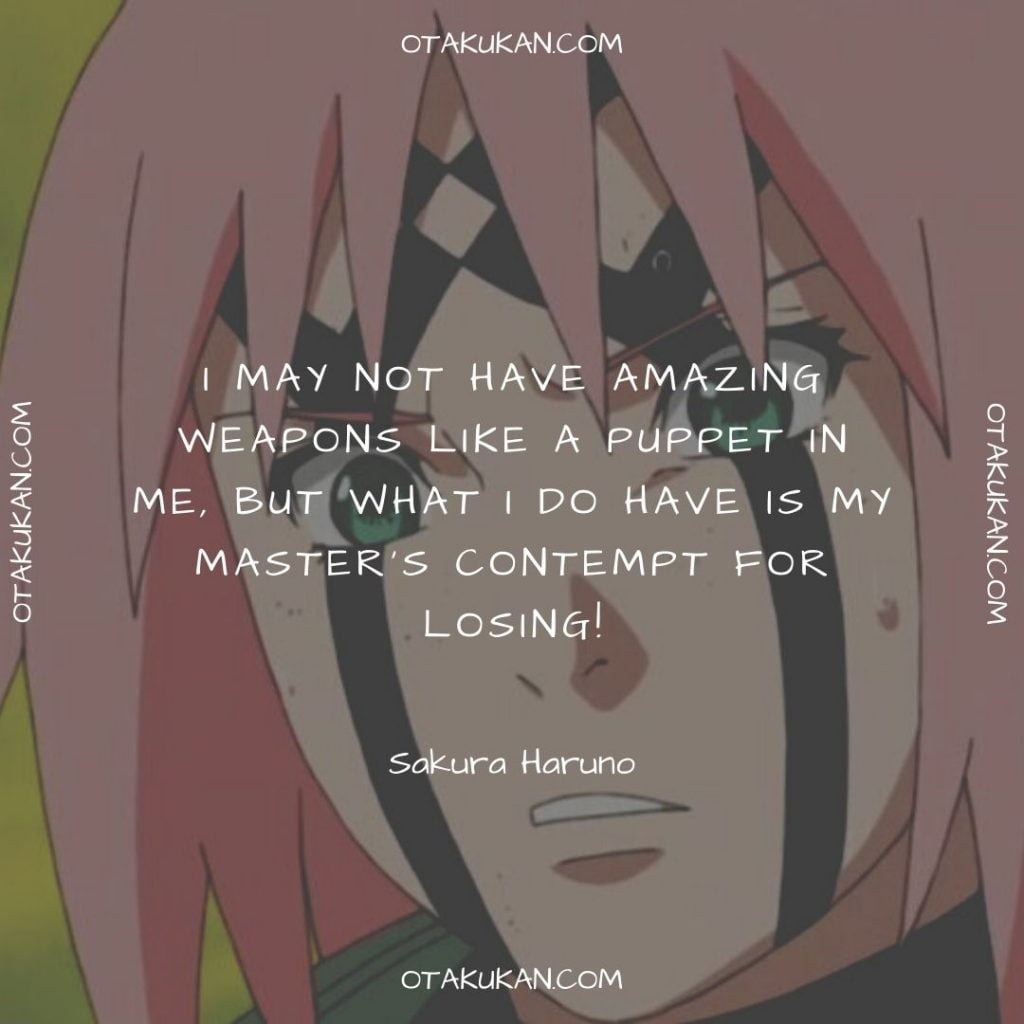 5. I may not have amazing weapons like a puppet in me, but what I do have is my master's contempt for losing!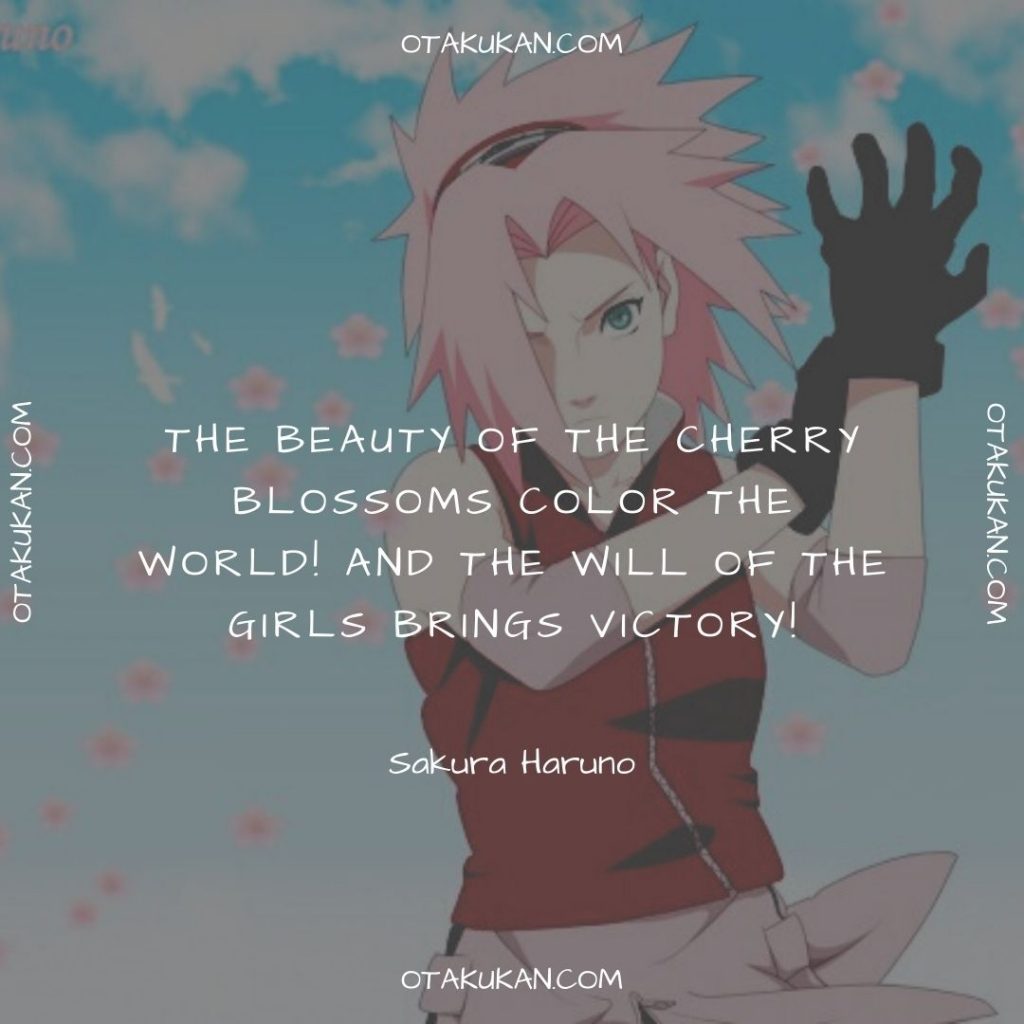 6. The beauty of the cherry blossoms color the world! And the will of the girls brings victory!
7. I can't just let everyone protect me all the time!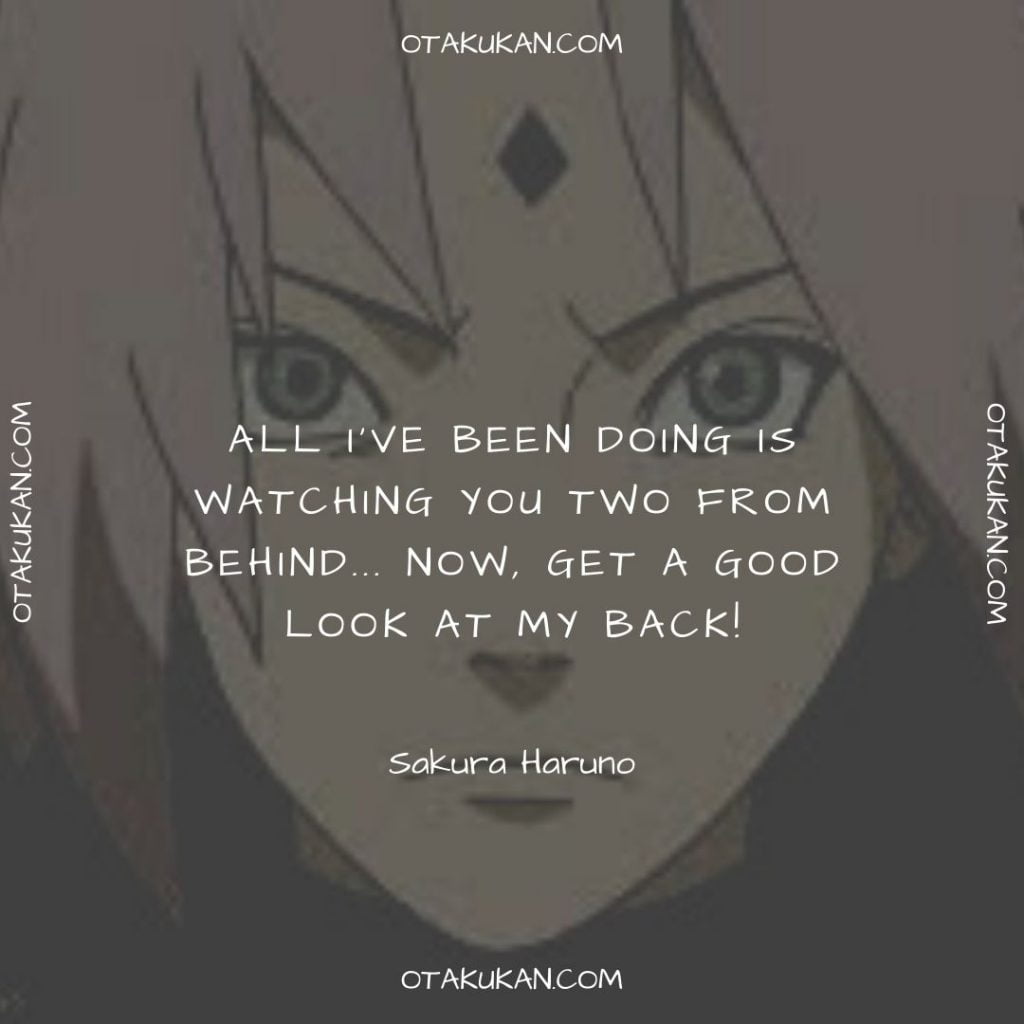 8. All I've been doing is watching you two from behind… Now, get a good look at MY back!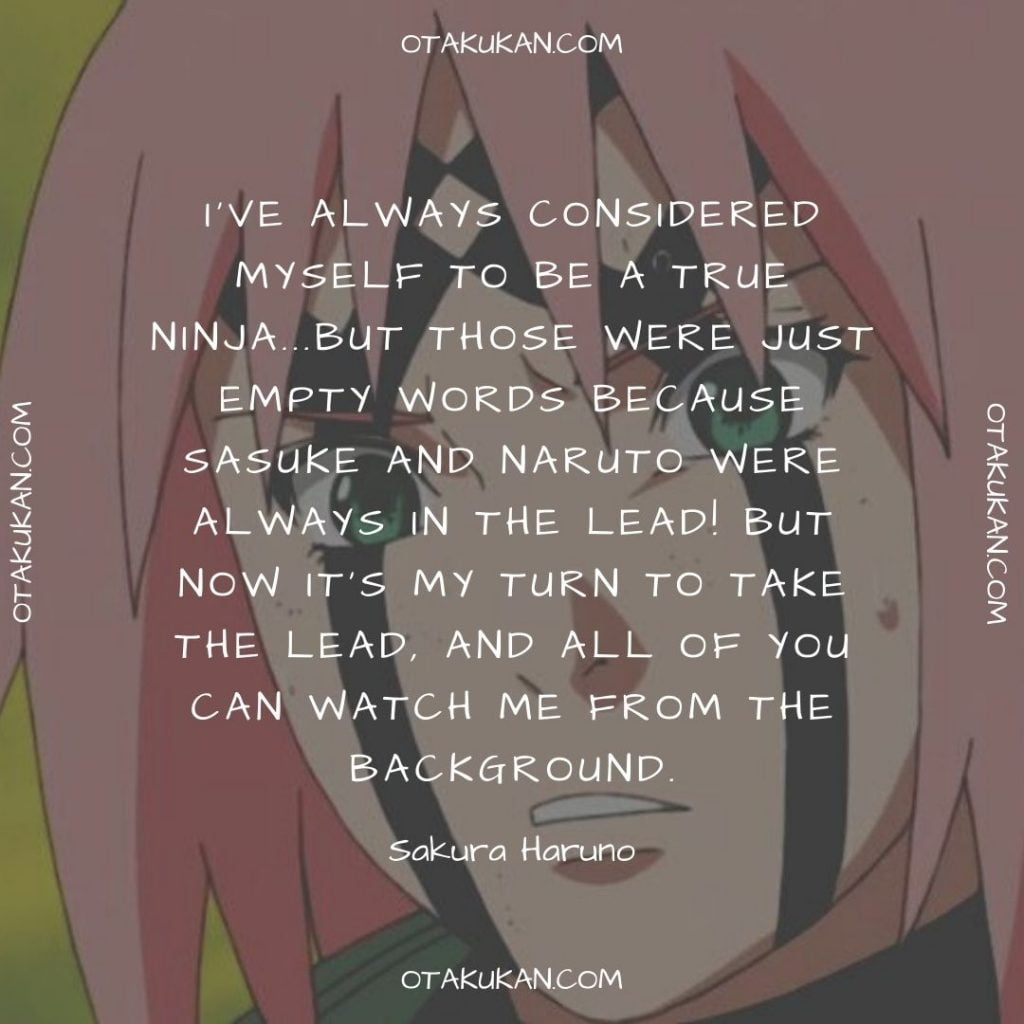 9. I've always considered myself to be a true ninja…but those were just empty words because Sasuke and Naruto were always in the lead! But now it's my turn to take the lead, and all of you can watch me from the background.
10. I've been through some harsh training, you know! I've gotten stronger, too!
11. It's always like this. The only things I can ever do for Naruto are the little things anyone could do.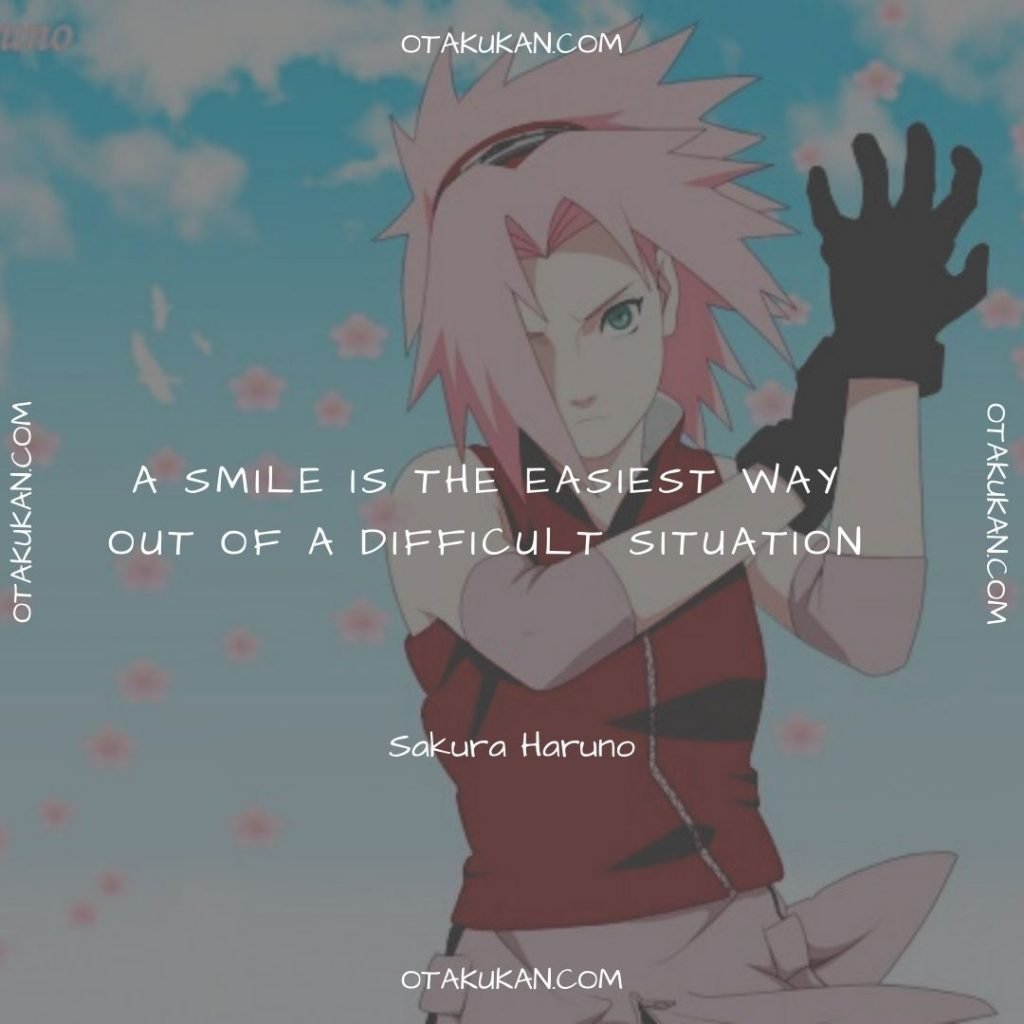 12. A smile is the easiest way out of a difficult situation
12. I've learned the competitive spirit from my master!
13. I'm the one who made Naruto suffer the most. I've just been getting it wrong. Just been messing it up. I don't want to get it wrong anymore…don't want to screw it up anymore.
14. I love you with all my heart!.. If you were to stay here with me, there would be no regrets…because every day we'd do something fun, we'd be happy I swear..! I would do anything for you! So…please, just stay with me!
15. Usually, when you paint a picture, you give it a name.
16. Naruto's here because he's made up his mind. My resolve is nothing compared to his now! I'm supposed to be a ninja, but all I've ever done is lean on him and cry… I was supposed to change that… I came here, and I thought I was ready. But I can't do anything… I can't say anything. The only thing that remains for me…is to believe in them!
If you haven't watched Naruto, watch it to learn more about Sakura. Follow the Naruto Filler Guide, then next on the list Would be Shippuden Filler Guide. Follow these Episodes' guide to watching it without filler, as this anime comes with a lot of them.