Anyone who has watched Naruto Shippuden knows about Gaara. He is one of the most exciting and complex characters in the series. His quotes are often reflective and insightful, offering a unique perspective on life.
Just in case you haven't watched Naruto, then Check Out Our article on Naruto Watch Order. And if you have started watching and looking to avoid Fillers in Naruto then check out our filler guide.
This blog post will explore some of the best Gaara Quotes from the Naruto series.
Gaara Quotes from Naruto Shippuden
Gaara Quotes About Loneliness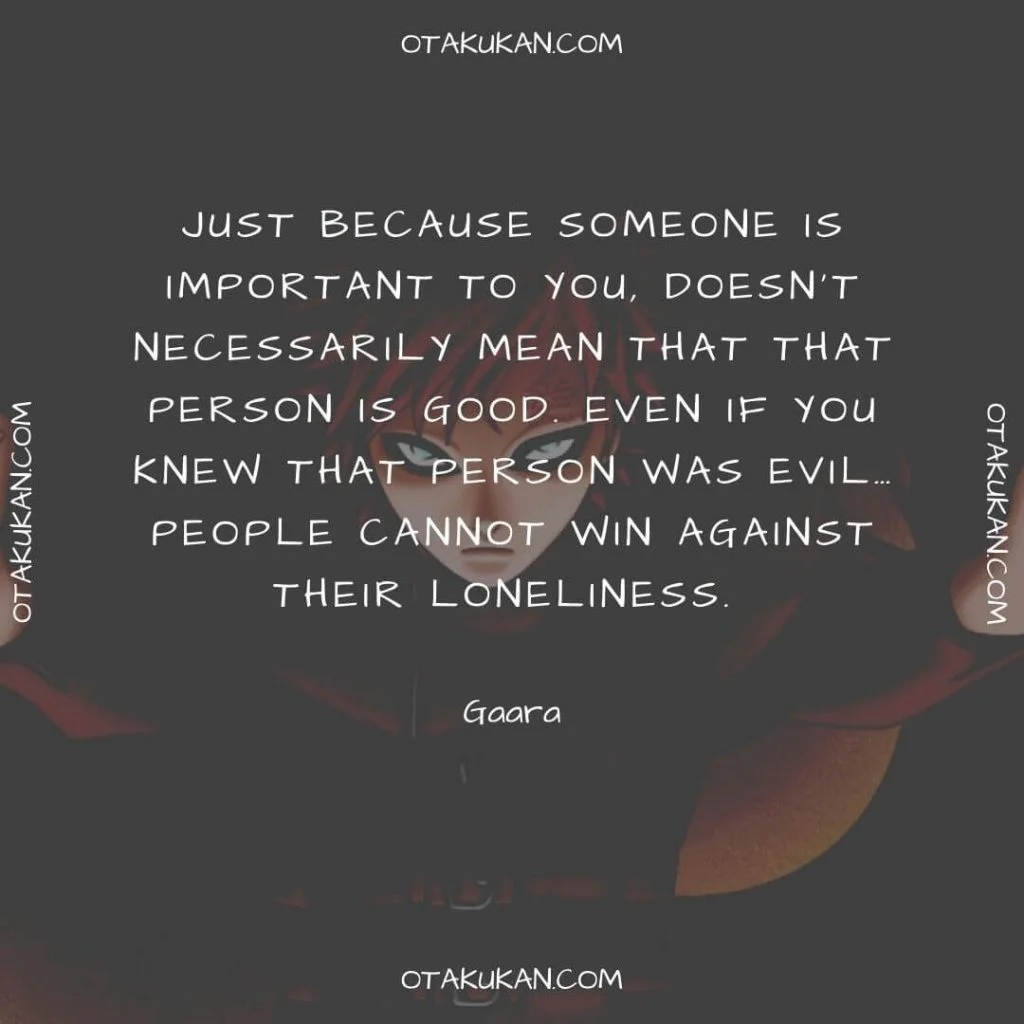 1. Just because someone is important to you doesn't necessarily mean that that person is good. Even if you knew that person was evil… People cannot win against their loneliness.   – Gaara
2. You have the same eyes as I do…the eyes, filled with hatred and death, that long for strength… Just like mine. Your eyes tell me how badly you wish to kill the one who put you through the hell called loneliness.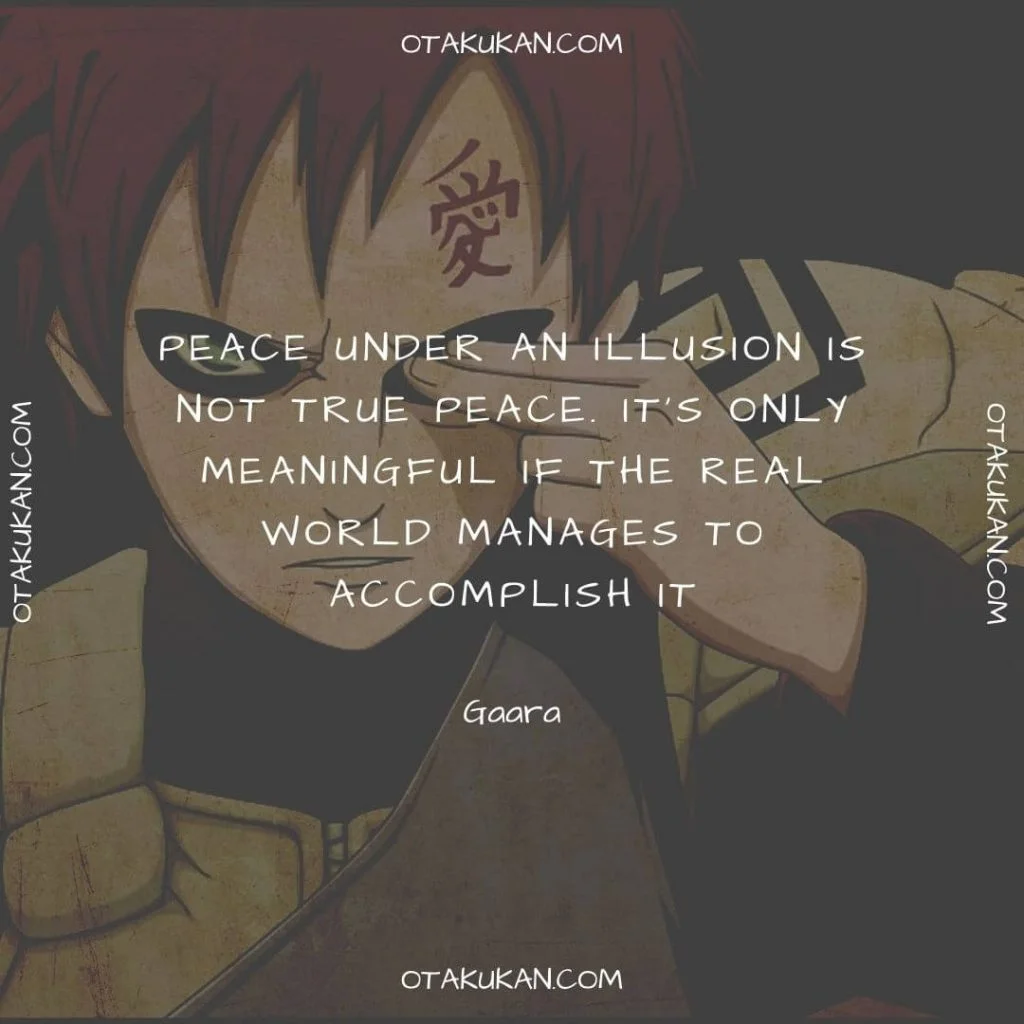 3. Peace under an illusion is not true peace. It's only meaningful if the real world manages to accomplish it  -Gaara Kazekage Quotes
4. I used to think 'friend' was just another word… Nothing more, nothing less. But when I met you, I realized what was important was the word's meaning.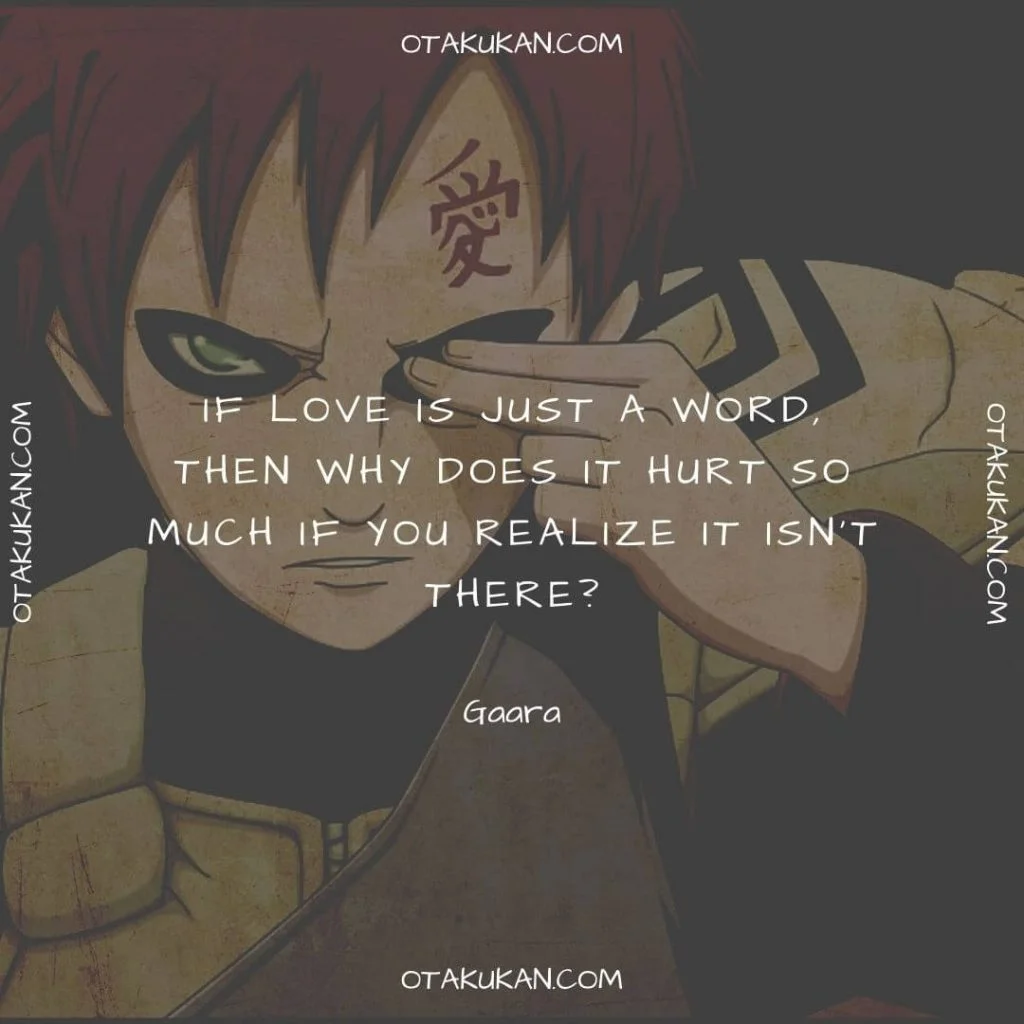 5. If love is just a word, why does it hurt so much if you realize it isn't there?
6. A soul needs a purpose to live… so I concluded that my purpose was to kill everyone besides myself. I felt alive.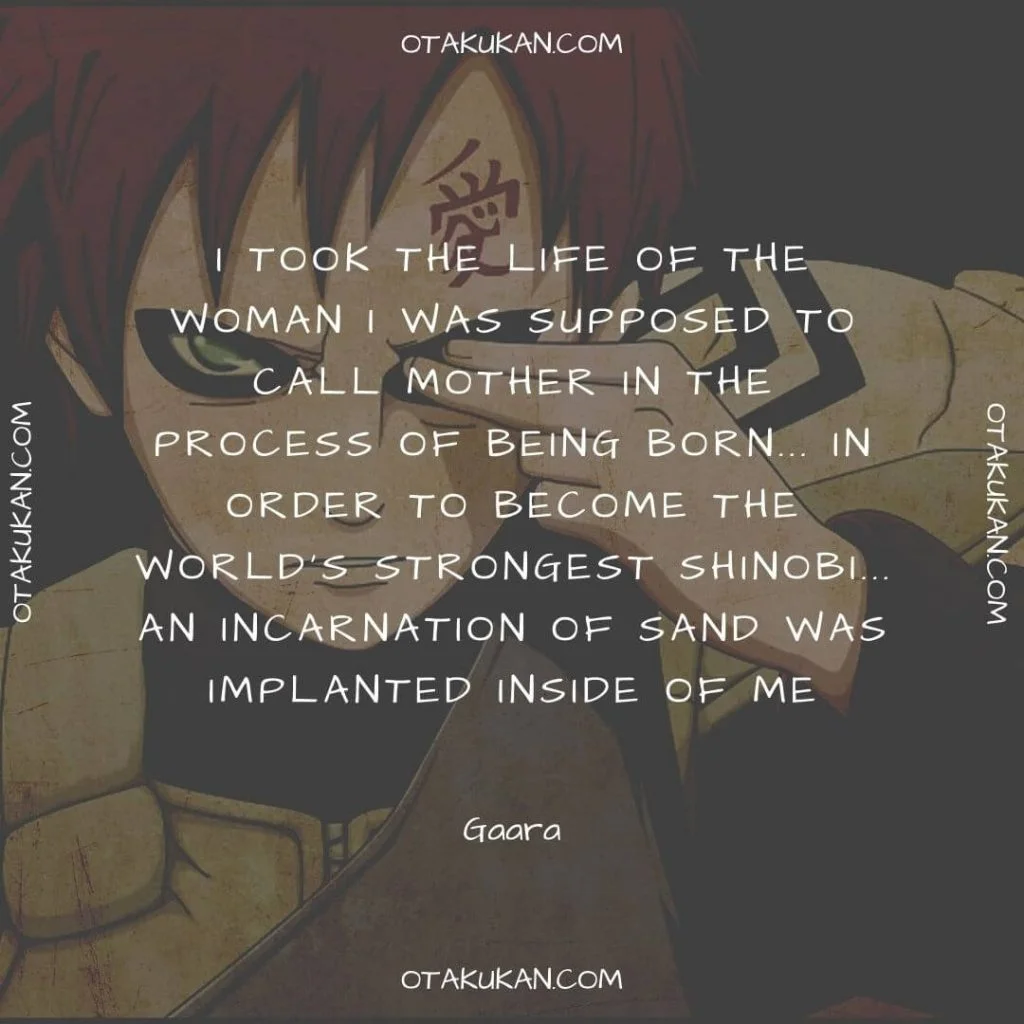 7. I took the life of the woman I was supposed to call mother in the process of being born… in order to become the world's strongest shinobi… an incarnation of sand was implanted inside of me.  – Gaara
Gaara Quotes About Pain
8. Now there's something I understand a little better. Hate, sadness, even joy. To be able to share it with another person… Naruto Uzumaki. From fighting him I learned that. He knew pain as I did and then he taught me that you can change your path. I wish that one day I can be needed by someone. Not as a frightening weapon… But as the sand's Kazekage."   -Gaara Kazekage Quotes
9. In order to escape a road of solitude, one has to work hard and forge a new path with their own power. -Gaara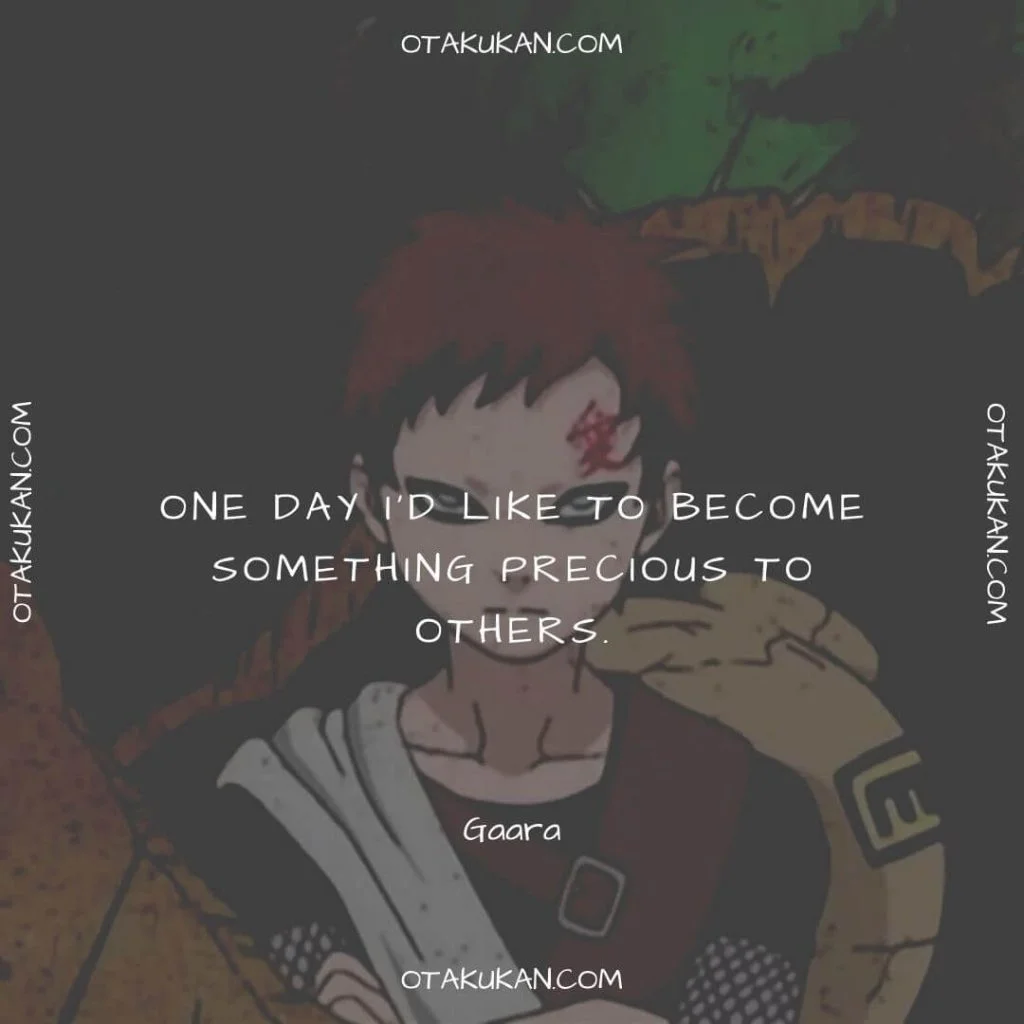 10. One day I'd like to become something precious to others.
11. You're the same then. When you feel the honor of your idol under scrutiny… you become enraged, as if it were your own honor being questioned. The more precious your idol is to you… the harder you fight for him.
12. You can make a rain of 1,000 needles. I will make it rain blood.
13. If you're truly prepared to take up the mantle of a Kage, then as Sasuke's friend, you know what you have to do.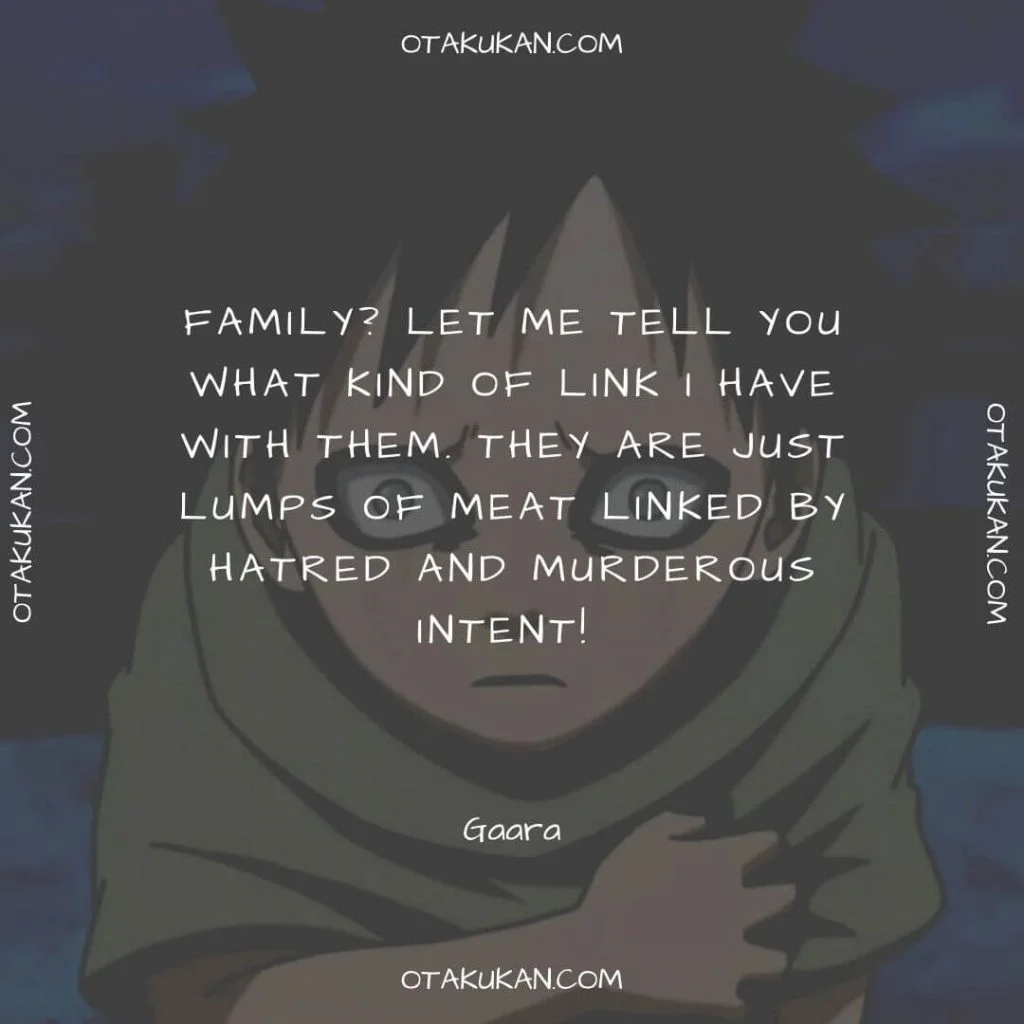 14. Family? Let me tell you what kind of link I have with them. They are just lumps of meat linked by hatred and murderous intent!  – Gaara
15. We have walked through the darkness of the world, that's why we are able to see even a sliver of light.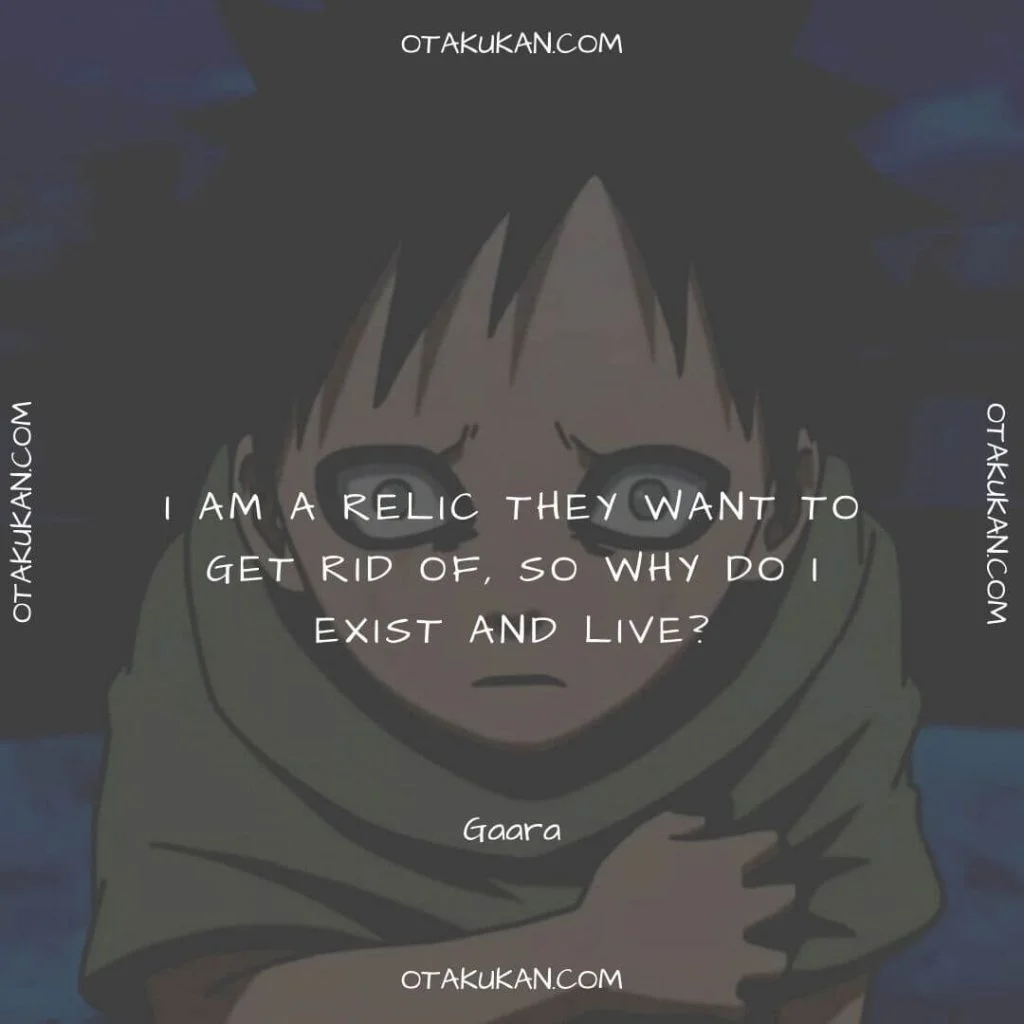 16. I am a relic they want to get rid of, so why do I exist and live?    -Gaara
17. If all other people exist to magnify that love, then there is no more a splendid universe than this one.
18. This is where it all starts for me. Starting with this small bond. I too want to become someone who is needed, instead of a weapon that is feared. And as the Kazekage of Sunagakure."  -Gaara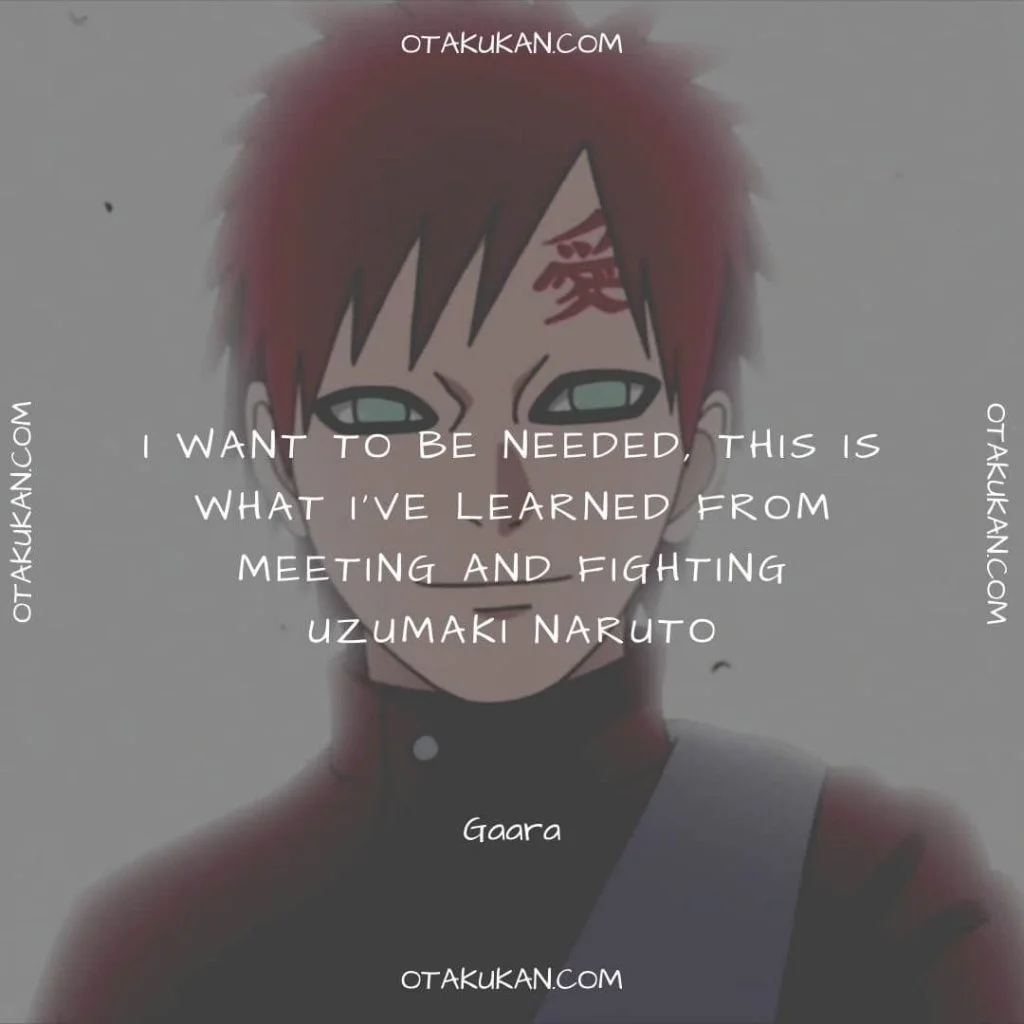 19. I want to be needed, this is what I've learned from meeting and fighting Uzumaki Naruto
20. Up until now, my bonds with others have only been ones of hatred and murder. But, seeing him fight so hard made me wonder what a bond really is. I think I understand a little now. Suffering, sadness…and joy. To be able to share it with another person. Naruto Uzumaki…when I fought him, I feel that is what he taught me.  -Gaara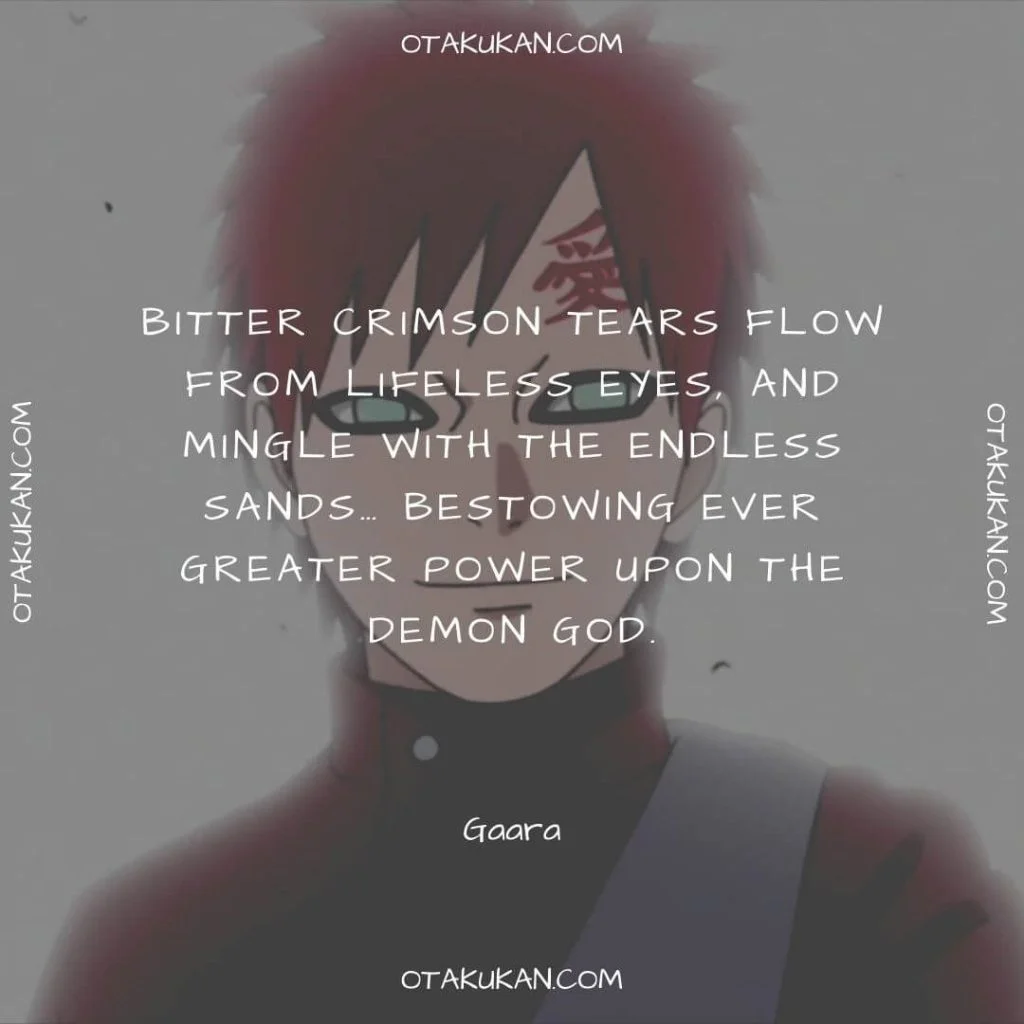 21. Bitter crimson tears flow from lifeless eyes, and mingle with the endless sands… Bestowing ever greater power upon the demon god.
22. Three times now… We've fought world wars for our own nations, our own villages. We've hurt one another. We've hated one another. That hatred bred a lust for power, and that lust for power created ME. I was a Jinchuuriki, the embodiment of hatred and power. And I hated this world and all the people in it… I wanted to destroy it with my own hands. The exact same thing Akatsuki is trying to do today. But one man, one ninja from Konoha stopped me. I was his enemy, yet he wept for me! I hurt him, yet he called me his friend! He saved me! My enemy, my fellow Jinchuuriki… He suffered the same pain as me, yet bore no ill will! There are no enemies here because we've all suffered at Akatsuki's hand!" – Gaara
With these Gaara Badass Quotes, we have also included a few Gaara Quotes Wallpaper which you may want to save on your device.