Obito was an Uchiha whose dream was to become Hokage. He Was a member of Team Minato, along with Rin Nohara and Kakashi Hatake. He Was sensitive Like Naruto; he helped many without hesitation and had a crush on Rin Nohara.
During War times, Obito gets crushed under the Rocks to save Kakashi Selflessly!!, which leads him to Madara Uchiha. Madara Uchiha set up plans to kill Rin. So he could use Obito in his plan.
During all this time, he said various Obito quotes to Rin and Kakashi. We have listed some of the best Obito Quotes & Dialogues. These Obito Uchiha Quotes are Worth sharing.
Best Obito Uchiha Quotes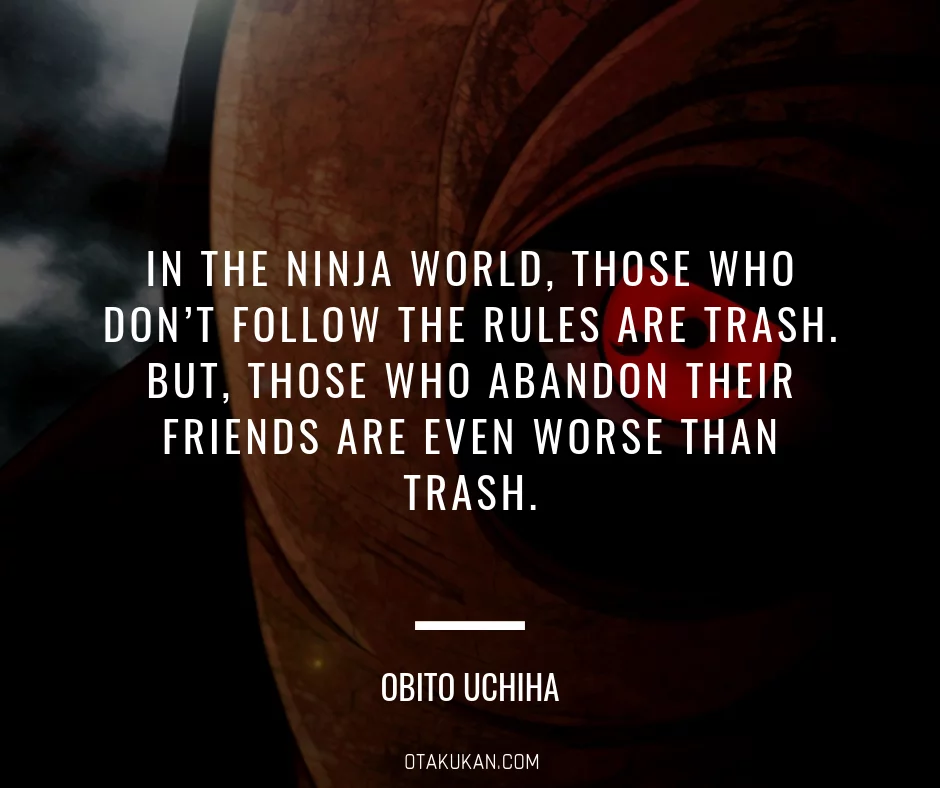 1.IN THE NINJA WORLD, THOSE WHO DON'T FOLLOW THE RULES ARE TRASH. BUT, THOSE WHO ABANDON THEIR FRIENDS ARE EVEN WORSE THAN TRASH. – Obito Uchiha
2. "No one cared who I was until I put on a mask."  –Obito Uchiha
3. "In the ninja world, those who don't follow the rules are trash. But, those who abandon their friends are even worse than trash."
4."I'm no one. I don't want to be anyone. All I care about is completing the moon's eye plan. This world is completely worthless. There is nothing left in it but misery."  – Quotes by Obito Uchiha
5. "The moment people come to know love, they risk carrying hate."
6."I believe the 'White Fang' is a true hero!"  –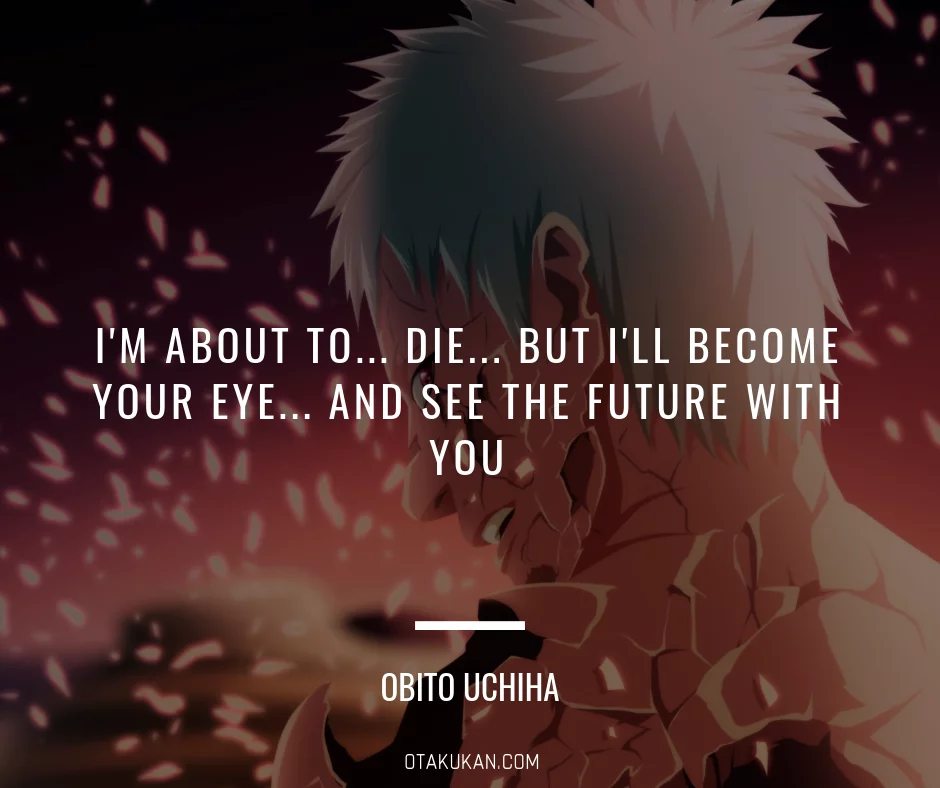 7."I'm about to… die… but I'll become your eye… and see the future with you.
8."There is no such thing as hope! The concept of hope is nothing more than giving up, a word that holds no true meaning."
9."Look! There is nothing in my heart! I don't even feel the pain!! You don't have to feel guilty, Kakashi. This hell of a world opened this wind-hole.   -Obito Uchiha
10. Now, I realize that faking one's name and letting others do everything for you differs from entrusting something to one's comrades. I'm not you. The current me is the one who wanted to become Hokage"  -Obito Uchiha Quotes