Ichigo, the main character in Bleach, is known for wielding a colossal sword named Zangetsu as his zanpakuto. This mighty blade has become an iconic symbol of Ichigo's strength and determination throughout the series.
However, Zangetsu suffered a devastating blow when Rukia's brother, Byakuya Kuchiki, broke it while attempting to remove Rukia from Ichigo's side. As a result, Ichigo's powers were sealed, and he had to undergo a rigorous process to unlock them again. In his pursuit to regain his abilities, Ichigo even delved into hollow creation, pushing himself to the limits to achieve his desired outcome.
Unfortunately, Ichigo's zanpakuto faced yet another setback when it was shattered in his Bankai form by Haschwalth, one of Quincy King Yhwach's subordinates. However, this turned out to be a blessing in disguise for Ichigo. He underwent an evolutionary process through this adversity, ultimately gaining even more formidable weapons and abilities.
In which chapter did Ichigo get a new Zanpakuto?
In Chapter 542 of Bleach, fans are treated to Ichigo's new appearance as he wields two distinct swords. One of the swords is shorter, while the other is a large curved blade resembling his familiar zanpakuto.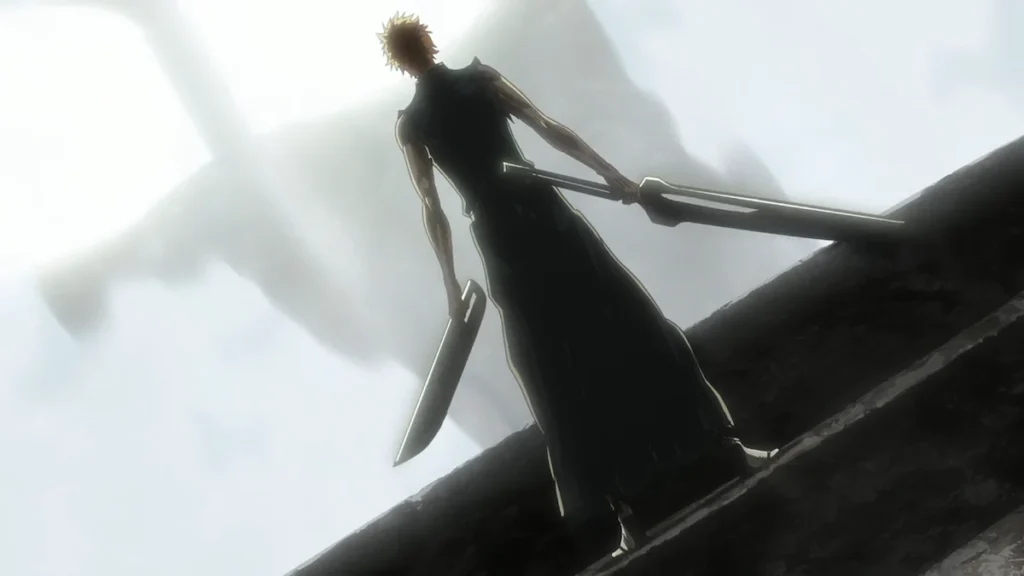 Previously, during the war against Hascwalth, a subordinate of Quincy King Yhwach, Ichigo's zanpakuto transformed into its Bankai form. Mayuri, the captain of Gotei's 12th Division, informs Ichigo that a damaged zanpakuto can only be restored if it is in its Shikai form.
Regrettably, Ichigo's sword was broken while in Bankai, and Mayuri's words added insult to injury, especially after his defeat by Quincy.
To his surprise, Ichigo is told by Ichibei of Squad Zero that there might be a way to retrieve his zanpakuto at the Imperial Palace, with Ouetsu Nimaiya being the key to their success.
However, there is a catch—Ichigo's old Zangetsu will not be restored. Accompanied by Renji, Ichigo visits Nimaiya's residence and discovers numerous men and women revealed to be zanpakuto spirits.
Nimaiya challenges Ichigo and Renji to defeat the Asauchi avatars surrounding them before he agrees to forge their zanpakuto. After three intense battles, Nimaiya declares Renji the winner, despite Ichigo failing the test.
Nimaiya explains the significance of understanding one's true nature, and it becomes evident that Ichigo lacks this self-awareness. However, after learning about his Quincy lineage and returning, Ichigo faces the Asauchi spirits again.
This time, instead of immediately engaging in combat, Ichigo surprises Nimaiya by reaching out to one of the Asauchi, which takes the form of his Inner Hollow. Recognizing the change in Ichigo, Nimaiya utilizes his Inner Hollow to create a new zanpakuto.
Furthermore, Nimaiya reveals that the entity Ichigo had mistaken for Zangetsu is a manifestation of his Quincy powers. As Ichigo reconciles with his inner identities, a new zanpakuto is formed.
This unique zanpakuto is split into two blades—the embodiment of his Quincy side and his Inner Hollow, each representing a distinct power source. The merging of these forces signifies Ichigo's growth and evolution as a character.
Where to read Manga Bleach?
You can read Bleach on Viz's Shounen Jump app and website.