Ecchi anime is intentionally created with a lot of fanservice, and that's usually its primary focus. However, ecchi anime can also feature intriguing storylines, well-developed characters, and mature themes.
It's important to note that ecchi is distinct from h-anime, as it doesn't depict explicit scenes. Instead, it often implies adult content and depends on the level of censorship imposed by the network broadcasting it.
Ecchi anime frequently blends with other genres, much like many other anime series. High school settings are commonly used in ecchi anime, and they feature elements like girls in revealing outfits, well-endowed characters, and moments that highlight lingerie, among other things.
So, without further ado, for those seeking recommendations, here are some ecchi anime series set in high school.
Ecchi Anime Set in High School
1. On Gear

Episode: 25
Released: 2006
Studio: Toei Animation
Air Gear is an anime series that aired on Indosiar. I still recall a memorable scene from the first episode, though it's worth noting that it was less censored back then.
The story follows Minami Itsuki, who initially had no intentions of getting involved with Air Treck motorized roller blades. However, this changes when he encounters the Storm Riders street gang, resulting in a humbling experience. On that fateful day, he stumbles upon a locked room containing a pair of ATs and a box of stickers belonging to the Sleeping Forest street gang.
Curiosity gets the better of him, and Ikki decides to try on the rollerblades and give them a spin. This marks the beginning of his journey in AT fighting and street racing. As Ikki's reputation grows in this underground subculture, he eventually forms his own gang, engages in more battles, and expands his territory.
2. High School DxD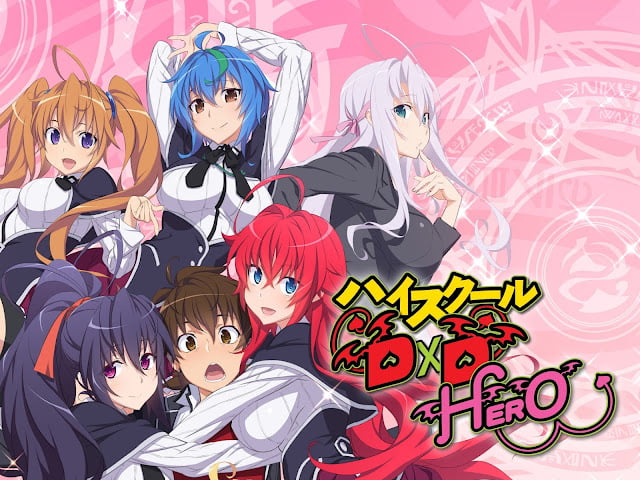 Episode: 12 (S01), 12 (S02), 12 (S03), 13 (S04)
Aired: 2012-2018
Studio: TNK
High School DxD unfolds within the unique setting of Kuoh Academy, a school that accommodates not only ordinary students but also angels and demons. The story revolves around Issei Hyodo, a somewhat average and perverted student.
Issei's life takes an unexpected turn when he agrees to go on a date with Yuma Amano. What he discovers is far more extraordinary than he could have imagined, as Yuma is an angel who tragically ends Issei's life.
However, Issei is granted a second chance, or some might say a mixed blessing when Rias Gremory reincarnates him as a Devil and becomes his master.
High School DxD strikes a unique balance between humor and sensuality, especially in the ecchi scenes involving the central characters of this harem anime. The interactions between these characters are comical, yet there's an undeniable allure in watching angels and demons engage in flirtatious and risqué situations.
3. High School of the Dead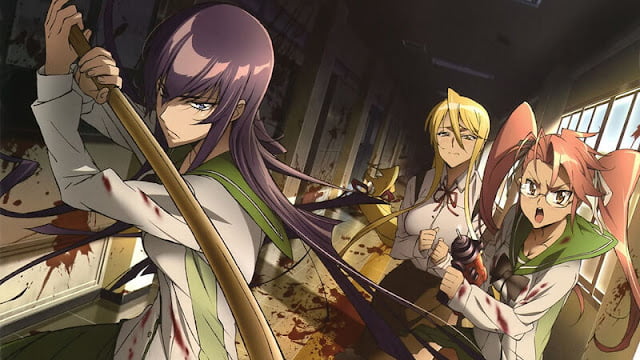 Episode: 12 + OVA
Released: 2010
Studio: Madhouse
The zombie apocalypse is a popular theme, and High School of the Dead embraces this genre with a unique twist.
Fujimi Middle School becomes ground zero for a deadly virus outbreak that transforms people into zombies. The surviving group comprises a handful of high school students and the school nurse. Their primary objectives are to stay alive and uncover the truth behind the outbreak.
You might wonder why a zombie-themed story is included in the list of ecchi anime, but High School of the Dead offers a compelling experience. The female characters are beautifully designed and add depth to the narrative.
During intense combat scenes, you can anticipate gravity-defying outfits in slow motion and agile characters whose movements seem to defy the laws of physics.
High School of the Dead isn't just about action and fighting zombies; it infuses various alluring ecchi scenes, making it a captivating and enjoyable watch.
4. Prison School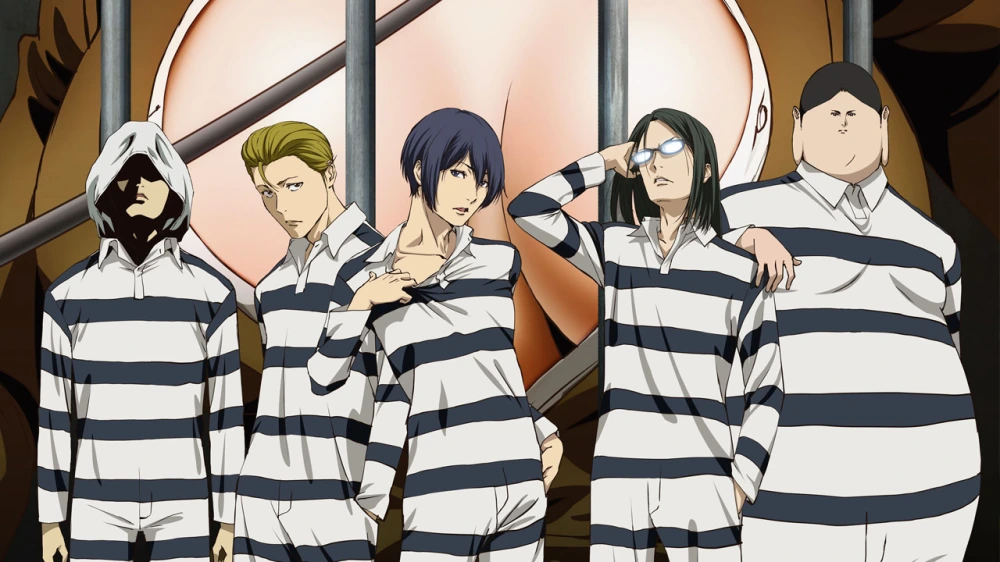 Episode: 12
Released: 2015
Studio: J.C Staff
Hachimitsu Academy, an exclusive all-girls school, undergoes a significant change when it allows five boys to enroll.
However, these newcomers get off to a rocky start by attempting to sneak a peek into the girls' bathroom, which leads to their incarceration in the school's underground prison.
Faced with two options: spend a month behind bars or face expulsion, they reluctantly choose the former. Little did they know that the academy's disciplinary measures were severe and strictly enforced!
Prison School has earned its reputation as a top ecchi anime series. From its prominent focus on specific physical attributes to the punishments the male protagonists endure, it's an anime filled with sensuality.
If you appreciate ecchi anime with a more intense and dominating sensuality, Prison School is an excellent choice. It's sure to leave you captivated and intrigued!
5. Food Wars! Shokugeki no Soma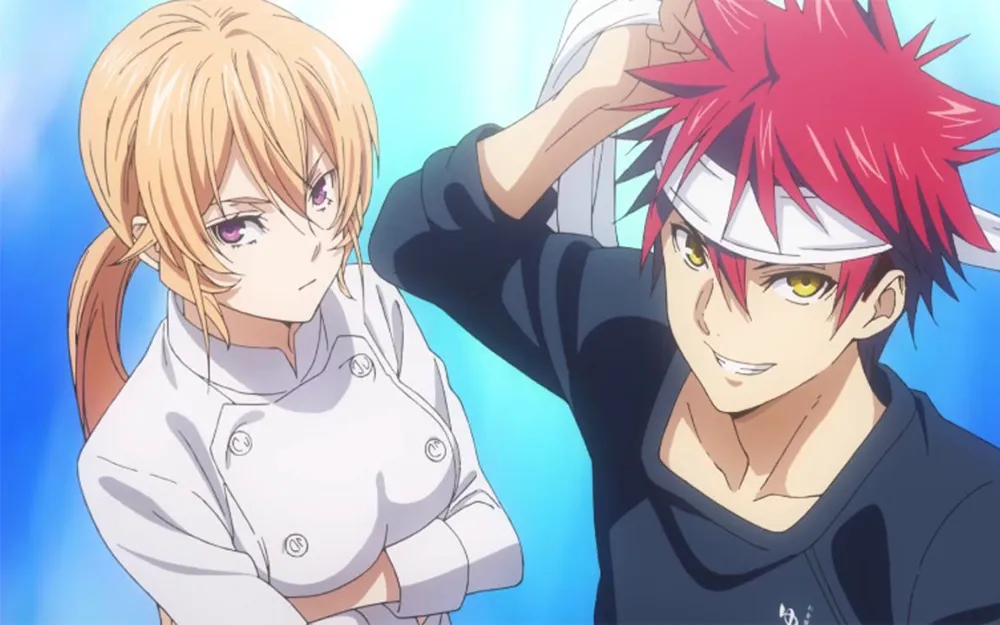 Episode: 24 (S01), 13 (S02), 24 (S03), 12 (S04), 13 (S05)
Aired: 2015-2020
Studio: J.C. Staff
Since childhood, Souma Yukihira has aspired to defeat his father in a cooking showdown and eventually take over the family restaurant. So, it came as a shock when his father made a sudden announcement, revealing his plans to close the restaurant and send Souma to culinary school.
However, Totsuki Academy is far from an ordinary culinary school. This prestigious institution is home to culinary prodigies like Erina "God's Tongue" Nakiri, who does her utmost to keep aspiring chefs like Souma at bay.
Food Wars! Shokugeki no Soma takes the term "foodgasm" quite literally. Each time someone tastes a chef's culinary creation, it's portrayed symbolically, as though the experience is erotically stimulating due to the sheer deliciousness of the food.
Usually, during food-tasting scenes, there's a depiction of someone metaphorically baring it all, accompanied by sounds of appreciation that can be distracting.
6. Monogatari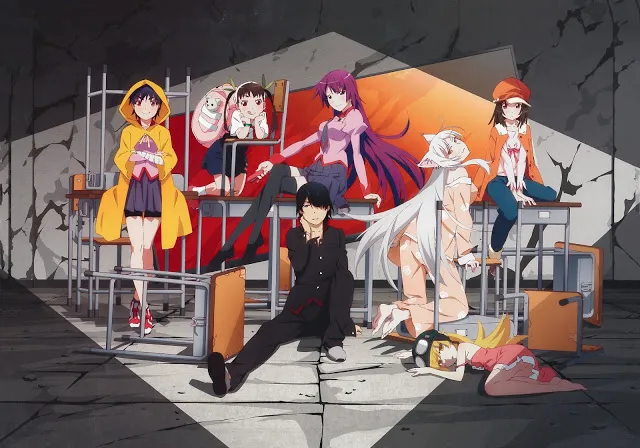 Episode: 15 (Bakemonogatari), 11 (Nisemonogatari), 26 (S02), 12 (Owarimonogatari)
Aired: 2009-2018
Studio: Shaft
There's some debate about whether Monogatari qualifies as an ecchi-harem anime. Within the first six seconds of the initial episode, we're introduced to one of the female characters, and her underwear becomes a topic of discussion. Additionally, there are numerous instances throughout the series featuring glimpses of underwear, breasts, and buttocks.
Except for two other characters who occasionally appear, the main character, Araragi, is the sole male in the series. He is typically surrounded by women who have developed feelings for him due to his assistance.
Does this qualify as ecchi? Certainly. Is it a harem? It's possible. However, what sets this series apart from other ecchi and harem anime is its ability to remain engaging even without the ecchi and harem elements. It's not an ecchi with some storyline but a story with some ecchi.
7. The Fruit of Grisaia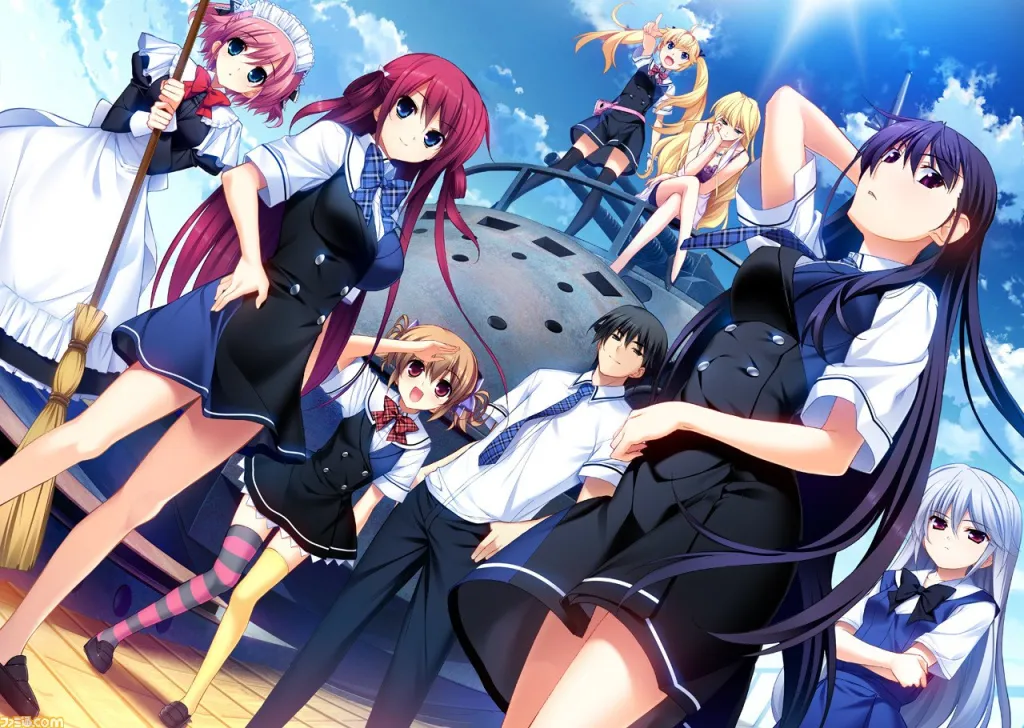 Episode: 13
Aired: 2014-2019
Studio: 8-bit
This ecchi anime is set within the confines of Mihama Academy, an institution created to provide refuge for those diverging significantly from the societal norm. Within the academy's walls, five female students have distinct reasons for seeking enrollment, hoping for a more tranquil existence.
The arrival of Kazami Yuuji, the academy's first male student, disrupts the usual routine at Mihama. His presence throws off the established rhythm of the academy. The pressing question emerges: Can Yuuji serve as the catalyst for rejuvenating the girls' lives and aiding them in conquering their tumultuous pasts, or will the weight of their personal histories prove insurmountable?
It's important to mention that Grisaia was initially conceived as a visual novel franchise with the original intent of being an erotic game.
8. Keijo!!!!!!!!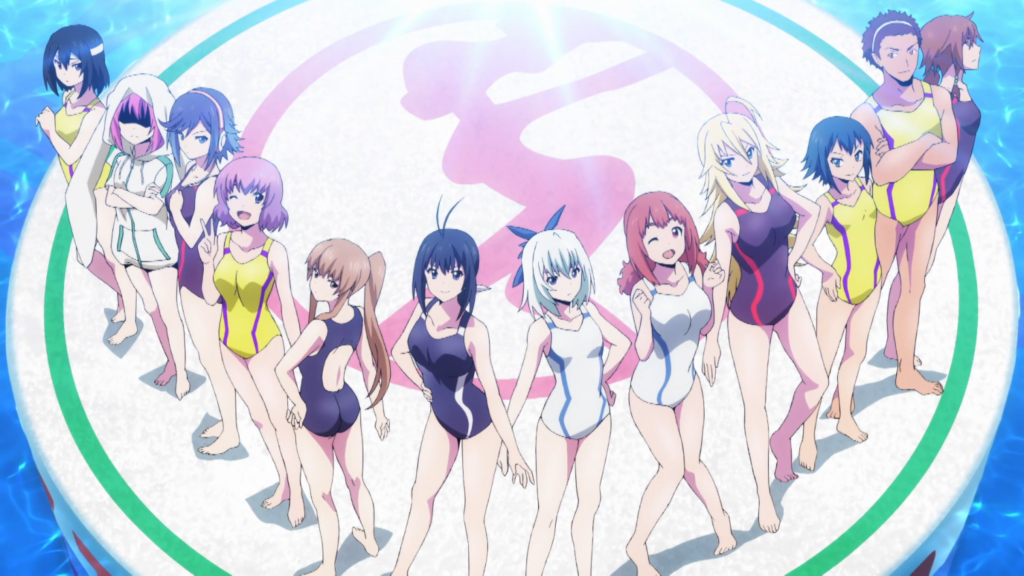 Episode: 12
Released: 2016
Studio: Xebec
"Keijo!!!!!!!!" is about a unique sport in Japan, where only women compete. They can only use their buttocks and breasts to push opponents off a floating platform in a pool.
The main character is Nozomi Kaminashi, a girl who aims to help her family by becoming a Keijo champion. With her background in gymnastics, Nozomi has a head start, but she still has a long journey ahead to become a champion.
This anime isn't your typical sports story. It's designed for people who enjoy watching cute and attractive girls with well-endowed figures in swimsuits. The main focus of "Keijo!!!!!!!!" is the characters' physical attributes. However, what might surprise you is that behind this focus, there's an entertaining and humorous storyline.
9. Hajimete no Gal (My First Girlfriend Is a Gal)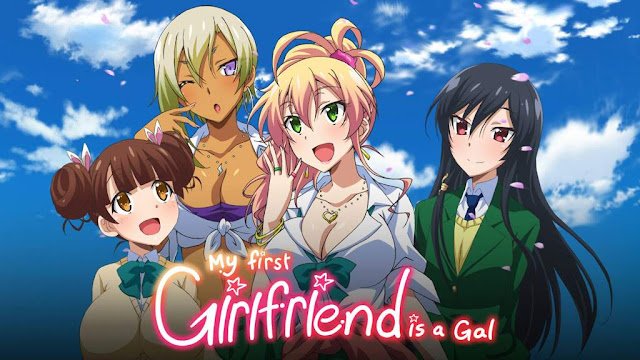 Episode: 10 + OVA
Released: 2017
Studio: NAZ
The main character in "Hajimete no Gal" is Junichi, and the story takes place in beautiful springtime Japan. Junichi aims to get a girlfriend this season, but it's harder than he expected.
Luckily, or maybe not, Junichi has friends who push him to ask a girl out. But the girl he ends up with is not your typical girl; she's what's known as a "gal," a fashionable girl. So Junichi experiences first loves and learns more about himself and girls.
This anime doesn't have a complex plot. It mainly revolves around Junichi wanting to lose his virginity and spending time with various gal girls in his harem.
If you're not looking for deep characters or a strong story, "Hajimete no Gal" offers a lot of sexy and ecchi scenes. The girls are curvy and attractive, often making advances towards Junichi in public and unexpected places. It's filled with fanservice, and for fans of ecchi anime who enjoy some suggestive content, "Hajimete no Gal" is worth a look.
10. Date A Live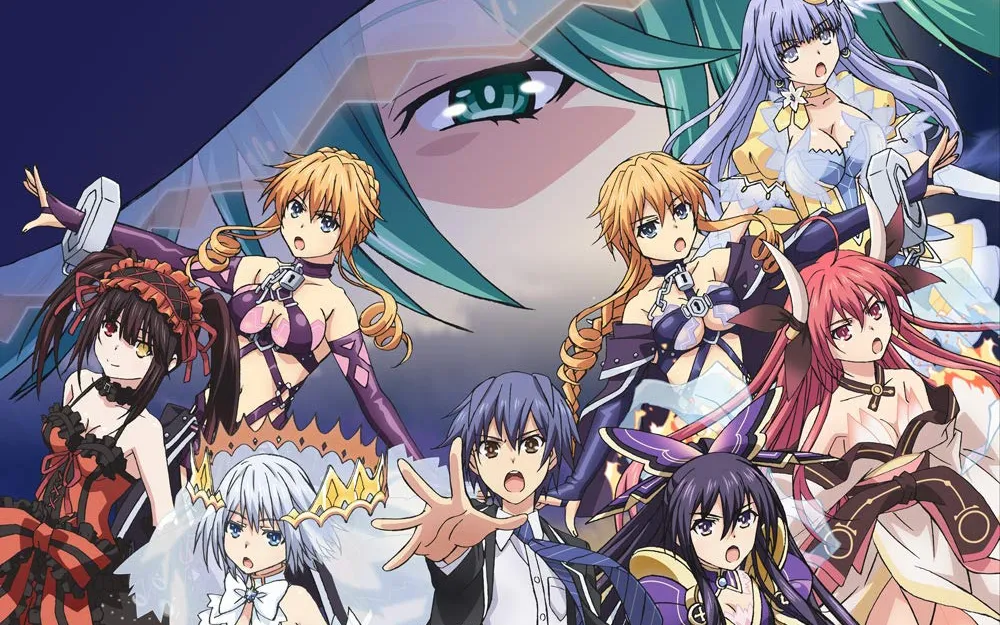 Episode: 12 (S01), 12 (S02), 12 (S03), 12 (S04)
Aired: 2013-2022
Studio: AIC Plus+
Thirty years ago, a strange event called a "spacequake" wrecked the center of Eurasia, taking the lives of millions. After that, smaller spacequakes happened irregularly all over the world.
Shidou Itsuka, a regular high school student, encounters a mysterious girl at the center of a spacequake. He learns from his sister Kotori that this girl is one of the "Spirits" responsible for causing these spacequakes when they appear in the world.
Kotori captains the airship Ratatoskr, and she enlists Shidou's help to use his unique abilities to seal the Spirits' powers and prevent them from harming humanity. There's just one catch: to seal the Spirits, Shidou must make them fall in love with him.
"Date A Live" is a blend of comedy, science fiction, romance, action, and harem, making it an exciting and entertaining anime.