Get ready for action and keep your excitement high because the Solo Leveling anime arrives sooner than expected. The production team surprised us all with the first Solo Leveling anime teaser earlier this year and initially announced a Winter 2024 release. But guess what? You won't have to wait that long to dive into Solo Leveling.
During Aniplex Online Fest 2023, they dropped the latest Solo Leveling trailer and, most importantly, revealed the official release date for the anime! Let's take a look at all the exciting details below!
Solo Leveling New Key Visual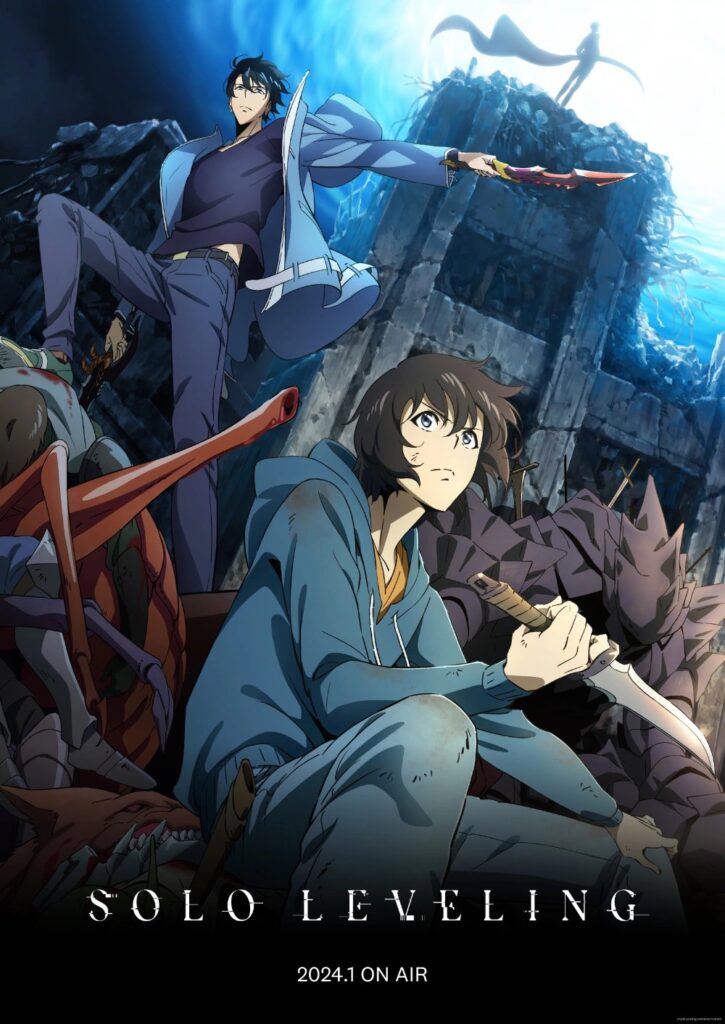 Solo Leveling Anime Arrives in January 2024
We've got official confirmation in a tweet that the Solo Leveling anime is set to hit our screens in January 2024. So, it looks like winter will bring us this exciting anime sooner than we thought. While we don't have the exact day yet, we expect to hear more in the next few months.
But wait, there's more! Along with this release date announcement, they've also given us a new trailer to get us even more pumped up for the anime. You can catch it in the tweet below. Get ready for an action-packed winter!
The first gate appeared over a decade ago. Now, the weakest hunter around is about to have a second awakening.

Solo Leveling premieres January 2024, only on @Crunchyroll! pic.twitter.com/WEkfo6OLhm

— Solo Leveling (@sololeveling_en) September 10, 2023
Exciting news ahead! The adventures of Jin-Woo, the weakest hunter in humanity, are coming to life in the Solo Leveling anime. It all starts when he stumbles into a mysterious double dungeon with his party, facing life-threatening challenges.
But somehow, he gains a mysterious "System" that helps him grow and become a stronger hunter. This is where the tagline "Only I Level Up" truly comes to life as we follow Jinwoo battling magical beasts and monsters to grow stronger.
Moreover, since Crunchyroll and A1-Pictures are behind this anime, you can stream it exclusively on Crunchyroll next year. We're hyped and can't wait to witness the transformation of the weakest E-rank hunter into the world's most fearsome hunter.
Here's a quick look at the main production team for the Solo Leveling anime:
Original Work: DUBU (REDICE Studio), Chugong, h-goon
Animation Studio: A-1 Pictures
Director: Shunsuke Nakashige
Character Designer: Tomoko Sudo
Head Writer: Noboru Kimura
Music: Hiroyuki Sawano
Now, let's talk about the cast and voice actors:
Taito Ban as Sung Jin-woo/ Shun Mizushino
Reina Ueda as Cha Hae-In/ Shizuku Kosaka
Hiroki Touchi as Baek Yoonho/ Taiga Shirakawa
You might notice the characters have dual names because the anime adaptation has shifted the story's setting from Korea to Japan. But regardless of the setting, Sung Jin-woo will always be in our hearts! Are you excited about the Solo Leveling anime? Share your thoughts with us in the comments.