Anime is filled with love stories. Some romances shape the series, while others become fan favorites. But, like in real life, not every promising first date leads to a successful relationship.
In anime, some relationships end in disappointment, while others blossom into deep, meaningful romances. The first date holds special significance in every romance. It's the moment when people connect; sometimes, that connection evolves into something more profound.
For some, the first date is a dream realized. For others, it marks the beginning of a new dream altogether. So let's check some of the Best First Dates in Anime.
1. During a Sparring Match, Goku and Chi-Chi Have a Dialogue About Love and the Future (Dragon Ball)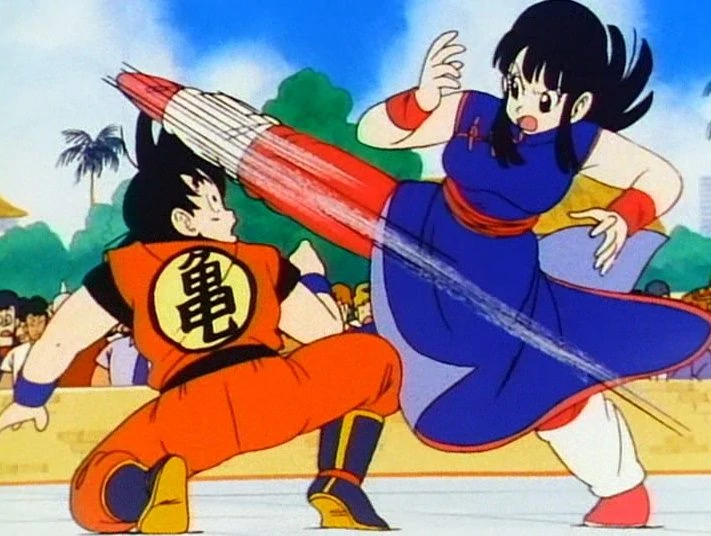 Goku, the central character in Dragon Ball, has a long history with his wife, Chi-Chi, dating back to their childhood. Their first date occurred when they were kids, and Chi-Chi persuaded Goku to date with her.
As they grew older, Goku's understanding of dating remained somewhat naive. Chi-Chi took the initiative to explain the concept to him, suggesting that they engage in a fun activity together. However, driven by his lifelong passion for fighting, Goku chose to spar with Chi-Chi as their date, participating in the preliminary world martial arts tournament.
2. Usagi and Mamoru's Romance Begins with the Elevator (Sailor Moon)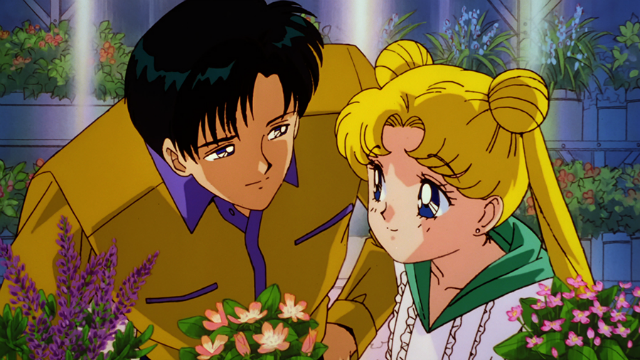 In the Sailor Moon anime, Usagi and Mamoru initially had a somewhat adversarial relationship. Mamoru, in particular, tended to tease or taunt Usagi whenever they crossed paths. Meanwhile, he continued to have dreams about a daughter he cherished from his past life.
Over time, Mamoru reveals a gentler side to Usagi and agrees to stop using the nickname 'Meatball Head' for her. Their relationship takes a significant turn when they find themselves trapped in an elevator, providing an opportunity for a heartfelt conversation.
As the story progresses, Mamoru and Usagi eventually recognize each other from their previous lives, leading to a reunion that adds depth and complexity to their connection.
3. Araragi Is Gifted by a Tsundere Girlfriend by Hitagi (Monogatari)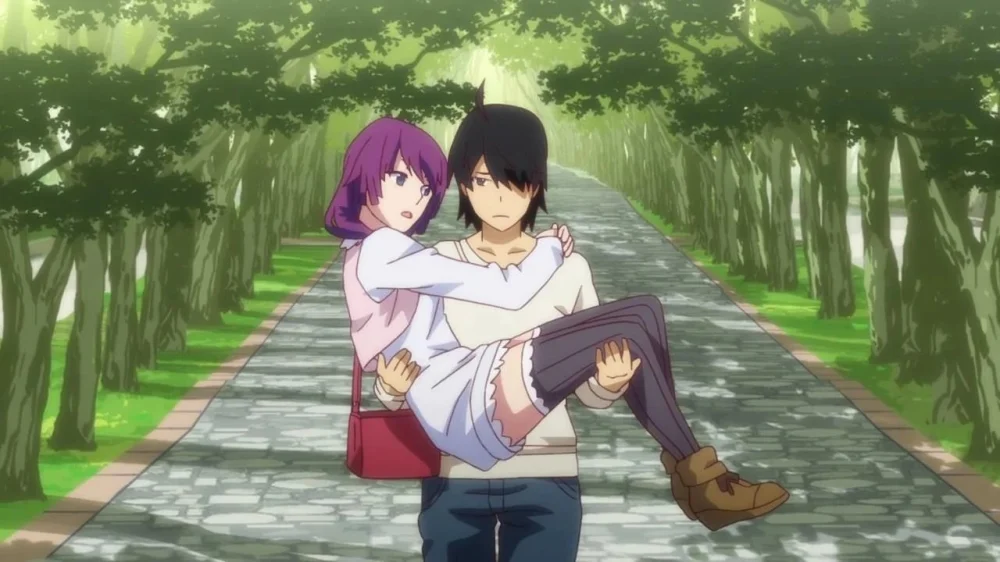 Despite Koyomi Araragi's perverted tendencies, he genuinely extends a helping hand to anyone facing problems, be it a human, a ghost, or even a bloodthirsty vampire. Interestingly, most of those seeking his assistance happen to be women.
One of his notable encounters is with Hitagi Senjougahara, who initially responds to Araragi's meddling with threats involving staples and cutters. However, as Araragi assists her in resolving supernatural challenges, Senjougahara gradually opens up. In the end, Araragi helps her with her issues and gains an unexpected romantic interest—a tsundere boyfriend who harbors a yandere side.
4. Kirito and Asuna's Relationship Begins with Cooking Rare Meat (Sword Art Online)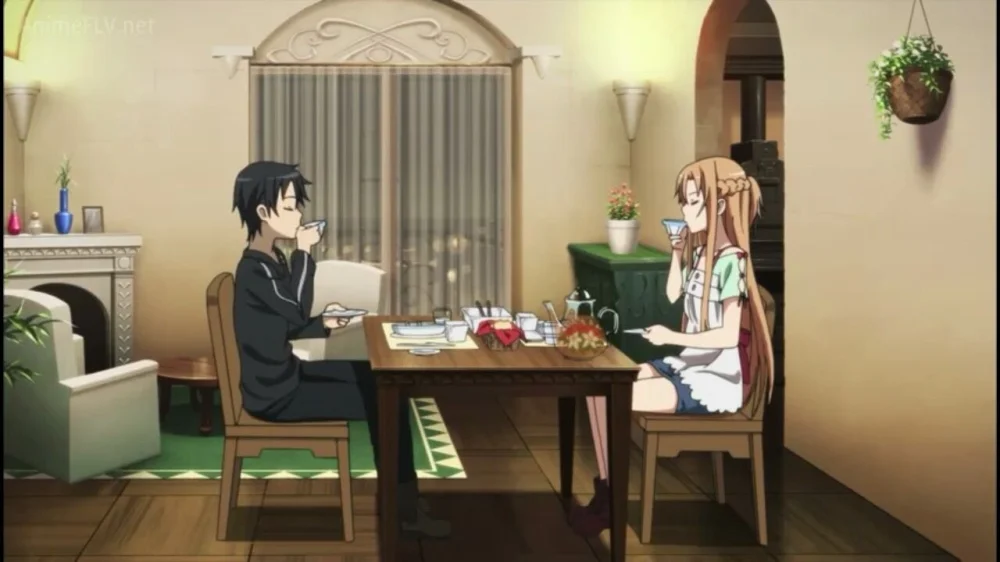 Kirito and Asuna's paths crossed while trapped in Sword Art Online. Working together, they teamed up to face the game's initial boss, and this collaboration laid the foundation for a lasting friendship.
When Kirito acquired rare meat, he immediately thought of the one person with exceptional cooking skills—Asuna. Approaching her, he requested her help in preparing the meat, and Asuna agreed without hesitation.
This dinner encounter began their in-game romance, eventually evolving into a real-world relationship.
5. Oreki and Chitanda have their first date at a coffee shop, but it's a shame it's blocked by genre (Hyouka)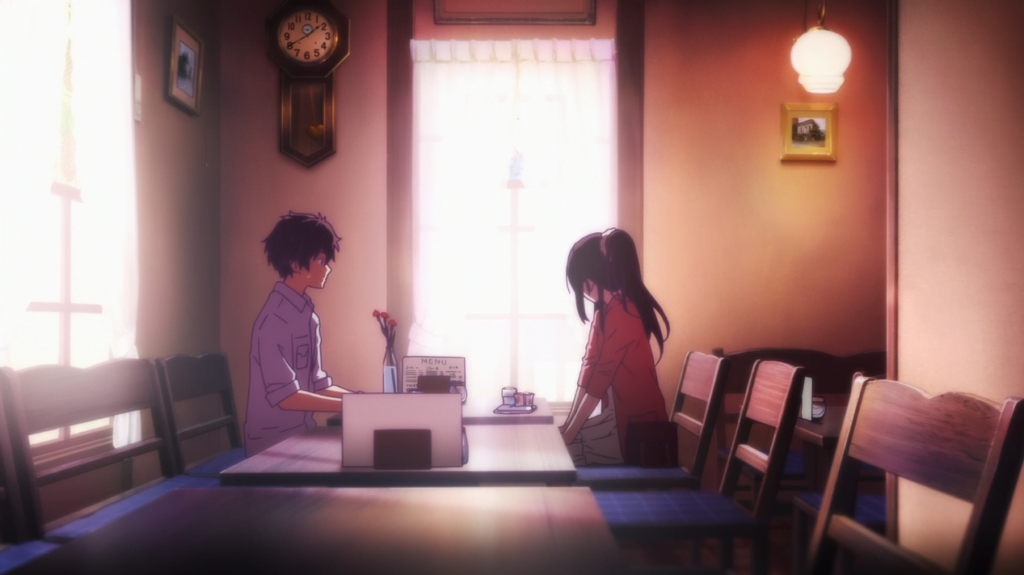 In episode 4 of the anime Hyouka, a cafe scene sets a standard for depicting a conversation between two characters. The scene uses creative shots, including high angles, to add variety to the back-and-forth dialogue between the characters.
It's worth noting that, despite not being a romance anime, some viewers might find joy imagining a romantic connection between characters like Houtaro Oreki and Eru Chitanda.
6. Takeo and Rinko Stay Together Without Misunderstandings (Ore Monogatari!!)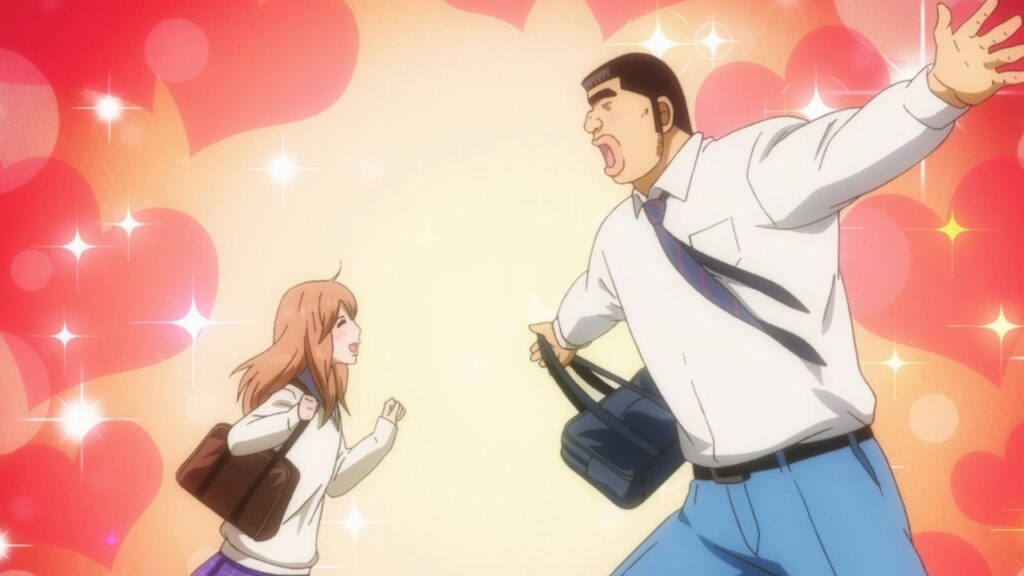 Ore Monogatari!! Or My Love Story!! Is a romantic comedy that follows the story of Takeo Goda and Rinko Yamato.
Despite being kind-hearted, Takeo often scares girls away due to his large size. People also tend to mistake him for being older than he is. His best friend is a popular guy, and in matters of love, Takeo often feels overlooked.
However, everything changes when he meets Rinko. Their first encounter starts with Rinko getting annoyed because of a misunderstanding. Takeo mistakenly thought she was interested in his best friend and couldn't stop talking about it. She agrees to date him once the confusion is cleared, and the two make an adorable couple.
7. Ken has a crush on Rize, a girl who will change his life forever (Tokyo Ghoul)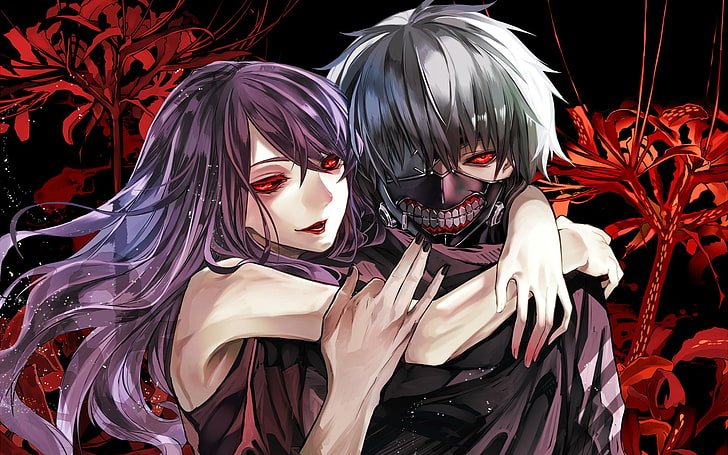 At the beginning of Tokyo Ghoul, Ken Kaneki embarks on a relationship that transforms his life.
Despite the eventual unfortunate outcome of their relationship, Ken and Rize shared a memorable first date. Ken was captivated by Rize's beauty from the moment he laid eyes on her.
Their connection deepened quickly, fueled by their shared love for books. Ken was on the verge of inviting her on an amazing first date, and he even contemplated a second one.
Although the date didn't end well, it eventually opened doors to Ken's destiny. Accepting Rize's impact on his life required time and inner conflict for Ken.
8. Mirai and Akihito Spend Time Eating, Fighting, and Getting Bonded (Kyoukai no Kanata)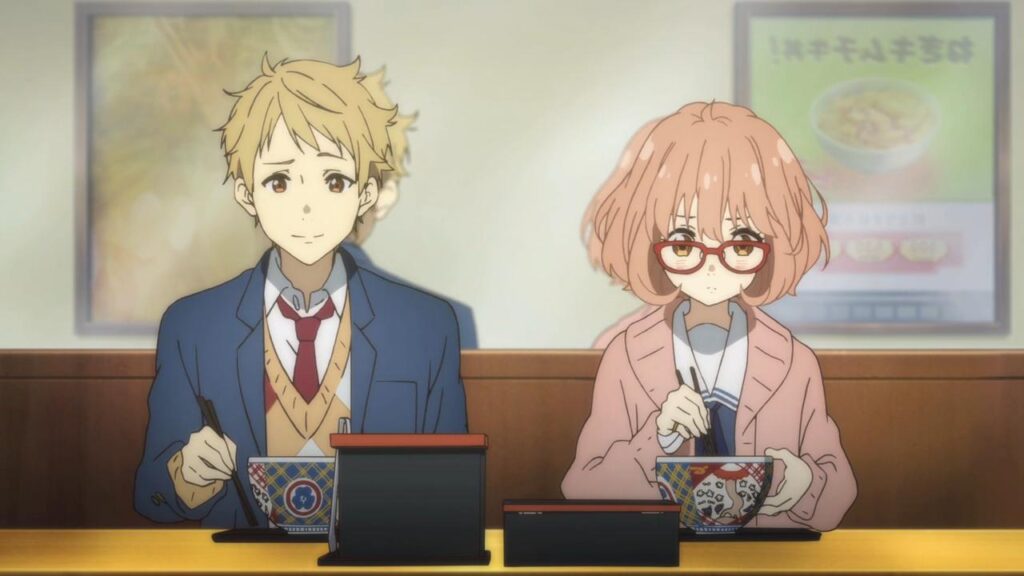 In Kyoukai no Kanata or Beyond the Boundaries, Mirai encounters her senior, Akihito Kanbara. Mirai, the sole survivor of a formidable hunter family, crosses paths with Akihito, who happens to be the son of the type of monster her family hunts.
His fondness for girls with glasses sparks Akihito's initial interest in Mirai. However, this curiosity evolves into something deeper.
As the two share a meal, engaging in debates and building a connection, their interactions are often filled with playful banter and laughter. Akihito and Mirai habitually joke around whenever they spend time together.
9. Hirotaka and Narumi Become Otaku Lovebirds, Making Weebs Envy! (Wotakoi)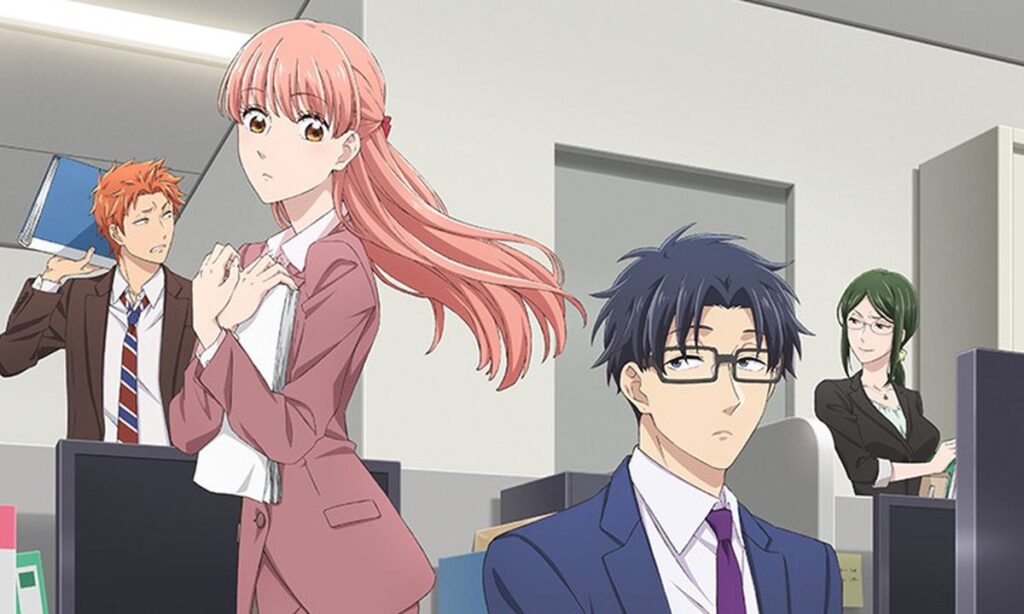 After the initial episode, Hirotaka Nifuji makes a bold move and confesses his feelings to Narumi Momose. Hirotaka's sincere approach convinces Narumi to begin her first relationship with a fellow otaku.
Despite working together, they maintain a professional demeanor while enjoying a casual friendship. Wotakoi delves into the progression of their relationship as they navigate the complexities of adult life, engaging in activities like movie nights and outings to amusement parks.
10. Yuki and Machi Kiss When Sohma's Zodiac Curse Breaks (Fruits Basket)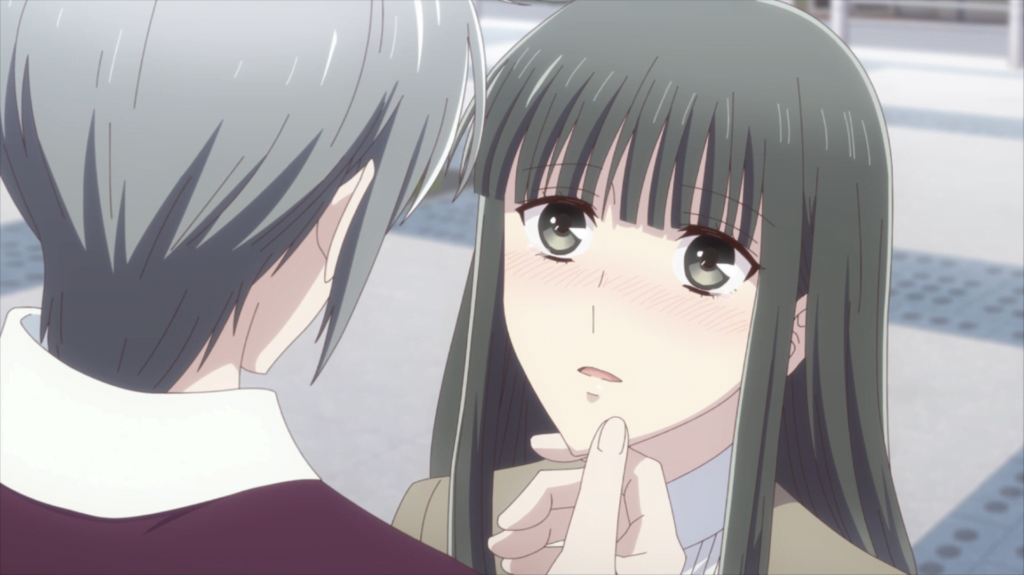 As Yuki starts realizing he has feelings for Machi, he also feels the urge to share the truth about the Sohma Curse with her.
Despite the uncertainty and the fact that Yuki can only hope for Machi's acceptance, he confesses that he envisions a future together with her.
Just as Yuki is about to reveal the truth, something unexpected happens – Machi's curse is unexpectedly broken. Instead of sharing the curse revelation, she expresses her feelings for him through a hug.
In a heartwarming moment, Machi asks if she can call him by his first name, and Yuki happily agrees, sealing the moment with a kiss.