"Cider no You ni Kotoba ga Wakiagaru" or "Words Bubble Up Like Soda Pop" is a heartwarming romantic drama film. It follows Cherry, an introverted teenager who finds solace in expressing himself through Japanese haiku poetry. One day, his life turns unexpectedly when he meets Smile, a cheerful girl. Together, they embark on a memorable summer filled with adventure and self-discovery.
This touching story of two teenagers has captured the hearts of viewers worldwide. If you're looking for similar movies like "Words Bubble Up Like Soda Pop," you can find it available for streaming on platforms like Netflix, Hulu, Crunchyroll, Funimation, and Amazon Prime.
1. Whisper of the Heart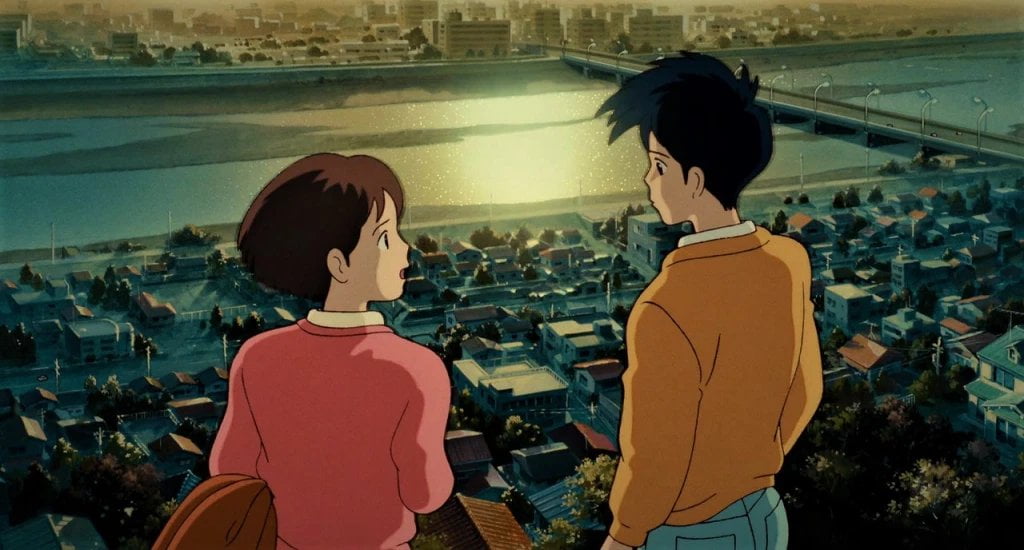 Episodes: 1 Movie
Studios: Ghibli
"Whisper of the Heart" follows the story of Shizuku Tsukishima, a 14-year-old teenager who stumbles upon a boy named Seiji Amasawa with similar literary interests. Intrigued by this connection, Shizuku embarks on a quest to find Seiji, eventually discovering him in an antique shop. Their instant connection leads to a deep bond, but when Seiji shares his dreams and ambitions, Shizuku realizes something is missing in her life. With Seiji's support, she begins a journey of self-discovery and finding her true purpose.
If you're in the mood for a romantic and self-discovery-themed anime, especially one from the classic '90s Ghibli collection, "Whisper of the Heart" is a great addition to your watchlist.
2. The Garden of Words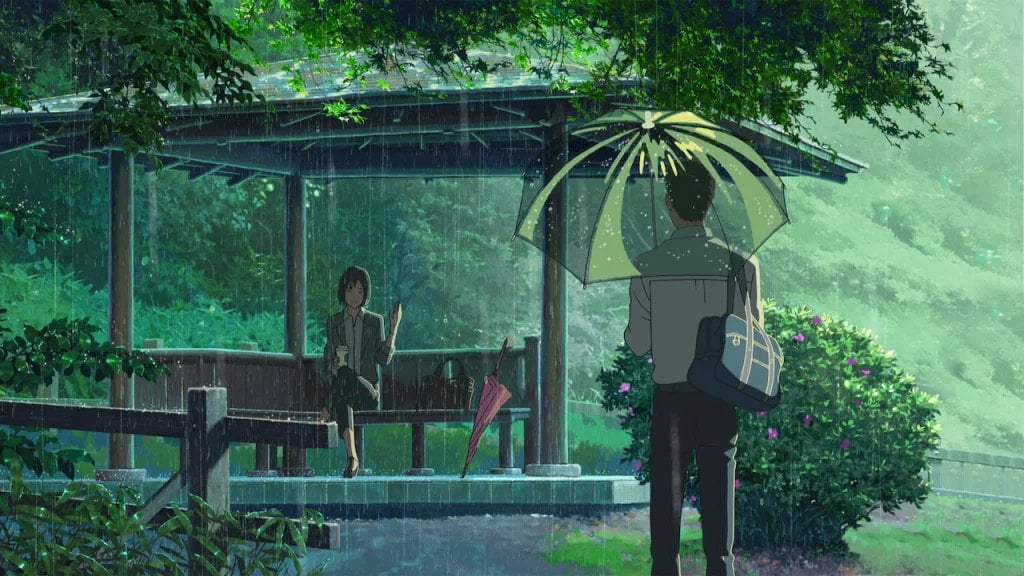 Episodes: 1 Movie
Studio: CoMix Wave Film
"The Garden of Words" unfolds the story of Takao Akizuki, a high school student with a talent for crafting shoes. One day, he encounters a captivating woman named Yukari Yukino in a park. Takao is immediately drawn to Yukari's presence, and their initial conversation sparks when Takao offers to create a pair of shoes for her.
As the days pass, their chance meetings become a regular occurrence, and they continue to rendezvous throughout the rainy season. However, personal challenges and struggles soon cast a shadow over their blossoming connection. By the end of the rainy season, Takao and Yukari come to a poignant realization that compels them to make a difficult decision.
"The Garden of Words" is a touching love story that beautifully captures the essence of human connection and self-discovery. It's a must-watch for fans of films like "Words Bubble Up Like Soda Pop."
3. Summer Wars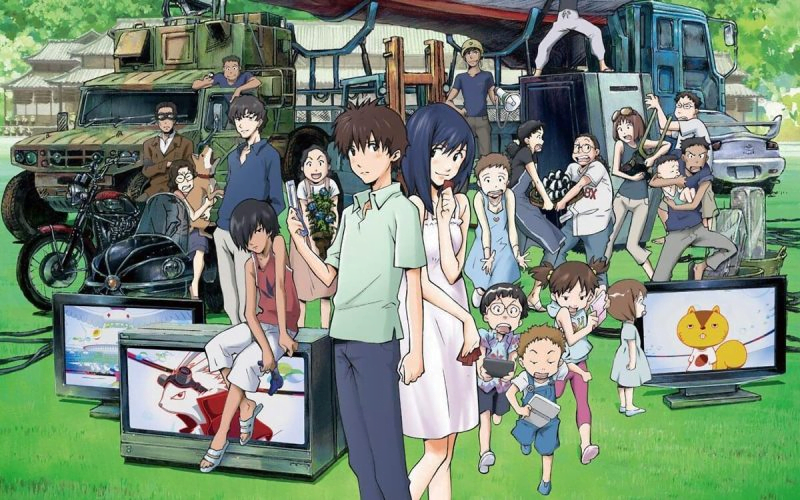 Episodes: 1 Movie
Studios: Madhouse
Kenji Koiso, a 17-year-old math prodigy, finds himself in a fascinating yet unexpected adventure. He serves as the moderator of OZ, a popular virtual world. What's more, Kenji's crush, Natsuki Shinohara, invites him to join her on a summer trip. However, there's a twist – during this journey, Kenji is asked to pretend to be Natsuki's fiancé.
Upon their arrival at the Natsuki family's estate, where preparations for a grand 90th birthday celebration are underway, Kenji receives a mysterious coded message on his cell phone. The sender remains unknown, but they challenge Kenji to solve the code. With his mathematical prowess, Kenji manages to crack the cryptic message. Little does he realize that his mathematical skills have inadvertently placed Earth in grave danger.
4. Hotarubi no Mori e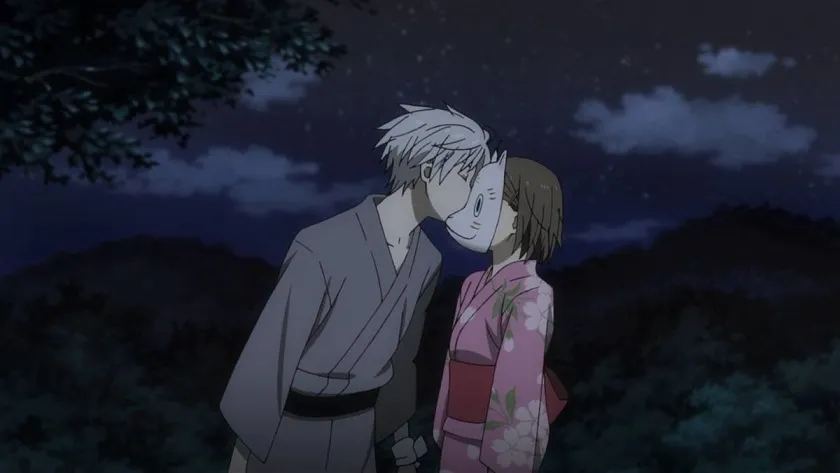 Episodes: 1 Movie
Studio: Brains Base
When someone asks for a recommendation on which anime movie to watch, "Hotarubi no Mori e" always comes to mind.
This film, despite being just forty-five minutes long, manages to deliver a rich anime experience with compelling characters, an engaging plot, and stunning visuals.
The story revolves around a six-year-old girl named Hotaru, who is fascinated by tales of mountain spirits. During her summer vacation, while visiting her uncle, she decided to explore a mountain forest. However, she becomes lost, and it's a mysterious, human-like spirit named Gin, wearing a mask, who comes to her rescue.
As the years go by, Hotaru grows up, but Gin remains unchanged. A deep and heartfelt romance blossoms between them, yet there's a heartbreaking dilemma. Gin longs to touch Hotaru, but there's a significant obstacle – if he makes contact with humans, he will vanish forever.
5. Tamako Love Story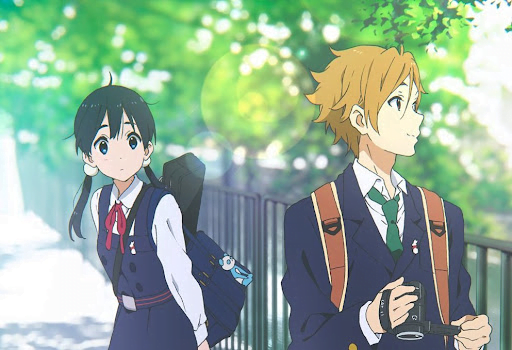 Episodes: 1 Movie
Studios: Kyoto Animation
As Tamako Kitashirakawa approaches the end of her high school journey, her boundless energy and innocence are channeled into one primary goal: delivering a breathtaking baton performance at the Usagiyama Marching Festival. However, she's suddenly confronted with the reality that all her friends have grand plans for their futures, while her only aspiration is to continue working at her family's restaurant.
Beneath the same radiant sky, Mochizou Ooji harbors dreams of studying at a university in Tokyo. This decision would mean leaving behind his family, friends, and, most significantly, his first and only love, Tamako.
The only hiccup in this love story is Tamako's shyness, preventing her from confessing her feelings, and Tamako herself remains oblivious to the source of Mochizou's inner turmoil. With time slipping away, Mochizou must summon the courage to express his love to Tamako, or his dreams of romance may forever remain unfulfilled.
6. Kimi no Suizou wo Tabetai (I Want to Eat Your Pancreas)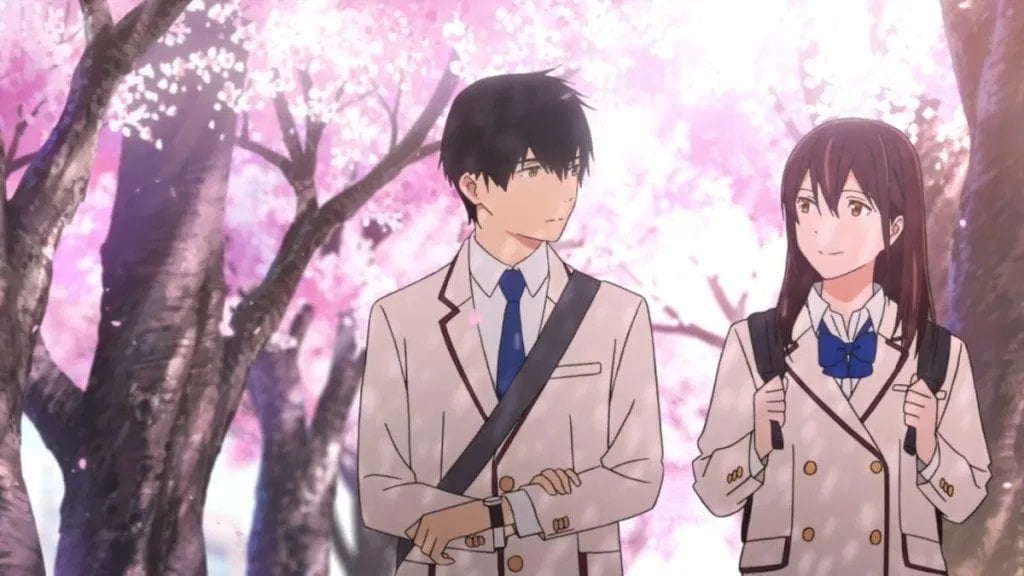 Episodes: 1 Movie
Studios: Kyoto Animation
Meet Haruki Shiga, our introverted and solitary protagonist who finds solace in the pages of books. His world is one of quiet contemplation until one day, he stumbles upon a hidden treasure: the secret diary of his classmate, Sakura Yamauchi, titled "Living with Death." In its pages, she confides the heartbreaking truth—she's living with a terminal pancreatic disease, and her days are numbered.
Initially unfazed by this revelation, Haruki's world turns unexpectedly as he grows closer to Sakura. Together, they embark on a poignant journey that teaches him the value of every fleeting moment and leads him to discover the depths of love. If you're a fan of heartwarming tales like "Cherry" and "Smile," you'll likely find "I Want to Eat Your Pancreas" a touching and transformative story worth exploring.
7. Shigatsu wa Kimi no Uso (Your Lie in April)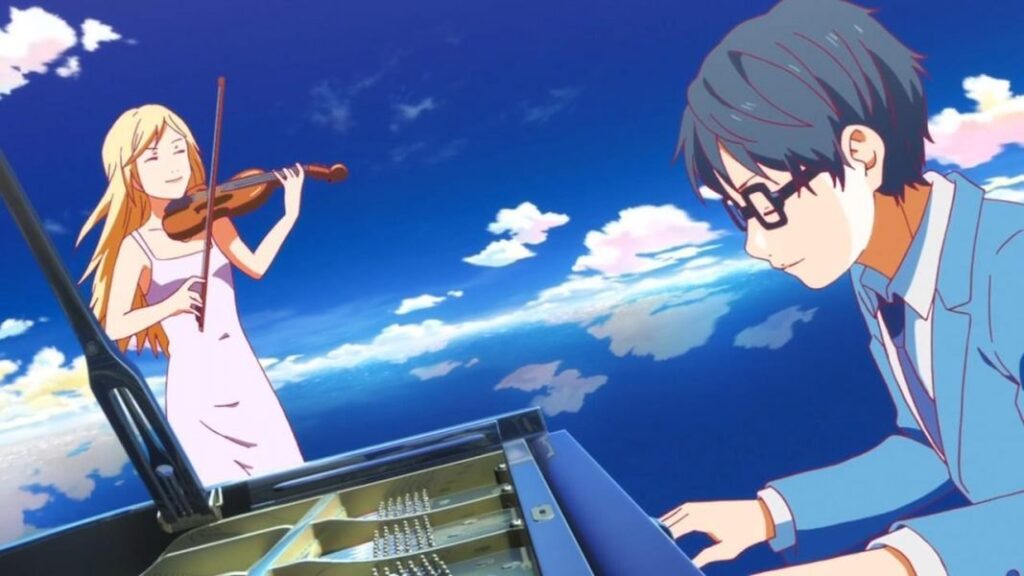 Episodes: 22
Studios: A-1 Pictures
Death casts a shadow of sorrow wherever it goes, leaving behind a heavy heart. When that loss strikes close to home, it can feel like the world has crumbled beneath your feet.
This is precisely what happened to the young pianist, Kousei Arima when he lost his mother. The pain was so overwhelming that it silenced his music completely. For two long years, his piano remained untouched as he battled the weight of depression.
But, as the saying goes, fate has its own plans. Enter Kaori, a vibrant violinist whose arrival breathed new life into Kousei's world. With her unwavering support, she helped him rediscover his love for music and rekindle the melody in his heart.
8. Koe no Katachi (A Silent Voice)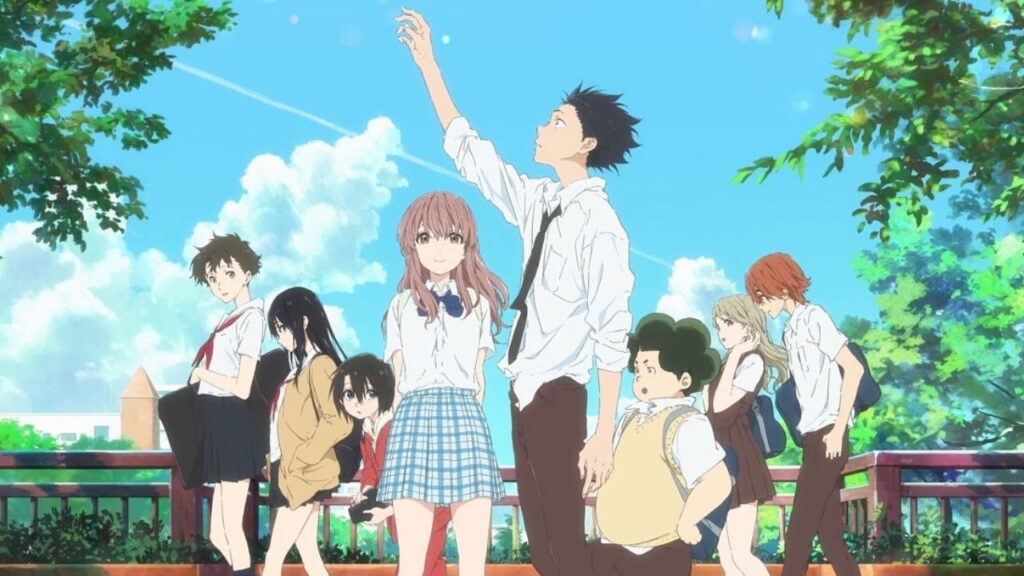 Episodes: 1 Movie
Studios: Kyoto Animation
Shouya Ishida, a mischievous elementary school student, finds joy in playing pranks on his friends, but sometimes he takes it too far. When Shouko Nishimiya, a girl who is deaf, joins their school, Shouya and his friends engage in thoughtless pranks that deeply traumatize her. Despite others also mistreating Shouko, the blame falls squarely on Shouya's shoulders, leading his friends to distance themselves from him.
Years later, as a third-year high school student, Shouya remains stuck in the past, haunted by the guilt of his past actions. Determined to make amends, he embarks on a journey of redemption, seeking to bring peace to Shouko's life.
"A Silent Voice" is more than just a typical love story like "Words Bubble Up Like Soda Pop." It delves into profound issues such as bullying and mental health while still offering a heartwarming tale of romance.
9. Kimi no Na wa (Your Name)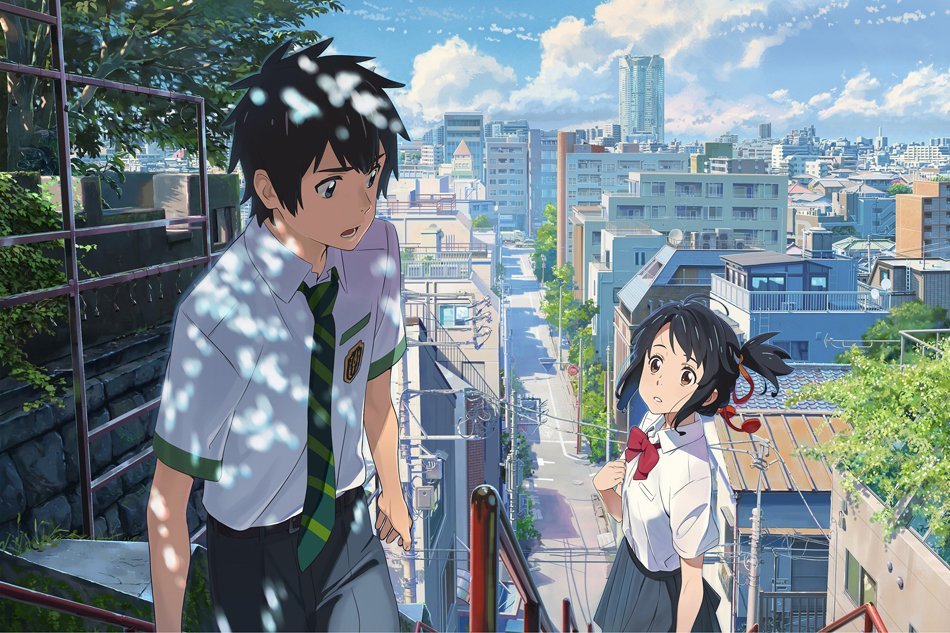 Episodes: 1 Movie
Studio: CoMix Wave Film
Taki Tachibana and Mitsuha Miyamizu couldn't lead more different lives. Taki resides in the bustling heart of Tokyo, while Mitsuha dreams of experiencing a life like his in the city.
However, a twist of fate turns their worlds upside down. Mitsuha mysteriously wakes up one morning in Taki's body in Tokyo, while Taki finds himself in Mitsuha's countryside life. With no other way to find answers, these two bewildered teenagers embark on a remarkable journey that forever alters their perspectives on life.
While "Kimi no Na wa" may not share many similarities with "Words Bubble Up Like Soda Pop," fans in search of a heartwarming tale with a unique twist will find it captivating.
10. Josee to Tora to Sakana-tachi (Josee, the Tiger and the Fish)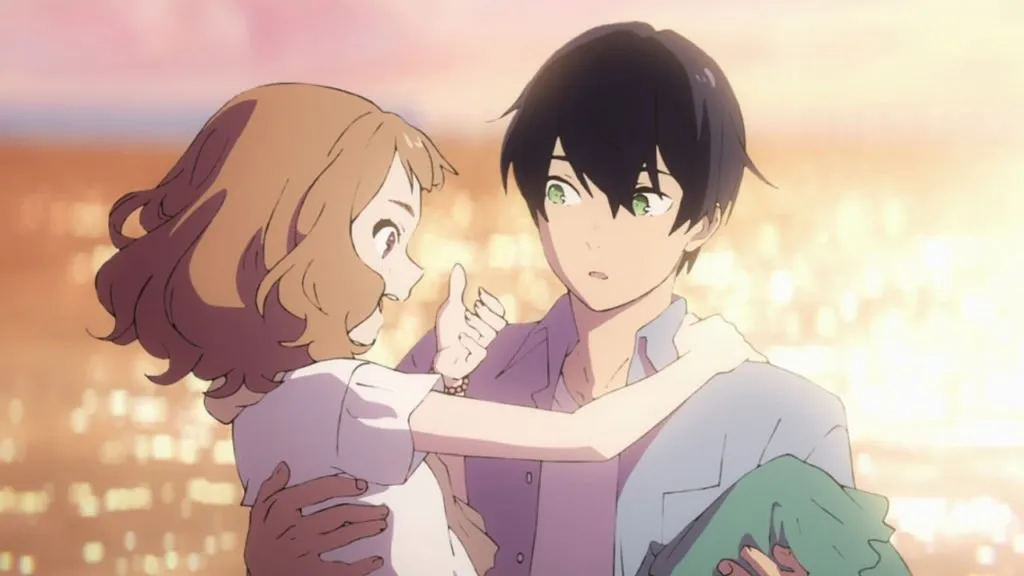 Episodes: 1 Movie
Studios: Bones
"This heartwarming coming-of-age romance centers around Tsuneo, a college student whose dreams of exploring Mexico's tropical waters and studying abroad are hampered by financial constraints. When an opportunity arises to care for Josee, a young woman with a disability, Tsuneo seizes it without hesitation.
As their paths intertwine, Tsuneo and Josee forge a deep and meaningful connection that transforms their lives in unexpected ways. "Josee, the Tiger and the Fish" is a touching story of self-discovery and love that is sure to resonate with fans, much like "Words Bubble Up Like Soda Pop."