During AnimeJapan 2023, the official poster for Dr. Stone season 3, Dr. Stone: New World, was released.
In addition, it was confirmed that the new closing theme would be the song "Where Do We Go?" performed by the band OKAMOTO'S.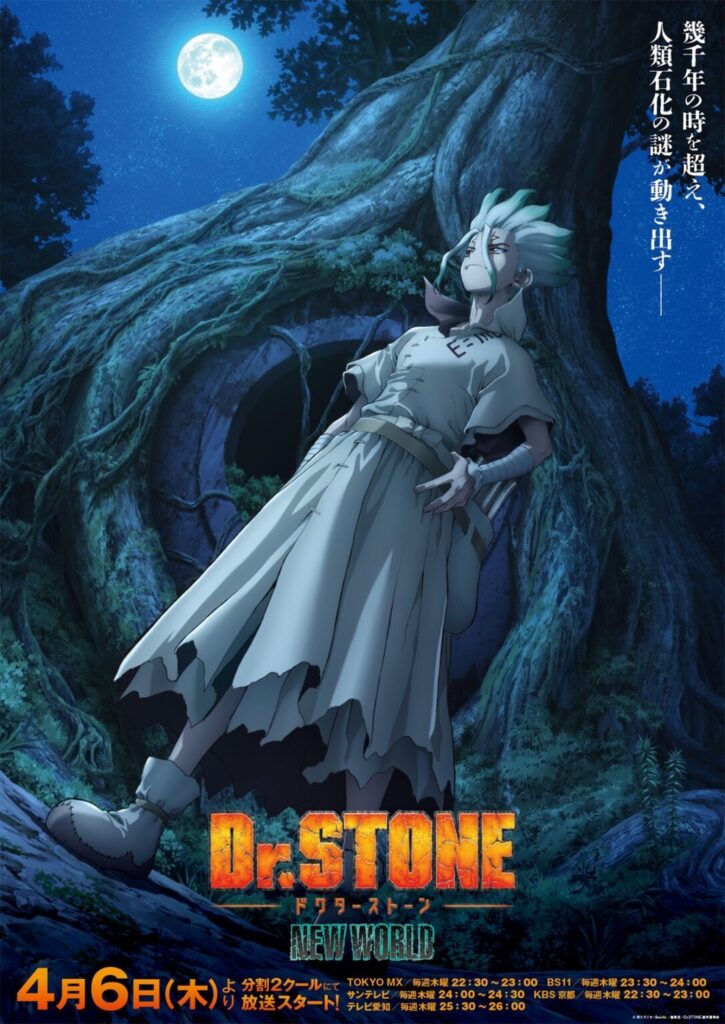 During the event, it was also announced that Dr. Stone's The Stage: Science World will return to theaters in Japan in September.
The new season of Dr. Stone will premiere on April 6th. Crunchyroll has already confirmed the airing.
Synopsis:
Senku is an extremely intelligent boy with a great gift for science and an acid personality. His best friend is Taiju, a great person but more apt to use his muscles than his head.
After a tragic incident in which humanity was turned to stone, they woke up thousands of years later with civilization collapsing and people still frozen in stone.
The work was serialized in Japan between March 2017 and March 2022, with 25 volumes. Upon completion, the title surpassed the 14 million copies in circulation mark. The anime produced by TMS Entertainment features 35 episodes divided into two seasons. The series is directed by Shinya Iino and scripted by Yuchiro Kido.
The manga also inspired a theatrical adaptation released in 2022. The Movie entitled Dr. Stone The Stage: Science World was on in Tokyo from July 9-18. All two anime seasons and the special episode Dr. Stone – Ryusui are available on Crunchyroll.
The second season was released in 2021, while the one-hour special aired on Japanese TV in July 2022. The series is based on the manga written by Riichiro Inagaki and illustrated by Boichi, which was completed in March 2022.