Kaguya-Sama LOVE IS WAR -Ultra romance continues is the animated adaptation of Aka AKASHAKA's popular rom-com manga in April. And an updated character-centric illustration will tease us with more of what's coming.
Take a look at the gorgeous artwork of the manga's creator Ai Hayasaka as waiting for the anime to return in the next section below.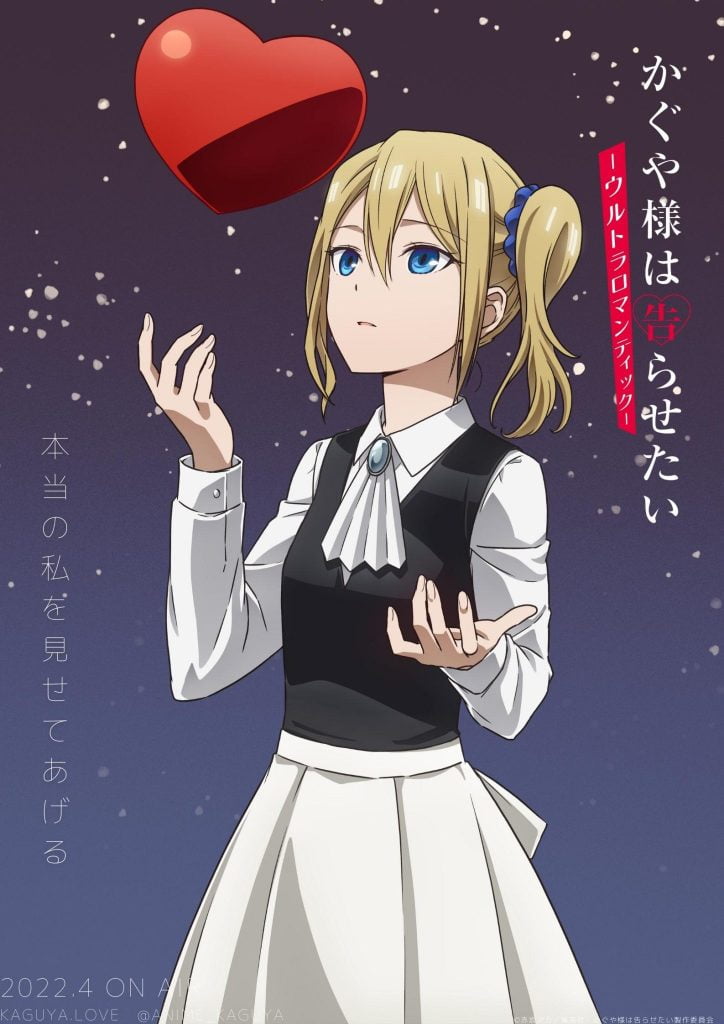 Just in case you have missed the KAGUYA-SAMA  Season 3 trailer then check out below:
KAGUYA-SAMA Returning cast members :
Aoi Koga as Kaguya Shinomiya
Makoto Furukawa as Miyuki Shirogane
Konomi Kohara as Chika Fujiwara
Ryōta Suzuki as Yū Ishigami
Yūki Takada as Rei Onodera
Miyu Tomita as Miko Iino
Yumiri Hanamori as Ai Hayasaka
Momo Asakura as Nagisa Kashiwagi
Rina Hidaka as Kobachi Osaragi
Taku Yashiro as Kashiwagi's boyfriend
Yutaka Aoyama as Narrator
KAGUYA-SAMA Returning staff members :
Director: Mamoru Hatakeyama
Series Script Supervisor: Yasuhiro Nakanishi
Character Design: Yūko Yahiro
Chief Animation Directors: Hiroshi Yakou, Yūko Hariba, Kii Tanaka
Prop Design: Takayuki Kidou
Art Director: Risa Wakabayashi
Art Setting: Hiroki Matsumoto, Mikiya Hiragi
Color Key Artist: Kanako Hokari
CG Director: Yuki Kuribayashi
Director of Photography: Masaharu Okazaki
Editing: Rie Matsubara
Music: Kei Haneoka
Sound Director: Jin Aketagawa
Production: A-1 Pictures
Synopsis:
From a loving family? Check! Do you have a good persona? Check! Shuchiin Academy is where all these top students with promising futures go to. The two student leaders on the body, Kaguya Shinomiya, and Miyuki Shirogane have been said to be with each other…
However, after nearly a whole year, nothing has transpired What's going on? They're both full of self-confidence and refuse to admit it. The situation has become tense and now they're trapped in a battle of "How to get each other person to admit their love before they confess." It's a new romantic comedy that follows an incident of war between two elite students who are in love.