A new visual for the upcoming third season of Laid-Back Camp has been unveiled, showcasing Rin Shima and her reliable scooter. The anime, adapted from Afro's manga published by Houbunsha, initially serialized in Manga Time Kirara Forward, has been an ongoing success since 2015.
With its 15th tankoubon volume set for release on November 10, the manga has transitioned to the COMIC FUZ app and is published under the Manga Time KR Comics label.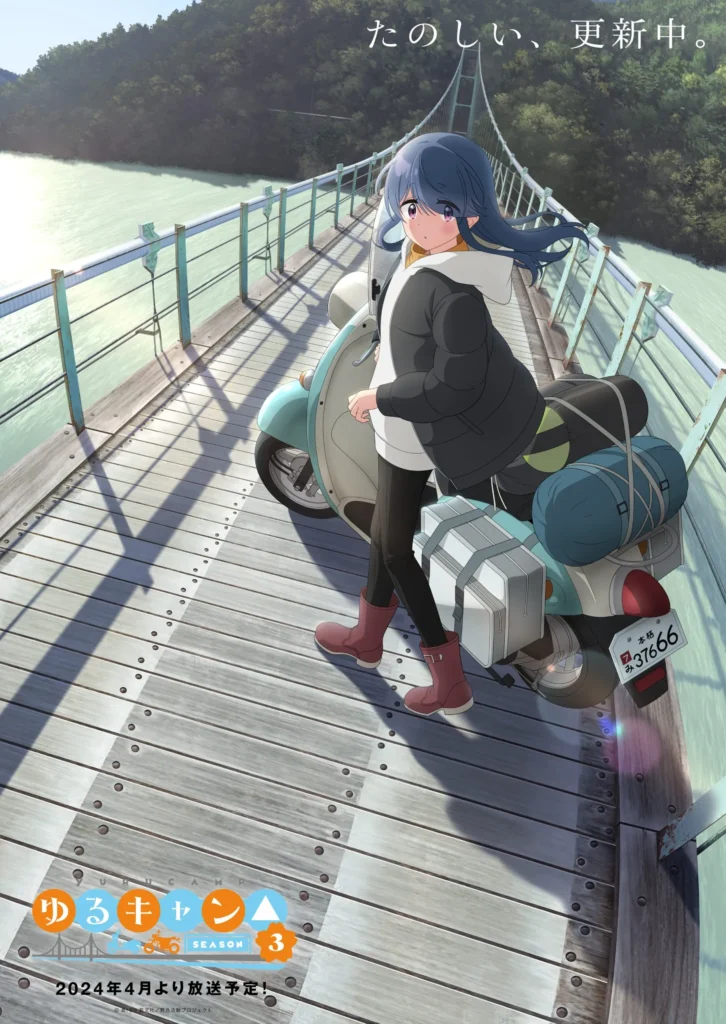 Laid-Back Camp's first season hit screens in 2018, followed by a spin-off titled Room Camp and a second season in 2020 and 2021, respectively. The cast returns in an anime movie sequel set to debut in Japan in July 2022.
This upcoming season brings changes to the animation production studio and some shifts in the staff lineup, promising a fresh perspective for fans of the series.
Synopsis:
Rin enjoys camping by the lakeshore, Mt. Fuji in view. Nadeshiko rides her bike to see Mt. Fuji, too. As the two eat cup noodles together, what scenery will they behold? This series will make readers fall in love with camping!
Staff
Director: Shin Tosaka (Regalia: The Three Sacred Stars)
Series composer:  Masafumi Sugiura (Uma Musume: Pretty Derby co-series composer)
Character designer: Naofumi Hashimoto (Ryman's Club sub-character designer)
Music composer: Akiyuki Tateyama (returning)
Animation production: Eight Bit
Cast
Yumiri Hanamori as Nadeshiko Kagamihara
Nao Touyama as Rin Shima
Sayuri Hara as Chiaki Ogaki
Aki Toyosaki as Aoi Inuyama
Rie Takahashi as Ena Saito
/
TVアニメ『ゆるキャン△ SEASON3』
2024年4月より放送予定
\
イメージビジュアル第二弾公開
バイクでも渡れる吊り橋の上で不意をつかれた表情のリンをhttps://t.co/74UekT54KR

▶ティザーPVはこちらhttps://t.co/cyfuGtvqW0#ゆるキャン pic.twitter.com/sHfCy8fzGu

— アニメ『ゆるキャン△』シリーズ公式 (@yurucamp_anime) November 9, 2023