Jujutsu Kaisen is a shonen manga by Gege Akutami published in Weekly Shōnen Jump magazine.
Shonen anime is always known for its top three trends of each decade. The top three titles are Jujutsu Kaisen, Boku no Hero Academia, and Kimetsu no Yaiba: Demon Slayer. Jujutsu Kaisen has taken the top spot out of these three titles.
The anime Jujutsu Kaisen produced by the MAPPA studio, is very popular worldwide. One of the characters, Gojo Satoru, has taken the world by storm.
The storyline of Jujutsu Kaisen revolves around the supernatural, with the protagonist named Yuji Itadori. Jujutsu means martial art, while Kaisen means improvement.
In this article, I will provide the Watch Order of Jujutsu Kaisen.
Jujutsu Kaisen Watch Order
Jujutsu Kaisen has won the hearts of audiences with its great animation and interesting storyline. With a bit of witty and funny commentary between the serious moments, this anime will surely be one of the best. There's even a cute end-credits scene at the end of the episode.
In addition to the anime series, a prequel film was released in conjunction with the series, and a second-season sequel is scheduled for release in 2023.
This number will almost certainly increase as Jujutsu Kaisen is updated.
Jujutsu Kaisen Chronological Order
Jujutsu Kaisen (2020-2021)
Jujutsu Kaisen 0 (2021)
Jujutsu Kaisen 2nd Season (2023)
1. Jujutsu Kaisen (2020-2021)
| | |
| --- | --- |
| Show | Fall 2020-Winter 2021 |
| Episode | 24 |
Yuji likes sports, but he dislikes studying. He lives alone with his grandfather and joins a school club to keep up with the rules.
While performing a ritual with rotten fingers, a monster attacks the club. Yuji eats the finger and becomes possessed by a demon called Sukuna to save his friends. Yuji is taken to a Jujutsu Technical School, where he learns much more than being physically gifted and fighting curses.
As a teammate, Yuji gets Megumi Fushigoro and Kugisaki Nobara, as well as Satoru Gojo, one of the strongest Jujutsu masters in the world. From there, Jujutsu Kaisen begins.
2. Jujutsu Kaisen 0 (2021)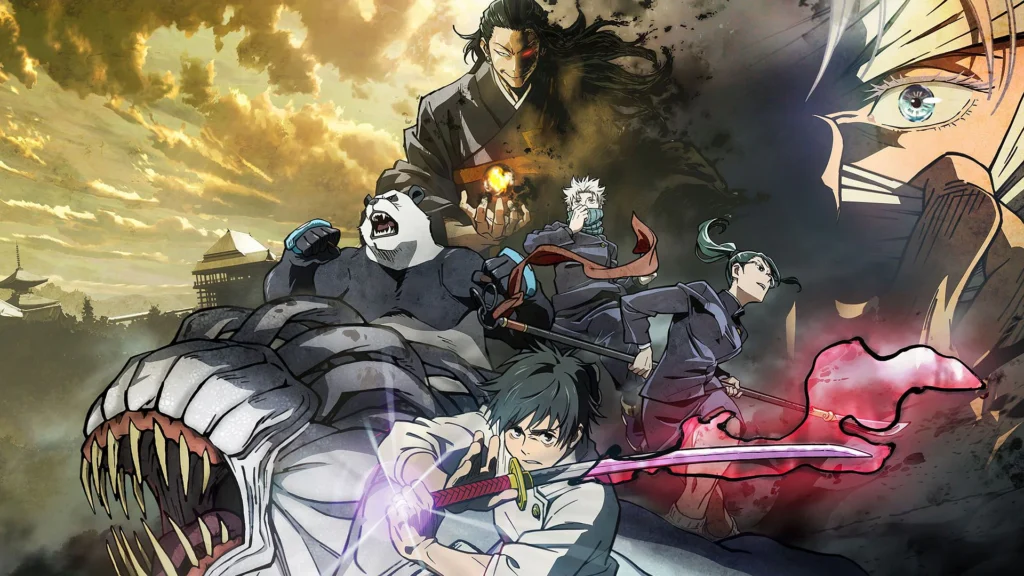 | | |
| --- | --- |
| Show | 2021 |
| Episode | 1 Movie (105 minutes) |
Yuuta Okkosu, suffering from the actions of Rika Orimoto, an evil spirit, wants to be executed. Still, Satoru Gojou, a teacher who teaches "curse" exorcisms, transfers Yuuta to Tokyo Jujutsu Technical High School.
3. Jujutsu Kaisen 2nd Season (2023)
| | |
| --- | --- |
| Show | Summer 2023 |
| Episode | TBA |
This second season will air in the summer of 2023, possibly adapting the story of Gojo's past and then the Shibuya Incident arc.
Jujutsu Kaisen Story Arc Sequence
The following is the order of the story arc from the Jujutsu Kaisen manga so far:
Arc
Chapter Manga
Episode Anime
Cursed Child
0
Jujutsu Kaisen 0
Fearsome Womb
1-9
1-5
Cursed Training
10-18
5-8
Vs. Mahito
19-31
9-13
Kyoto Goodwill Event
32-54
14-21
Death Painting
55-64
22-24
Gojo's Past
65-79
25-29
Shibuya Incident
79-136
30-
Itadori's Extermination
137-143
Perfect Preparation
144-158
Tokyo No. 1 Colony
159-173
Sendai Colony
174-180
Tokyo No. 2 Colony
181-190
Sakurajima Colony
191-198
Where to Watch Jujutsu Kaisen Anime?
The Jujutsu Kaisen anime series is available for streaming on several official providers, allowing anyone to watch it according to preference. And Countries with restricted content can use VPN to access it.
Here is a list of platforms to watch legally:
This was the watch order of Jujutsu Kaisen. For those who want to ask questions or discuss, you can do so in the comments column.