It's a series that begins off with a very light story, and a little off, but as you go further episodes, the story takes a reverse, and you will be blown away by just how dark everything abruptly got.
The story focuses on a boy named Gon Freecss, whose father left him at a very young age. After growing up, he learned that his father was a world-renowned Hunter who specialized in fantastical pursuits such as locating rare or unidentified animal species and treasure hunting. 
Gon pledges to become a hunter to meet his father and find him. Where further, there are many turns of events. So if you have plans to watch this anime. Follow the Hunter X Hunter Watch order we have listed below in the article:
Hunter X Hunter Watch Order
Hunter vs. Hunter 1999 or Hunter vs. Hunter 2011?
The choice of which Hunter vs. Hunter to watch will vary depending on the viewer. What's important to understand is that the two animes are different versions of a story told in Yoshihiro Togashi's manga.
The 1999 version of Hunter x Hunter had 62 episodes, but the manga ended then. In addition, if you watched the anime during this period and liked it, you can see a musical and three OVAs. Two aired with eight episodes and one with 14 total.
The 2011 version of the series, in turn, advanced much further in the story. It includes the acclaimed Chimera Ant bow arc based on how the manga progressed then. Although it includes no OVA episodes, the anime got two films in that period.
Watch order for Hunter X Hunter 2011
Hunter Exam arc (Episodes 1-26)
Heavens Arena arc (Episodes 27-38)
Phantom Troupe arc (Episodes 39-58)
Greed Island arc (Episodes 58-75)
Chimera Ant arc (Episodes 76-136)
Election arc (Episodes 136-148)
Hunter X Hunter 1999
Watch order for Hunter X Hunter 1999:
Hunter X Hunter (1999)
Hunter X Hunter: Spider
Hunter X Hunter: Greed Island
Hunter X Hunter: Greed Island Final
Hunter X Hunter (2011) (Episode 75 onwards) (Chimera Ant arc)
Release Order:
Hunter X Hunter (1999)
Hunter X Hunter (2011)
OVAs
Hunter X Hunter: Spider (1999)
Hunter X Hunter: Greed Island (1999)
Hunter X Hunter: Greed Island Final (1999)
Hunter X Hunter Story Arcs
1. Hunter Exam arc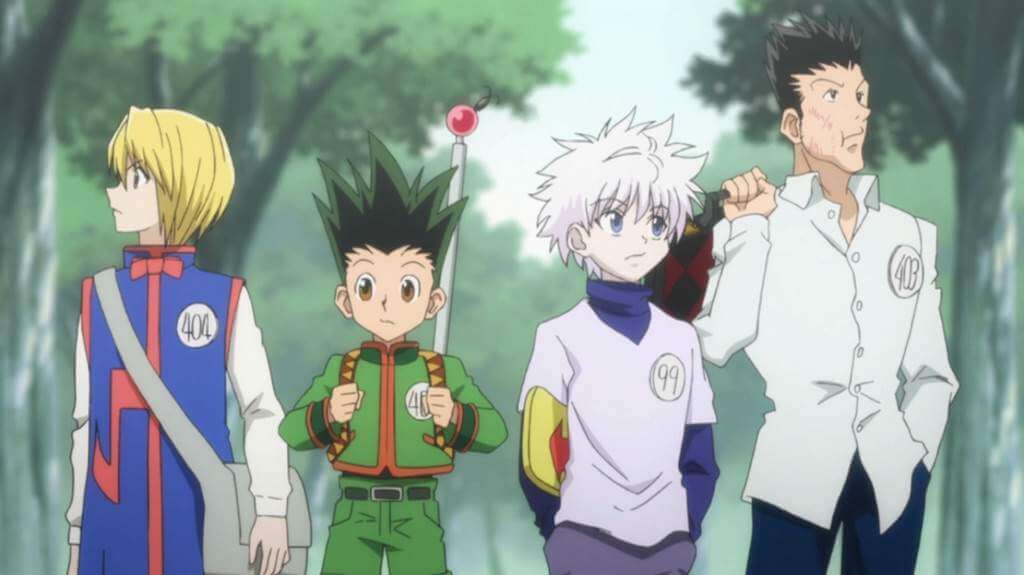 In this arc, Young Gon dreams of becoming a hunter. To do so, he undertakes a series of difficult and strange tests, such as walking through a deadly jungle, hunting fellow candidates, killing a wild boar, facing an extraordinary long underground marathon, and even making sushi.
Manga: Chapters 1 to 38
Anime 1999: Episodes 1 to 31
Anime 2011: Episodes 1 to 21
2. Zoldyck Family arc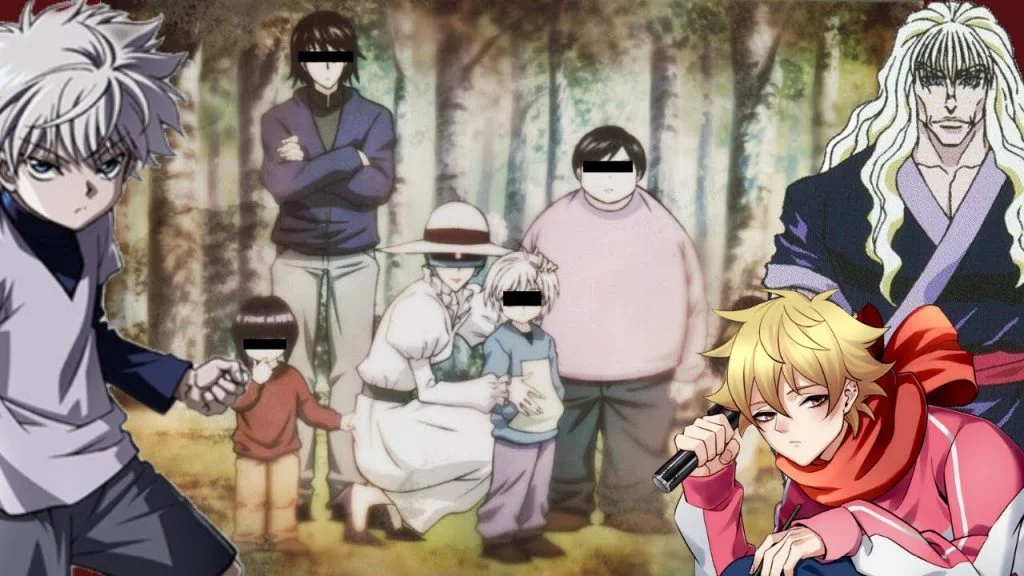 Gon, Kurapika, and Leorio pass their exams to become hunters in this arc. After that, they set out on a new adventure to free Killua from the mansion in the mountains. After Gon's brother ends up expelling him from the exams.
After the rescue, each group member decides to take a different path. Leorio goes to medical school, Kurapika sets out to become a bounty hunter, and Gon and Killua go to Heaven's Arena to gain combat experience.
Manga: Chapters 39 to 43
Anime 1999: Episodes 32 to 36
Anime 2011: Episodes 22 to 26
3. Heavens Arena arc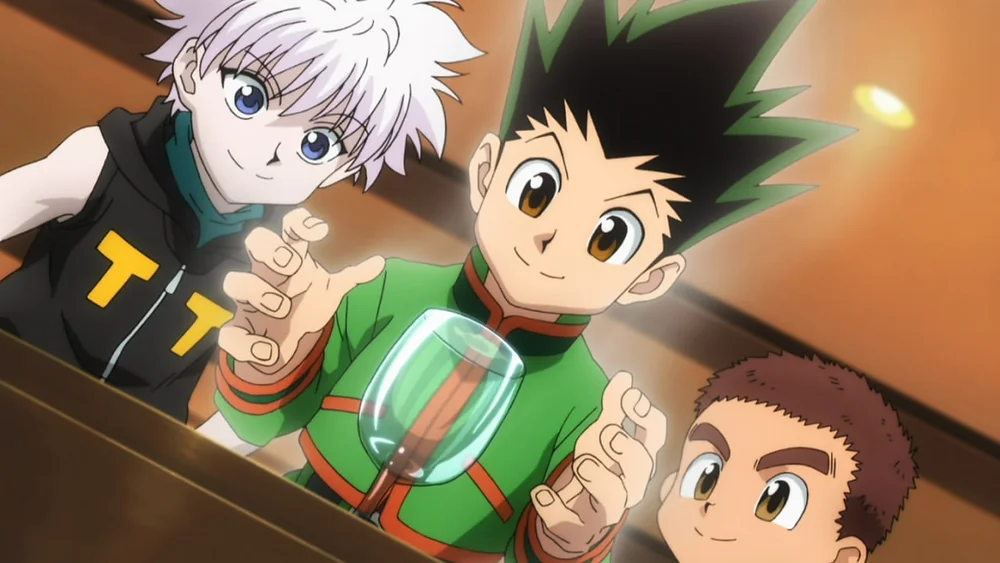 Gon and Killua arrive at Heaven's Arena where fighters compete for 24-hour to win cash in tournaments. The building is 251 stories high.
Here, Gon and Killua meet master Wing Kung-Fu. He teaches Gon, Killua, and a child named Zushi about the Nen energy, a chi-like energy that can be used to manifest superhuman powers. With the teachings of the master, the three start to fight in the tournament to gain money and experience.
Manga: Chapters 44 to 63
Anime 1999: Episodes 37 to 44
Anime 2011: Episodes 27 to 36
4. Yorknew City arc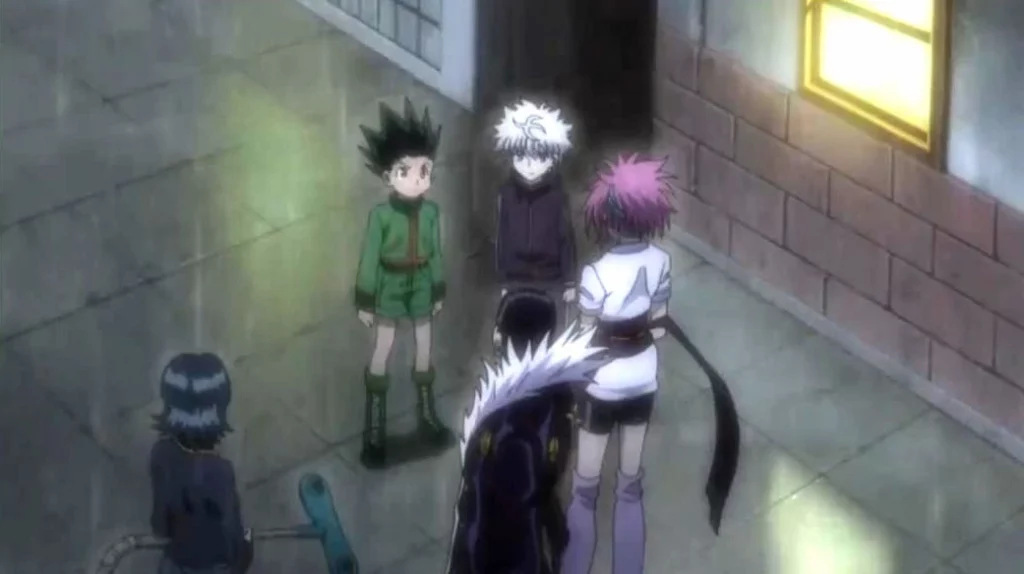 Gon, Killua, Leorio, and Kurapika come together again to take part in the world's largest auction at the metropolis of Yorknew City. Inspired by this, Gon and Killua try to earn money in different ways so they can buy the video game Greed Island which could help them find Gon's father.
Kurapika, on the other hand, works as a bodyguard for Neon Nostrade, a meat collector and the daughter of the head of a Mafia family. He tries to approach his clan's Scarlet Eyes, which will be auctioned in the same city. Meanwhile, the group of thieves who killed Kurapika's clan, called the Ghost Troopers, are also gathering in the city.
Manga: Chapters 64 to 119
1999 Anime: Episodes 45 to 62 followed by OVA Hunter X Hunter: Spider, episodes 1 to 8
Anime 2011: Episodes 37 to 58
5. Greed Island arc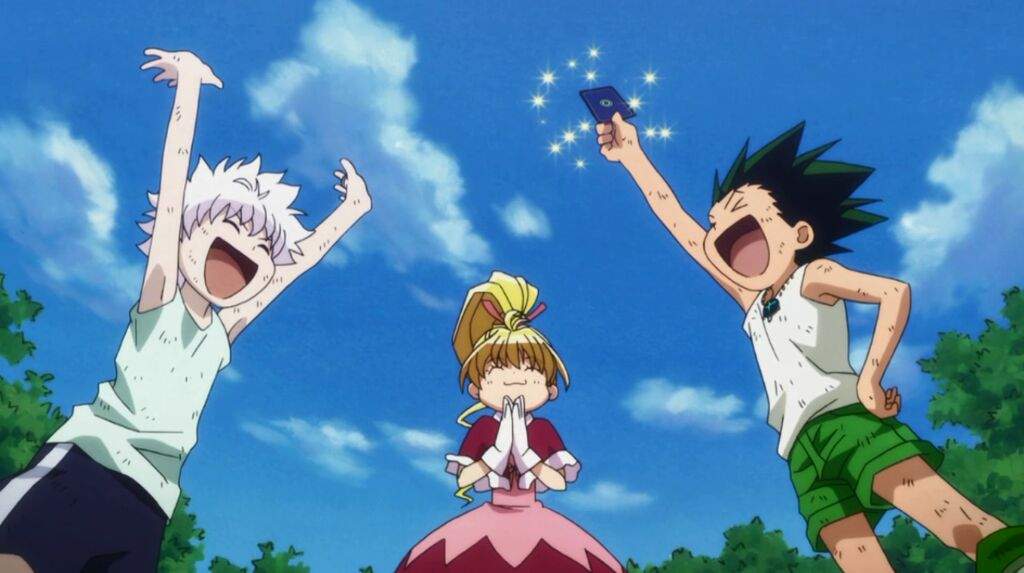 Gon and Killua assist Kurapika after the battle with the Phantom Troupe. Leorio and Kurapika leave again, and Gon and Killua get an opportunity to work as part of a team in order to fulfill the wishes of Battera, a billionaire.
After joining the team, Gon and Killua train Nen with experienced master Biscuit Krueger, a 57-year-old woman who looks like a 12-year-old girl. When a player nicknamed Bomber starts blowing up other players, Gon, Killua, and Biscuit team up to fight it.
Manga: Chapters 120 to 185
1999 Anime: Hunter X Hunter: Greed Island OVAs, episodes 1 through 8, and Hunter X Hunter: Greed Island Final, episodes 1 through 14 (End of 1999 anime)
Anime 2011: Episodes 59 to 75
6. Chimera Ant arc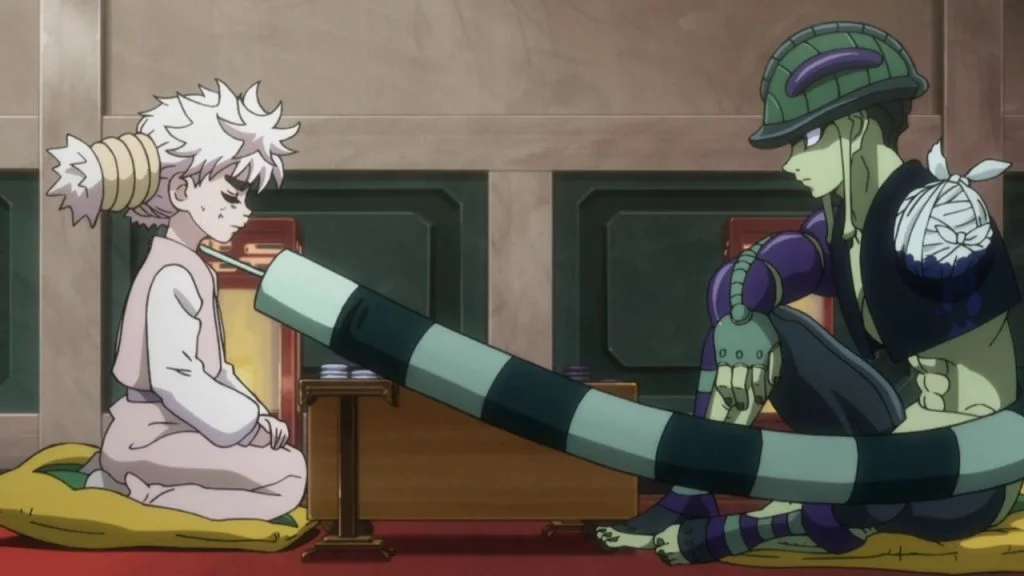 In this arc, Killua, Gon, and Kite team up to investigate a mystery: the appearance of an insect leg on the beach. Analysis reveals that it belongs to a Chimera Ant Queen who happens to be on NGL's coast.
Gon, Killua, and Kite arrive at the site where the small ants had become a plague. They stop the spread of the ants before they get to the next island, but not before many people have been affected by the ants and killed.
Manga: Chapters 186 to 318
Anime 2011: Episodes 76 to 136
7. 13th Hunter Chairman Election arc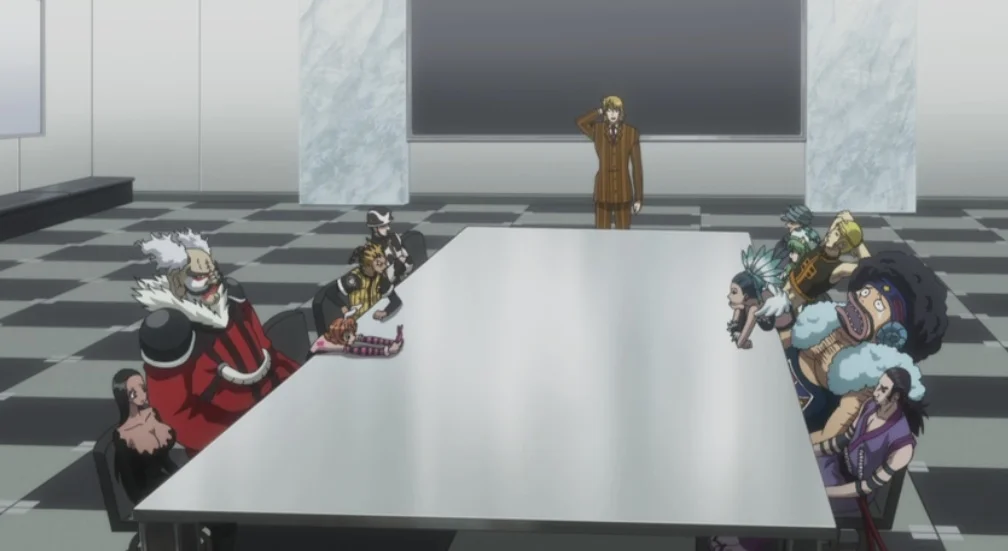 The president of Hunter died after a confrontation with the ant king of Chimera, Meruem. When the zodiacs met to figure out who would be Hunter's new president, Ging Freecss, one of the zodiacs, became their frontrunner. Leorio also gains prominence in the elections.
Meanwhile, Killua and his henchman use Alluka Zoldyck's powers to try to save Gon. Illumi and Hisoka try to stop Killua's gang by bringing up the dangers of using Alluka's power.
Manga: Chapters 319 to 339
Anime 2011: Episodes 137 to 148 (End of 2011 anime)
8. Dark Continent Expedition arc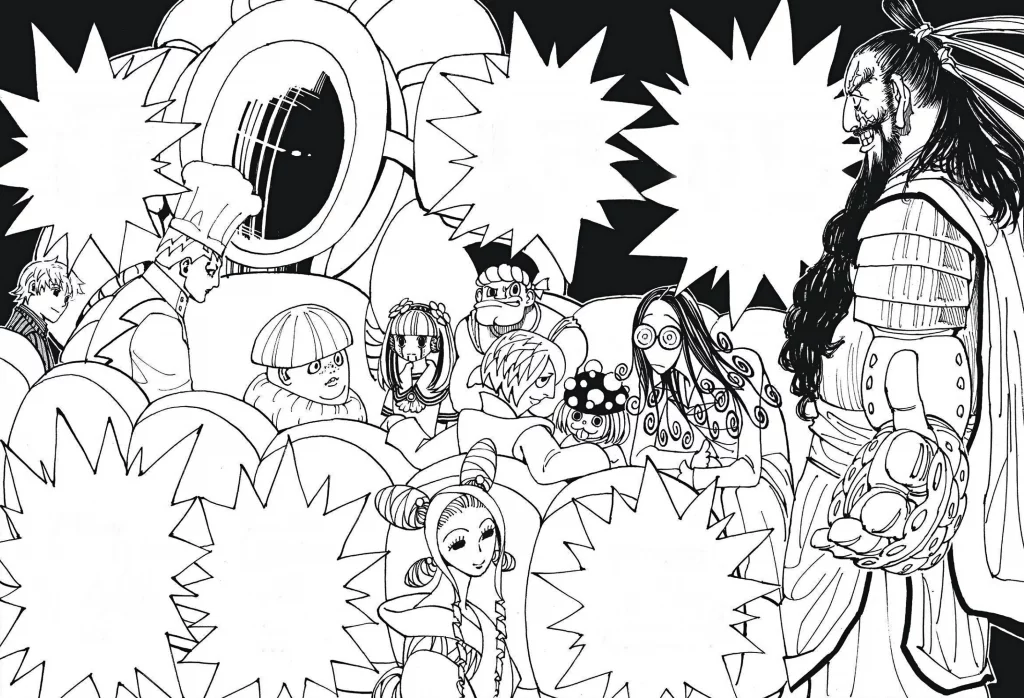 The son of Isaac Netero, former president of Hunter, launches an expedition to the forbidden Dark Continent. Pressed by V5, the remaining Zodiacs try to stop his trip. One way they do this is by recruiting the help of Leorio and Kurapika.
Meanwhile, Ging joins Beyond's group to prevent Pariston Hill, the villain who used to be president before he became vice president of Hunter. Eventually, Ging cannot stop him, but V5 hires their new Hunter Association as an escort.
Manga: Chapters 340 to 348
9. Succession Contest arc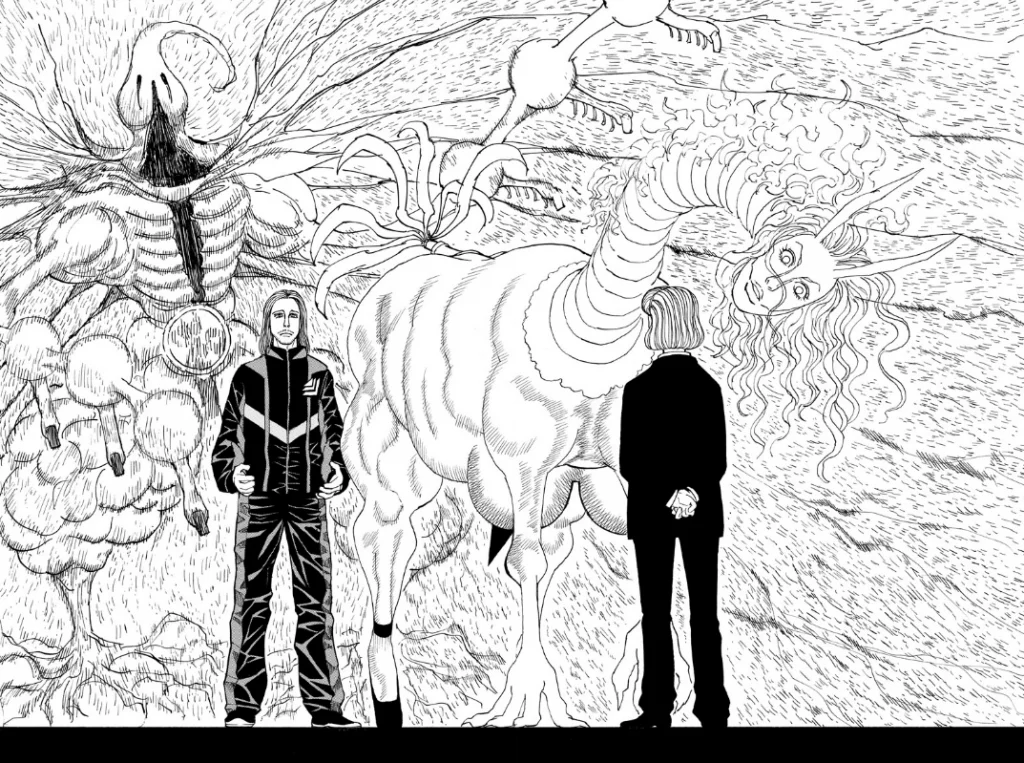 In the Succession Contest arc, 14 princes of the Kakin Empire must kill each other in a terrible battle as the Black Whale leaves for the Dark Continent. Kurapika has been hired by the eighth queen, Oito Hui Guo Rou, as a bodyguard, but becomes involved in the situation while trying to get closer to the last owner of her clan's eyes, Prince Tserriednich.
Manga: Chapters 349 to 357
Synopsis:
Hunter x Hunter focuses on a young boy named Gon Freecss who discovers that his father left him at an early age but was actually away hunting in the pursuit of rare or undocumented animal species.
The story follows their journey through this fantastical world where they will encounter treasure hunters like Sanjuro Kurugaya; surveyors such as Nobunaga Hazama; unexplored enclaves ruled by Monsters-(Nen) users "old" enough not only wield Nensei no Senshi traits properly…