The Black Lagoon manga is all about exciting characters, action-packed scenes, and an intense story. Created by Rei Hiroe, this series has been grabbing readers' attention since April 2002 in Shogakukan's Monthly Sunday Gene-X. It's about the adventures of the Lagoon Company, a group of pirate mercenaries working in the criminal world of Southeast Asia.
The manga's success led to an anime adaptation by Madhouse. It had two seasons in 2006 and a gripping five-episode OVA from 2010 to 2011. People love this series for its exciting story and amazing action scenes.
"Black Lagoon" Promo Visual – December will be black!

On Dec 19, 2023 will be released:

"Black Lagoon" vol 13
"Black Lagoon – Eda Initial Stage" vol 3
"Black Lagoon – Soujiya Sawyer – Kaitai! Gore Gore Musume" vol 7

Image © Shogakukan, Rei Hiroe, Yamamura Hajime, Ida… pic.twitter.com/wPUi75jAKm

— Manga Mogura RE (@MangaMoguraRE) August 20, 2023
The Black Lagoon manga can be bought for $12.99 per volume on the official VIZ website. You can also find a quick summary of the manga and its characters there. If you prefer a physical copy, you can purchase one from reliable places like Amazon, Barnes & Noble, and Books-A-Million. The price might be different depending on where you buy it and which country you're in.
The manga's chapters are grouped into separate volumes called tankobon. The first volume came out on December 12, 2002. As of August 19, 2021, 12 volumes are available, and volume 13 is set to be released on December 19, 2023.
What to expect from Black Lagoon manga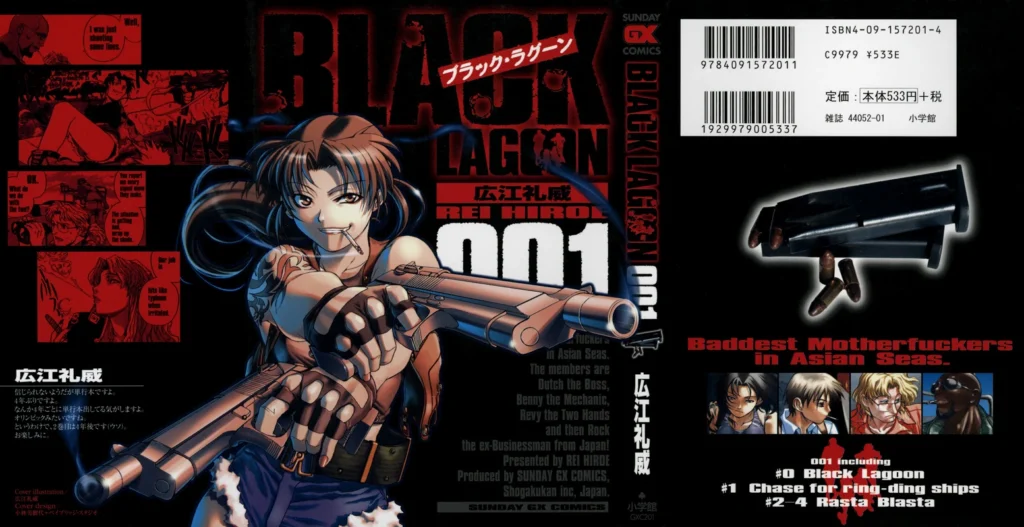 Two spin-offs are "Black Lagoon: Sawyer the Cleaner" and "Black Lagoon: Eda." You can also find these on the VIZ website.
The manga series Black Lagoon was created by Rei Hiroe, also known for works like Re: Creators and Phantom Bullet. Viz Media holds the rights to distribute the manga in North America.
The manga's story focuses on a group of pirate mercenaries known as the Lagoon Company. They're smuggling goods in Southeast Asia's waters, mainly during the 1990s. The Lagoon Company comprises four main members: Dutch, Revy, Benny, and Rock.
Their main base is in Roanapur, a made-up port city located in eastern Thailand near the border of Cambodia. Roanapur is a place where you can find all sorts of people like pickpockets, thugs, mercenaries, thieves, assassins, gunmen, and various criminal organizations like the Japanese yakuza, Chinese triad, Russian Bratva, Colombian cartel, and Italian mafia.
There's also a notable Vietnamese refugee population in the city due to events in the past. The Lagoon Company uses a boat named Black Lagoon, which was made in America, to transport cargo for different clients. They have a close connection with the Russian criminal group called Hotel Moscow.
The crew of the Black Lagoon travels across Southeast Asia, even going as far as places like Vietnam's Phu Quoc island. They take on various missions involving intense gunfights, close combat, and naval battles. The Lagoon Company members spend much of their free time at a pub called the Yellow Flag in Roanapur, although it often gets damaged in frequent fights.