What is Josei Anime Genre?
The Josei genre is like the grown-up version of seinen, but it's designed for adult women. That doesn't mean others can't enjoy it, though. These stories are usually pretty severe and tackle important topics.
While some of the series in this category can be light and funny, like workplace romantic comedies, there's a whole range of options. We'll list some of the selected series in the order they were made.
But here's a heads-up: not all of these series were entirely made into shows, so if you want to know how they end, you might want to read the manga versions.
Best Josei Anime
1. Koukyuu no Karasu (2022)
Seasons: 1
Episodes: 13
The royal court has a special consort known as the Raven Consort. She's unique because she doesn't have to work at night like the others. People say she's skilled in mysterious powers; if you need help finding someone or releasing a trapped soul, she's the one to go to. But there's a catch – it's believed that she should never meet the Emperor.
However, the new and young Emperor isn't afraid. He's known for his kindness and big heart and is determined to get to know the Raven Consort.
Based on a lovely light novel, this story is called "The Raven of the Inner Palace." It's a tale of magic, mystery, ancient legends, and even a touch of romance. It's one of the latest Josei manga adaptations, and we highly recommend it.
2. Kami Kuzu☆Idol (2022)
Seasons: 1
Episodes: 10
Yuuya Niyodo is part of an idol duo called ZINGS. But unlike his partner Kazuki, Yuuya has lost his enthusiasm for the job. He's become all about the money, doesn't care much about his fans, and treats the work casually. So, his company gives him an ultimatum: get serious or get out.
That's when Asahi Mogami comes into the picture. She's a bright and colorful young woman whose dream of being an idol was cut short. But there's a twist – she's a ghost, and only Yuuya can see her. When Asahi discovers Yuuya's lack of passion for his job, she gets furious and possesses his body.
Now, Yuuya has Asahi's spirit inside him, thinking it might make his job easier. But it's not that simple. Asahi wants to reignite the passion that every idol should have for their work.
3. Koroshi Ai (2022)
Seasons: 1
Episodes: 12
Chateau Dankworth is a tough bounty hunter who's never met her match. But things get tricky when her company assigns her to capture Song Ryang-ha, a man from her past who's taken an interest in her.
As it turns out, Ryang-ha is a skilled assassin with connections to a powerful organization. Chateau proposes a deal: she'll go on a date with him in exchange for information about his current targets, whether they're alive or not.
They begin to work together, but their newfound partnership makes them targets. Can they survive this dangerous situation?
4. Wotaku ni Koi wa Muzukashī (2018)
Seasons: 1 + OVAs
Episodes: 11 + 3
Narumi, a young office worker, is starting fresh at a new job. She's keeping a secret, though: she's a dedicated fujoshi who writes doujinshi, a hobby that cost her a previous job.
On the other hand, Hirotaka is quiet and incredibly skilled but obsessed with video games. These two have known each other since childhood.
When Narumi confesses her dating woes, always ending up with "normal" guys, Hirotaka suggests they start dating. She agrees, albeit reluctantly. But once they give it a try, they discover there's a lot of chemistry between them.
5. Shouwa Genroku Rakugo Shinjuu (2016)
Seasons: 2
Episodes: 13 + 12
Yotaro is a former yakuza member who was recently out of prison. He's on a mission to learn about rakugo, Japanese comedic storytelling. During his time behind bars, he discovered the art form through a talented performer and decided to meet him, hoping to turn his life around.
In his journey, Yotaro encounters Konatsu, a brash young woman mentored by a renowned rakugo artist. Inspired by her late father, Sukeroku Yuurakutei, who was once a celebrated rakugo performer, she's determined to enhance her skills.
This adaptation weaves together stories from the past and present, introducing us to the predecessors of our main characters and their deep passion for the art of rakugo storytelling, all while paying homage to this beautiful tradition.
6. Love Stage!! (2014)
Seasons: 1 + OVAs
Episodes: 10 + 1
In the josei genre, the main character doesn't always have to be female. Many Yaoi manga fall into the josei category because they are created for women. "Love Stage!!" is an excellent example of this.
Meet Izumi Sena, an eighteen-year-old college student with dreams of becoming a mangaka. Despite his family being deeply rooted in the entertainment industry, he's not keen on following in their footsteps.
However, a decade ago, due to some unique circumstances, Izumi was part of a wedding announcement commercial. In that ad, he played the role of a girl who had to catch the bride's bouquet, and his child co-star was Ryōma Ichijō.
Now, the company behind that commercial wants to recreate it with the same boy and girl from back then. This means Izumi must wear a wedding dress despite being a man. To complicate things, Ryōma, now an idol, is in love with Izumi. Even after discovering Izumi's true gender, Ryōma's feelings remain unchanged.
7. Shirokuma Cafe (2012)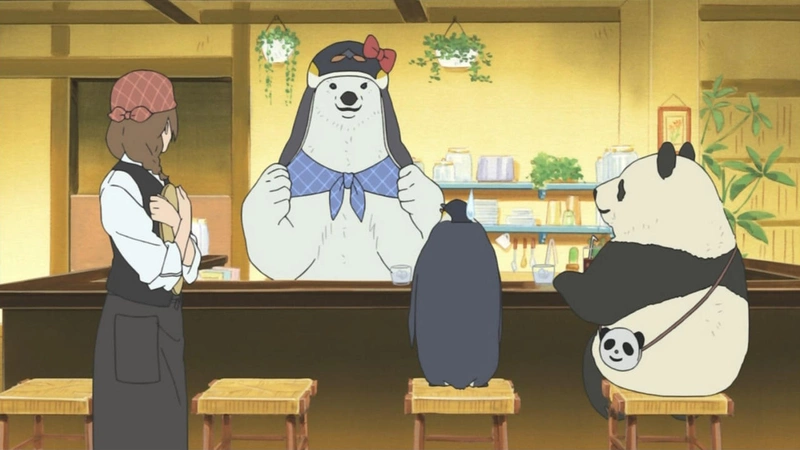 Seasons: 1
Episodes: 50
"Shirokuma Cafe" is a unique story set in a particular cafe. The cafe's owner, Shirokuma, is a charming polar bear and a great host. The cafe is close to the local zoo and a popular spot for animals and people to relax after a long day. Shirokuma is always friendly and helpful, chatting with customers.
The story revolves around a group of animals who interact with humans in this interesting cafe. This series is straightforward but incredibly enjoyable and heartwarming because of its setup.
8. Chihayafuru (2011)
Seasons: 3
Episodes: 25 + 25 + 24
Chihaya always had a dream – to see her sister become a model. But things changed when she stood up for her classmate, Arata, her childhood friend. She stumbled upon the world of karuta, a competitive card game based on a collection of poems. You need a sharp memory, quick reflexes, and strong support to excel in this game.
After rekindling their friendship, they join the Shiranami society to learn karuta. Now, Chihaya's future looks brighter than ever – she aspires to become the Karuta Queen.
Together with their friend Taichi, they start a karuta club at their school. Many students join, forming a diverse and amusing group of players.
9. Usagi Drop (2011)
Seasons: 1
Episodes: 11
Daikichi, a 30-year-old man, returns home for his grandpa's funeral. He meets Rin, his grandpa's secret daughter from another woman. The family doesn't want anything to do with Rin, considering her a "shame."
Daikichi, upset by this, decides to care for Rin, even though he's single and knows nothing about raising kids. As Rin becomes a part of his life, Daikichi realizes how challenging it is to raise a child independently.
10. Kuragehime (2010)
Seasons: 1
Episodes: 11
The story revolves around Amamizu-kan, a Tokyo building where many otaku women live, and men are not allowed. Our main character is Tsukimi Kurashita, who loves jellyfish and dreams of becoming an illustrator but is very shy, clumsy, and afraid of socializing.
One day, Tsukimi meets Kuranosuke Koibuchi, the son of a politician who disguises himself as a woman to avoid political responsibilities. Tsukimi keeps Kuranosuke's real gender a secret from her friends, even though she has her doubts.
The neighborhood and Amamizu-kan are in danger of being torn down for redevelopment. Tsukimi, her fellow tenants, and Kuranosuke do everything they can to protect their home.
11. Nodame Cantabile (2007)
Seasons: 2 + OVAs
Episodes: 23 + 11 + 1
Shinichi Chiaki is a top piano student who's also great at the violin, but he secretly dreams of becoming a conductor like his mentor, Sebastiano Viera. Due to an argument with his piano teacher, Chiaki ends up in a "less successful" class, where he meets Megumi Noda, known as Nodame.
Nodame is a quirky girl in her second year at the same university. They form an unusual friendship. The story is about Chiaki's journey to pursue his dream of becoming an orchestra conductor and overcoming his fear of flying.
12. Paradise Kiss (2005)
Seasons: 1
Episodes: 12
Yukari Hasayaka, an 18-year-old girl, is startled by a group of eccentrically dressed people on her way to class, causing her to faint.
When she awakens, she finds herself in an Atelier, looked after by Miwako. These individuals explain that they need a model for a fashion show at the Yazawa Arts Institute, where they are students.
Initially hesitant, Yukari eventually agrees. She learns that these people are the designers of the Paradise Kiss brand, which they've created themselves. George handles the designs, Isabella works on patterns, and Miwako and Arashi sew.
They describe the modeling contest they want her to join. When Yukari emerges wearing a ParaKiss dress, as they fondly call their brand, everyone is highly impressed.
Yukari begins to question her own life compared to that of the Paradise Kiss group. She reflects on her direction, whether it's truly her choice or if society has influenced her decisions.
Throughout the story, Yukari grapples with internal conflicts about her future, personality, complex relationship with George, and the chance to learn more about the others, their insecurities, fears, and pasts.
13. Honey and Clover (2005)
Seasons: 2
Episodes: 24 + 12
Yuta Takemoto, Takumi Mayama, and Shinobu Morita are three young people who live in the same building and attend art school in Tokyo. One day, they meet Hagumi Hanamoto, the cousin of one of their art teachers and a student at the same school.
Yuta and Shinobu develop feelings for Hagumi, but Yuta decides to keep his emotions hidden and aims to befriend her. On the other hand, Shinobu expresses his affection in unusual ways, sometimes even teasing her.
The story follows these characters as they navigate the challenges of college life, searching for jobs, discovering love, and coming to understand themselves better along the way.
14. Pet Shop of Horrors (1999)
Seasons: 1
Episodes: 4
Can a horror series be aimed at women? Remember that when we talk about anime genres, they don't necessarily refer to the content but rather the intended audience. Pet Shop of Horrors is an anime that might resonate more with women due to its unique aesthetic and character design.
In this anime, Count D is the enigmatic owner of a peculiar pet shop in Chinatown, Los Angeles. The animals he sells come with a contract that contains three crucial clauses. These clauses vary depending on the animal, and breaking them leads to disastrous consequences for the buyer, with the store bearing no responsibility. Strangely, these consequences seem to be the intended outcome.
Each Pet Shop of Horrors episode explores these consequences and presents standalone stories, often introducing new characters. Detective Leon Orcot is the common thread throughout the series, connecting these tales with an overarching plot.
Initially suspicious of Count D, Leon believes the pet shop is a front for illegal activities like drug trafficking. However, as he delves deeper into the mysteries surrounding the pet shop and its owner, a peculiar friendship develops between the two as Leon seeks to uncover the truth.