In this previous episode, Miyo still has scary nightmares and gets scared at night. Kudou is worried about her and wants to help. At work, Kudou's boss tells him about some break-ins at tombs and warns that a strange guy might be after Miyo. People watching the show are wondering why this strange guy is after her.
Miyo is concerned about her old family, the Saimoris. Kudou tells her they're okay, but their house burned down completely. Miyo still cares about them, even after what they did to her. Kudou and Yurie are surprised but happy that she's doing better. Miyo wants to visit her old house one last time, even though it's gone. Kudou takes her there.
What Happened in My Happy Marriage Episode 7
In episode 7 of My Happy Marriage, Miyo and Kiyoka go to the Saimori house, but it's burned down. Kiyoka tells Miyo that the Tatsuishi family faced the consequences – Kazushi is now the family head, and Kaya is a servant. They also meet Kiyoka's lively sister, Hazuki.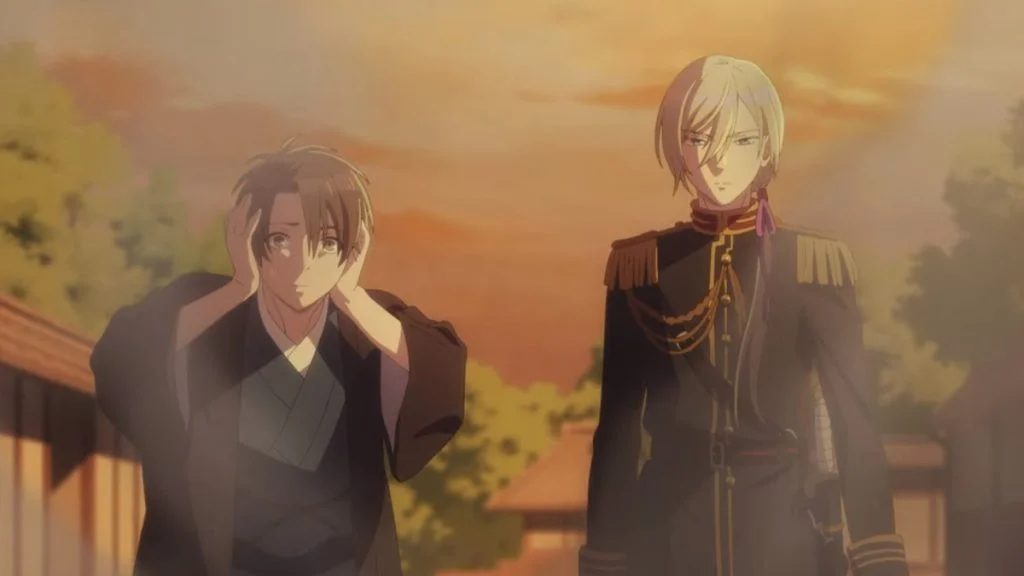 At night, Kiyoka wakes up and sees Miyo having a nightmare. He senses someone with a unique ability nearby and investigates. He finds broken talismans, suspecting Arata Usuba is behind it.
The next day, Kiyoka learns that a grave was opened, a concerning event. He worries about Miyo's safety and promises to protect her.
The episode ends with Miyo being attacked by skeleton creatures. Kiyoka saves her and defeats them. But this is just a glimpse of the danger Miyo faces.
Critical moments in the episode:
The Saimori house burns, symbolizing a fresh start for Miyo.
Hazuki's introduction brings positivity and healing to Miyo.
Miyo's attack reminds us of the danger ahead.
What To Expect From My Happy Marriage Episode 8
Here's what you can look forward to in My Happy Marriage episode 8, building on the events of Episode 7:
Investigation Continues: Miyo and Kiyoka will keep digging into the attack on Miyo. They might suspect Arata Usuba and work to find him.
Miyo's Healing Process: Miyo will gradually open up to Hazuki and find solace from her trauma. Hazuki will be her pillar of support, helping her regain her confidence.
Growing Danger: The threat to Miyo won't fade. Arata Usuba remains a danger, determined to achieve his goal at any cost.
Deepened Relationship: Miyo and Kiyoka's bond will strengthen. They'll face challenges together and find strength in each other's company.
My Happy Marriage Episode 8 Release Date
My Happy Marriage Episode 8 is expected to be released on Wednesday, August 23, 2023, at 11:30 PM JST. The international schedule for My Happy Marriage Episode 8 is as follows:
US: 10:30  AM EST on Wednesday, August 23, 2023

Canada: 10:30  AM NT on Wednesday, August 23, 2023

India: 8:00 PM IST on Wednesday, August 23, 2023

Australia: 12:30 AM AEST on Thursday, August 24, 2023

Philippines: 10:30 PM PHT Wednesday, August 23, 2023

Japan: 11:30 PM JST on Wednesday, August 23, 2023

South Korea: 11:30 PM KST on Wednesday, August 23, 2023
Where To Watch My Happy Marriage Episode 8
My Happy Marriage Episode 8 will be released on Netflix on August 22, 2023. You can watch it on Netflix by subscribing to their service.